Carol and I have found that we never sleep past 7:00 a.m. while we're cruising, so she always orders room service coffee for 7:00 a.m. It arrived on time, as always, and this time she included a few small pastries. We were booked for brunch at Palo and the pastries were intended to tide me over until noon. The strategy worked well, by noon I was ravenous!
I headed up to the Cove Café on Deck 11 at 7:45 for the AllEars.net Cawfee Tawk meet scheduled for 8:00; Carol followed about a half hour later. We stood, sipped coffee and yakked, renewing acquaintances, for over an hour. There were plenty of familiar faces from past cruises and some newcomers as well. It's really quite easy to mix and mingle when we all share a love of all things Disney.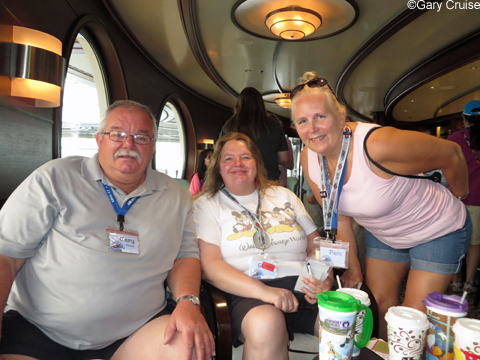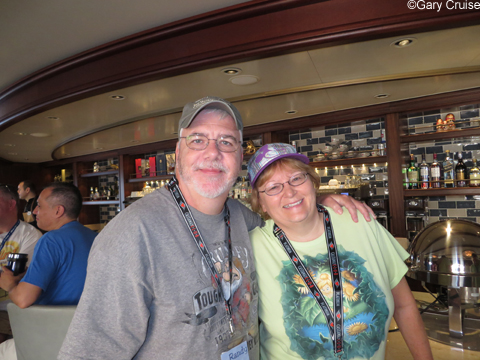 Carol and I left at about 9:20 and went back to our stateroom for a few minutes before heading down to The Tube, a lounge on Deck 4 Aft, for the Castaway Club Reception for Gold and Platinum members.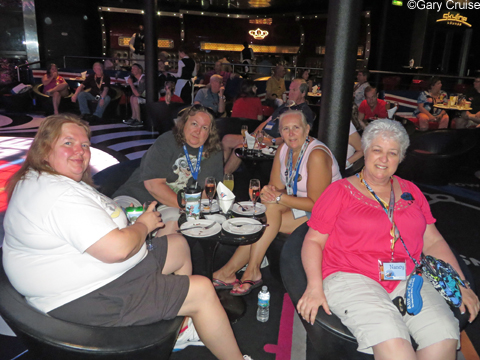 There were complimentary cocktails and finger foods; Cruise Director Ray thanked us for our continued loyalty to Disney Cruise Lines, then the guest of honor arrived – Captain Mickey. He posed for pictures with everyone as all the senior crew members mingled with Castaway Club members.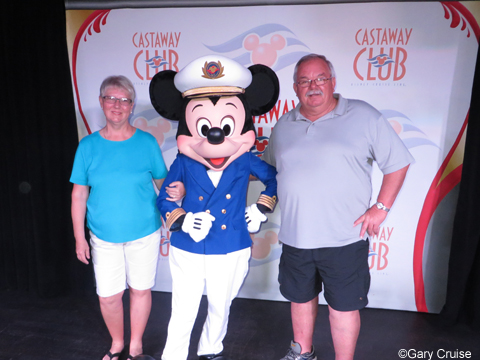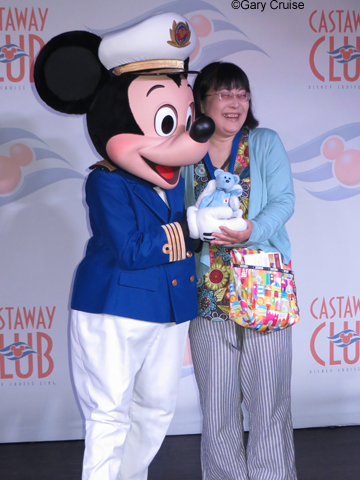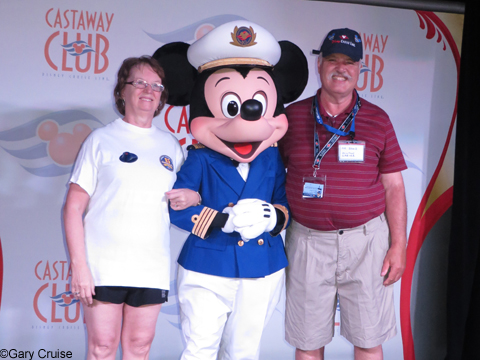 After the reception we scurried back to our cabin to get dressed for our brunch at Palo. On our way to brunch we met Minnie!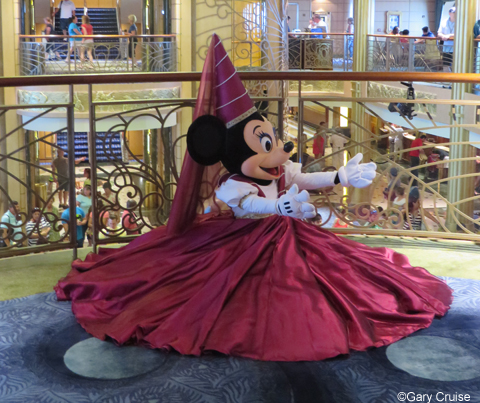 We really enjoy this upscale dining experience at Palo. There is a wonderful array of Mediterranean cuisine and the service is always outstanding. Our server, Jessyca from Peru, was superb. We had a very enjoyable experience. The food and the service were top notch! It was 2:00 p.m. when we finished.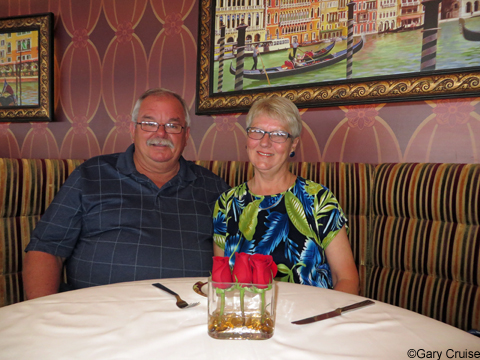 We changed back into more casual clothes for the 2:30 p.m. Ice Cream Social on Deck 11. Ice Cream Social has become a bit of a misnomer.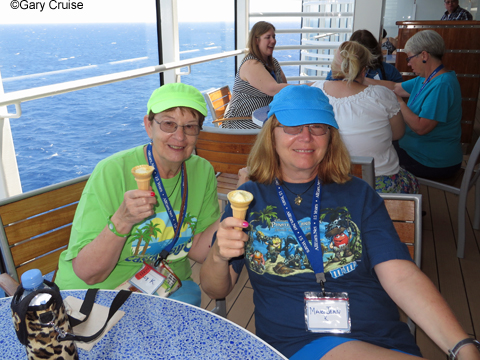 While everyone spends a few minutes enjoying ice cream, most folks spend far more time trading those highly coveted AllEars Trading Cards. There is a series of 66 different cards, each with a Disney themed picture and story. Each cruiser received a packet of 66 cards with their welcome gift, but the 66 cards were not the complete set, they were multiples of only a few cards in the set. In order to get a complete set, they had to find other cruisers in our group, compare cards and trade to fill blanks in each collection. The Ice Cream Social quickly became a spirited trading session!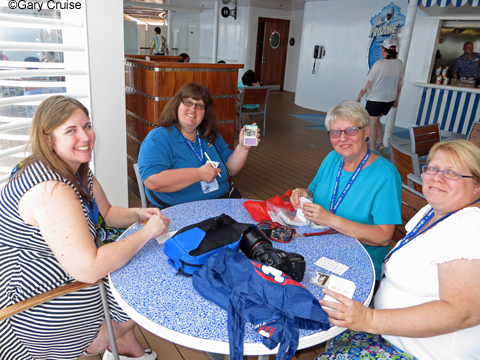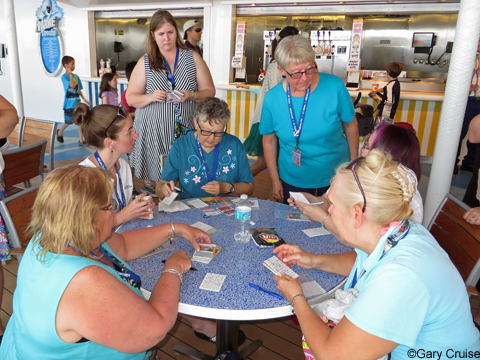 How spirited was it? A certain gentleman from Ohio stole the entire collection of a lady from Maryland. Don't feel too bad for her, the collection was recovered and returned to her . . . and I have reason to believe that the gent from Ohio may have been framed!
Cuba passed by on our Port side as trading continued until 3:45, when the heat and humidity finally drove us indoors. Once again we were worn out and we took a well earned nap!
We were up and dressed for dinner by 4:45. It was formal night and there were plenty of photographers set up in the Atrium, so we struck out to stalk some characters. Yikes – the lines were huge! We managed to find Goofy at Preludes and his line was relatively short.
Our dinner was in the Royal Court, Deck 3 Midship. It was very nice, I enjoyed baked brie, French onion soup, lobster macaroni while Carol had a lobster and shrimp appetizer, French onion soup and Chateaubriand. We both had creme brulee for dessert. Every dish was outstanding. This was probably the best meal we have ever had in the regular dining rotation.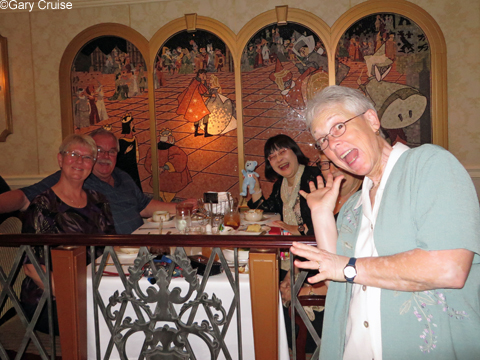 There was plenty to talk about during the meal. Carol and Gail began to compare their Disney collections. One would say, "I have quite a few Disney Classic Collection pieces." The other would reply, "Me too!" Or, "I collect Disney buttons." "Me too. I have them all organized displayed in frames." It went on and on and on. There two ladies certainly have similar interests!
We sat talking for so long that we were among the very last to leave the dining room. Cast members were setting up tables for the 8:15 seating and began flashing the lights to urge us to leave. It worked!
We went back to our cabin and changed into more casual clothes before heading down to Deck 4 Aft. AllEars cruisers were meeting at La Piazza for cocktails at 9:15. A good number of our group were there and we had a very nice time chatting over drinks. We left the camera behind, so there are no incriminating pictures.
Carol and I rushed away at 11:00 to catch the adult show in the Walt Disney Theatre. It was a hilarious hypnosis show by Ricky Kalman. He used about a dozen volunteers from the audience to keep us in stitches. The highlight of the performance was cruiser Craig who thought he was the world's foremost hand puppet performer. He was convinced that each of his hands held a puppet and he sang a stirring rendition of Queen's Bohemian Rhapsody as the puppets mimed the words! We roared with laughter.
It was midnight when we returned to our stateroom and hit the sack after a fun filled day at sea.