You probably know about the seasonal Hidden Mickeys scattered throughout the Osborne Family Spectacle of Dancing Lights along the Streets of America each Holiday season. Disney usually adds a few new Hidden Mickeys every year, and, thankfully, many of our favorite ones return. On San Francisco Street, the Dalmatian with the classic Mickey spot on its right hip is back this year. (Thanks to Sarah Del Grande).

I look forward to my annual search for the Hidden Cat. This year, it's up a tree! Look for it next to the City Hall building near the entrance to Lights, Motors, Action Extreme Stunt Show.

In recent years, Disney also hides a red razorback hog (in honor of the University of Arkansas Razorbacks in Jennings Osborne's home state) somewhere along the Osborne Lights. I found it in front of City Hall, not far from the Hidden Cat.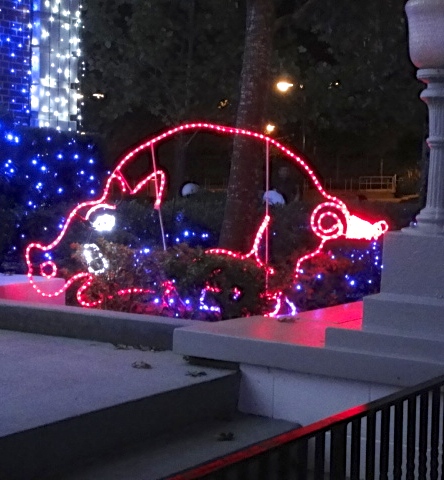 Close to Mama Melrose's Ristorante Italiano, I stopped and said hello to Lightning McQueen and Mater at their Meet and Greet area. Most of the time, Mater has a wing nut that resembles Mickey ears on his engine air cleaner. As I'd hoped, it was there. (Thanks to Brian).

Speaking of Mama Melrose's, Vickie and I had a fabulous dinner there before admiring the Osborne Lights. My Minestrone Soup and Chicken Cacciatore were outstanding! Just before dinner, right outside Pizza Planet, I spotted Santa about to deliver goodies to someone on an upper floor.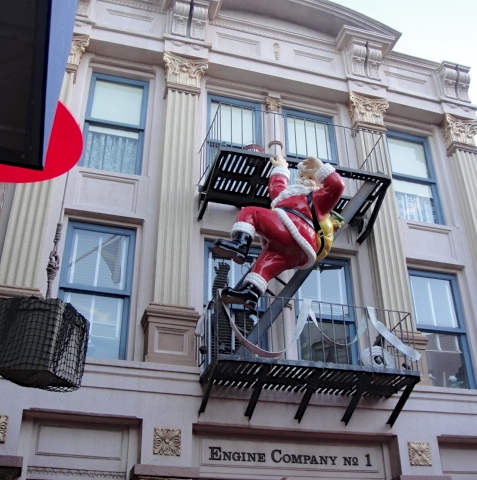 Each Holiday Season, it's great fun to look for Hidden Images in the fabulous Osborne Lights!