Has Olaf, the wacky and lovable snowman, in "Frozen" melted your heart yet with his appearances in trailers for the upcoming film?
The characters from Disney's "Frozen" already are being integrated into attractions at Walt Disney World. Here's where you can find the new animated film come to life:

Anna and Elsa greeted guests after a recent Disney Parks Blog meet-up.
** Meet Anna and her sister Elsa in the the Prinsesse Plass across from Akershus Royal Banquet Hall in the Norway pavilion at Epcot. The royal sisters are greeting guests and pose for photos. Be sure also to stop by the nearby Stave Church, where you can see a collection of Norwegian items in an exhibit that is titled "Norsk Kultur, Inspiration for Disney's Frozen."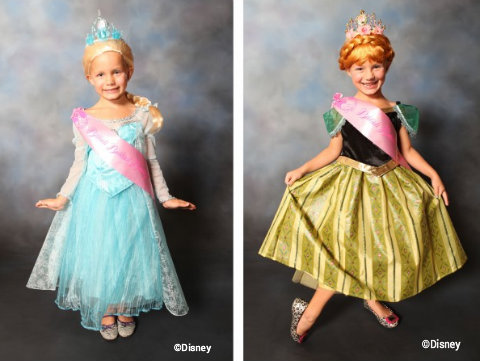 ** Little girls ages 3 to 12 can opt for the "Frozen" package at the Bibbidi Bobbidi Boutique, where young guests are transformed into princesses. The "Frozen" packages include a choice of the Anna or Elsa wigs, shimmering makeup, face gems, nail polish, a Princess sash and a Princess cinch bag for $59.95 plus tax. The Anna or Elsa costumes and crowns can be added for an additional charge — about $65 plus tax for the gowns and $18 plus tax for the crowns. The Frozen packages are available at both locations (World of Disney at Downtown Disney and Cinderella Castle at Magic Kingdom) through Jan. 3 or while supplies last. To make reservations, call 407-WDW-STYLE.
** If you find yourself at the Magic Kingdom, be sure to stay for the "Frozen" segment in Celebrate the Magic, which is the show projected on the facade of Cinderella Castle. It takes place each night 15 minutes before Wishes fireworks. You can take a sneak peek here:
** At Disney's Hollywood Studios, concept art and actual images from the film can be viewed inside the Art of Animation attraction. See artwork of the sisters, the queen, the royal horses and the breathtaking winter scenery before they came to life on the big screen. Viewers will recognize the trolls, Hans, Kristoff, Sven and, of course, Olaf. There are examples, too, of how animators create movement, such as how Anna's traveling coat should flow with each lift of her arms.
** Olaf primarily appears at Disneyland Resort, at the time of this writing. He is the star of the new "Winter Dreams" version of the World of Color show, and he is available for meet-and-greets in Fantasyland. I hope that means he soon will make his way to the Sunshine State. After all, he longs for summer, right?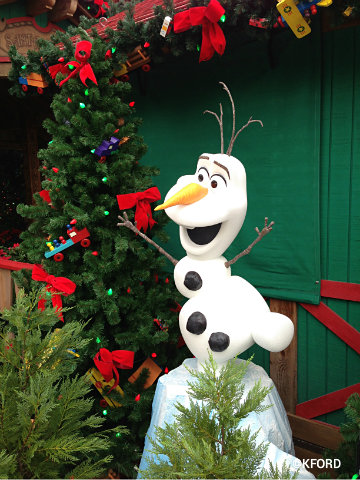 For now, guests in Orlando can find two cute photo opportunities with Olaf at Downtown Disney. Those who see the movie at AMC Downtown Disney 24 will notice a hula-loving Olaf in his tropical outfit in the lobby of the movie theater. A smaller, winter version of Olaf is positioned outside Santa's Chalet near World of Disney on the Marketplace side of Downtown Disney.
** There already is a good selection of "Frozen" merchandise at Walt Disney World. In addition to the costumes mentioned above, there are plush versions of Sven and Olaf (in his winter and summer versions), toddler dolls of Anna and Elsa, Barbie-type dolls of Anna and Elsa, pocket-size miniature doll sets, play sets with figures, pens, photo frames, a pin set, a T-shirt and hoodie.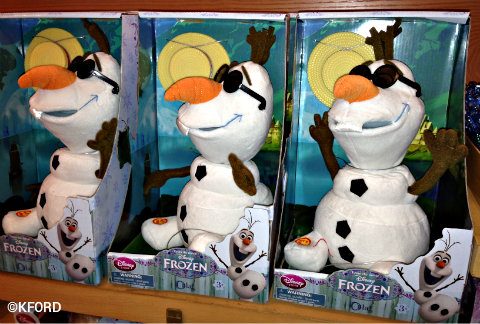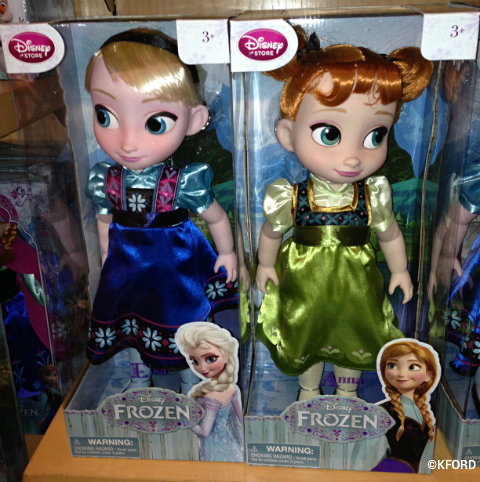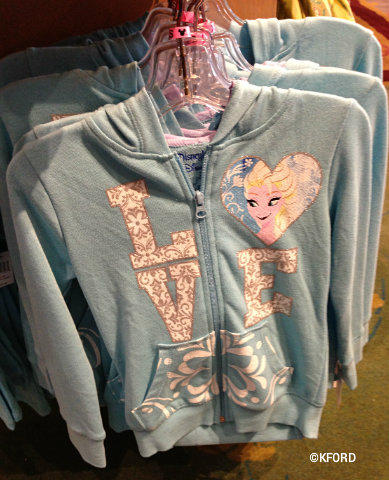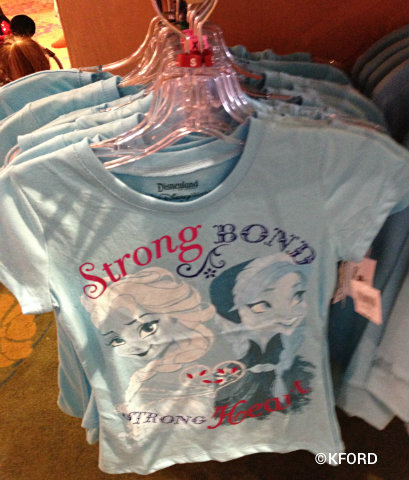 Disney's "Frozen" opens in theaters Nov. 27. (See my spoiler-free review here.) The soundtrack, which is excellent, is available beginning Nov. 25.