For many Disney Infinity fans, this weekend just might be more exciting than Black Friday. Don't expect to skip the lines, though, unless you pre-ordered the gaming merchandise being released soon.
Several eagerly anticipated pieces are being released, including the first official Disney Princess character and several other popular female figures. Today, players can purchase Rapunzel from "Tangled" (a Wal-Mart exclusive) and Ralph from "Wreck-It Ralph" (a Best Buy exclusive). On Sunday, everyone's favorite computer-game glitch, Vanellope von Schweetz, will be released only at Target. And on Tuesday, the day before "Frozen" hits theaters, a toy pack with the movie's characters, Anna and Elsa, and two related power discs will be available in stores.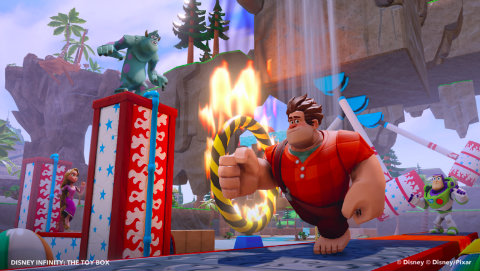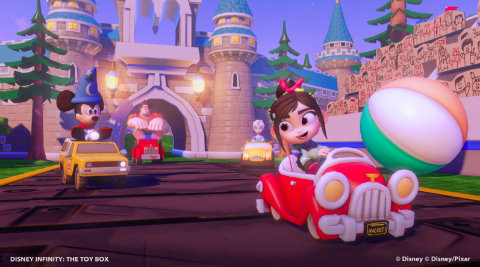 Recently, I was able to ask Disney Infinity's executive producer, John Vignocchi, about the infusion of girl power coming to the game.
Why were Rapunzel and Anna and Elsa chosen as the first princesses? Why not some of the classic Disney Princesses, such as Cinderella (who already has her coach in play), Ariel, or Belle? When can we expect to see those figures?
Princess Rapunzel, Anna, Elsa and Vanellope deliver some serious girl power to the Disney Infinity Toy Box. The decision to use Rapunzel was partially due to timing; "Tangled" was just wrapping when we were developing Infinity and it just seemed like a natural choice. She also delivers unique gameplay options with her frying pan. Which brings up a good point – timing is important, but even more critical is the gameplay each character can bring to Disney Infinity. Frozen's Anna and Elsa deliver grappling mechanics and freezing power, and Vanellope's glitch is a unique power that kids are going to love. [It will allow her to teleport short distances and glitch out characters that come in contact with her.] In terms of the future, we are working in tandem with all areas of Disney to determine future additions.
Will Rapunzel use her hair to her advantage?
Yes, Rapunzel's hair (and her frying pan) are major aspects of the character that will translate into fun gameplay. It was really amazing to work with the Disney animators on Rapunzel. "¦ Through our collaboration we were able to craft what turned out to be one the game's most detailed figures.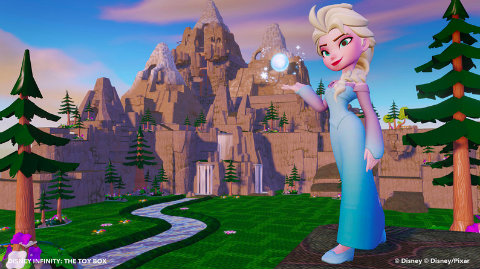 ҬӬWill Anna or Elsa use snow and ice to their advantage?
Yes, definitely. The cool thing is that not only do you get Anna and Elsa in one pack, you get two power discs that help layer the sky and ground into a winter wonderland theme. And of course, we wanted to make sure that would play to the pair. Anna has a fun climb and swing mechanic and Elsa has what we are calling a "cold shoulder" feature where she uses the snow and ice in unique ways. [Anna will be able to use her grappling hook to get to hard-to-reach places and use her shovel to defeat enemies. Elsa will utilize her magical ice abilities, such as using the Freeze Ball to stop opponents in their tracks.]
Do you have any indication if characters like Rapunzel and Anna and Elsa and Vanellope are leading more girls into gameplay with Disney Infinity? Is that the design of their concept?ӬӬ
Disney Infinity is a family game, so we have chosen a line-up of characters that appeals to boys and girls. In fact, Mrs. Incredible, Violet and Jessie are extremely popular characters with boys and girls because of their unique gameplay abilities. I know the addition of Rapunzel, Anna, Elsa and Vanellope is highly anticipated, and we expect them to be popular with girls. They also will allow every player to create all-new stories in the Toy Box.
Are there any holiday surprises for players to unlock in Disney Infinity?
Make sure to check out our Toy Box Thursdays because we have a few fun holiday-themed challenges coming up that fans will enjoy.  We are also so impressed by the creations that the Infinity community has created, and every week they keep topping themselves. We can't wait to see what they do with these new themed challenges. [The winners of the Toy Box Thanksgiving Parade Challenge can be seen at https://www.youtube.com/watch?v=rDM4wAft_vw]
Clearly, these new holiday-season game characters offer infinite possibilities of Disney Infinity gameplay for both boys AND girls, and the upcoming challenges will appeal to all players, too.
The new merchandise also seems to promise a lot more fun than standing in line at the mall this Friday, as well. Where's the power disc to make that day more bearable?