It was a short two-night cruise and we only had two dinners on board – but they were in both of the "new" restaurants – the updated Animator's Palate and the new Carioca's.
We ate in Animator's Palate the first night. I shared details of the show in Part 1.
Here are some additional photos of the restaurant.
The artwork in the restaurant now features Pixar characters in addition to classic and contemporary Disney characters.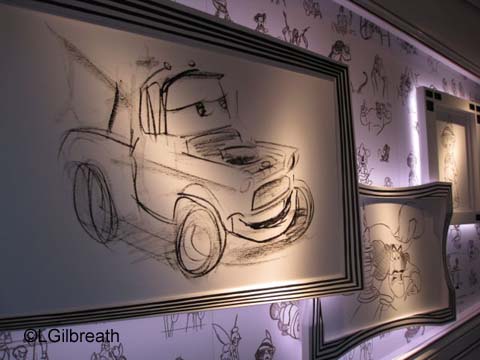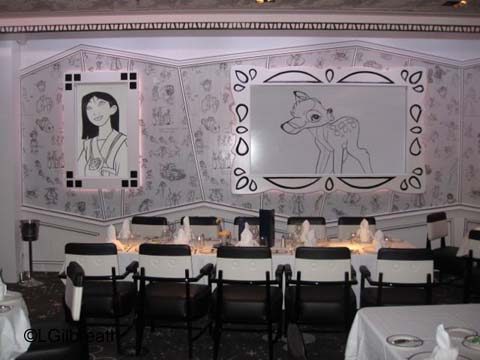 The chairs and carpet are new.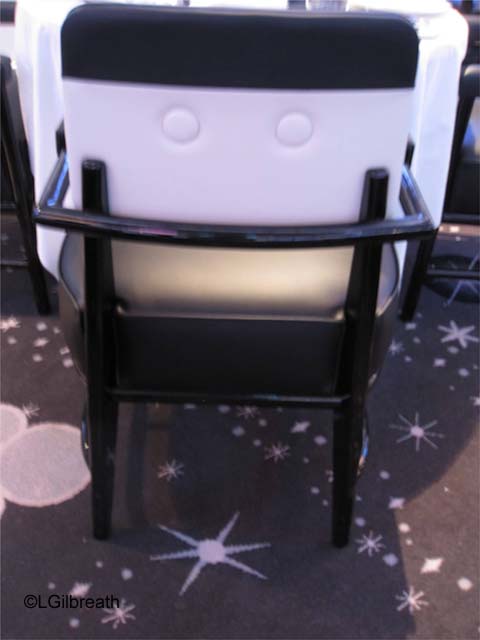 The menu is quite different than the one we experienced on the Magic a little over a year ago. In addition to listing vegetarian and lighter fare, it also highlights gluten free and dairy free options.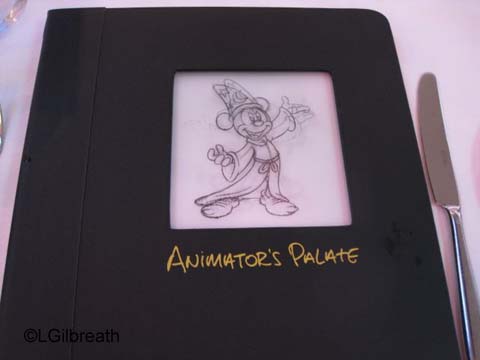 I tried one of the new items – a Tomato Tarte with goat cheese and radish salad. I enjoyed it, it was kind of like a pizza.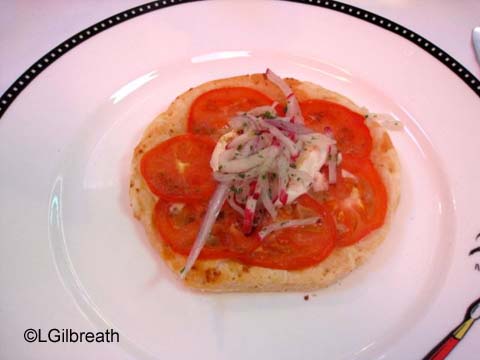 Lee had the Black Truffle Pasta Purseittes – pasta filled with truffle-accented cheese served with a champagne sauce. It was quite a generous portion and he liked it.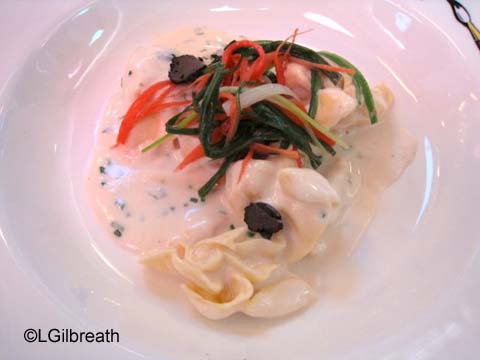 The Butternut Squash soup is still on the menu, and Lee tried that and said it was good. It's drizzled with sour cream.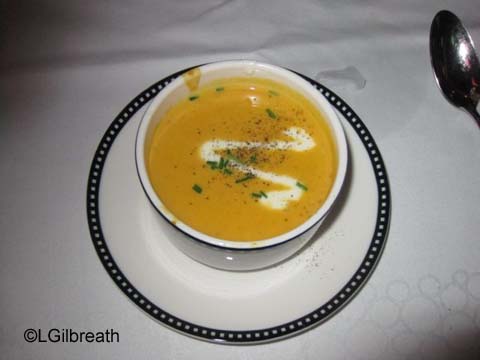 I tried the Seared Red Snapper with scallops, crushed new potatoes and salsa verde. The fish was nicely cooked, though the salsa could've used a little more of a kick.
Lee ordered the Ginger-Teriyaki dusted Angus Beef Tenderloin, served with wasabi mashed potatoes, bok choy and tamarind-barbecue reduction. It was good, but not the best he's had – he still remembers fondly the tamarind beef from California Grill.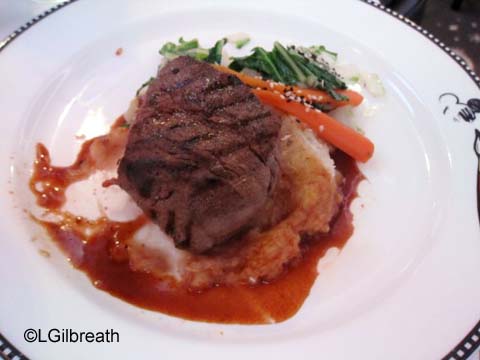 I couldn't decide on desserts so I ordered two. The Duo Chocolate Cake was one of the no sugar added desserts – layers of brownie and truffle mousse with caramel sauce. The top layer was odd – light, but a kind of grainy texture. The brownie layer was better.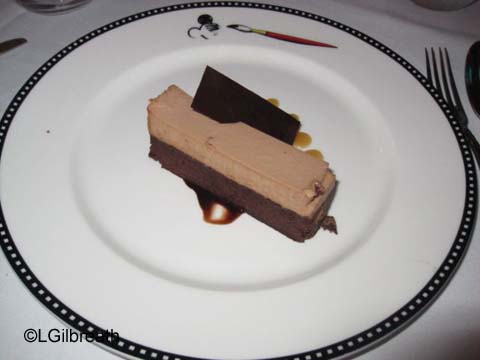 The White Chocolate Fudge Cheesecake was just ok – I was expecting something a little more chocolatey.
Lee had the Crunchy Walnut Cake. This has been on the menu every time we've eaten at Animator's, but it's been a little different every time. Unfortunately this was not one of the better ones – it's usually more of a chocolate ganache, but this was softer, and "gelatine-y".
We had both breakfast and lunch at Cabanas on Saturday. (No photos from breakfast, sorry.) Breakfast was largely the usual fare – scrambled eggs, bacon, sausage, pancakes, waffles, pastries, though there were some more unusual selections also, like grilled tomatoes. They have a very nice Muesli bar with lots of different dried fruits and nuts, though I wish they offered fresh berries. I get oatmeal from a different station and then visit the Muesli bar to liven it up. And I'm not usually a doughnut fan, but they had a small spherical jelly doughnut that was really good!
For lunch they had all kinds of choices – a much better selection that what is available at Lumiere's (and I think the food is better, too). Lots of different hot dishes – fish, chicken, pork, stir fry, side dishes, vegetables – I think there's something to appeal to just about everyone.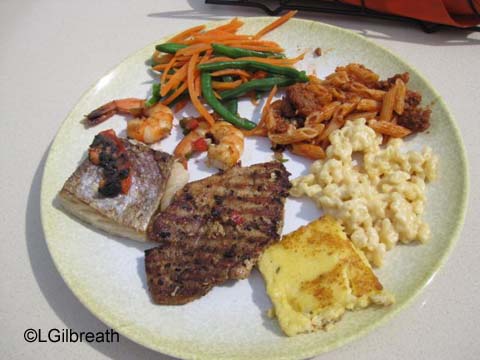 I really like what they've done with Carioca's, the new restaurant that replaced Parrot Cay. It's named after Jose Carioca, from "The Three Caballeros" – I guess it's appropriate that he was a parrot. 🙂
The decor is inspired by festival time in Rio de Janeiro.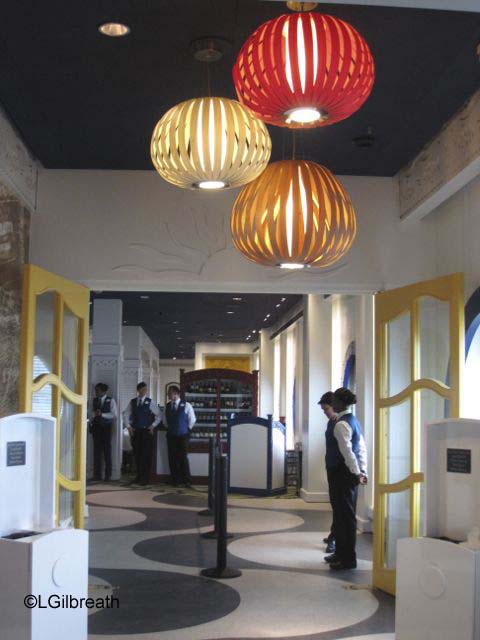 I really enjoyed the colorful lanterns.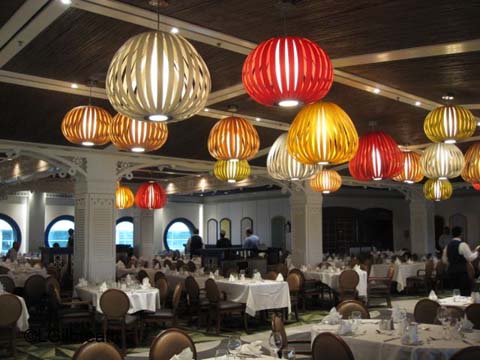 The restaurant seems much brighter and more open.
The parrot mosaic is still on the wall behind the buffet.
Speaking of the buffet (which is used for breakfast and lunch), at night it's concealed behind this curtain.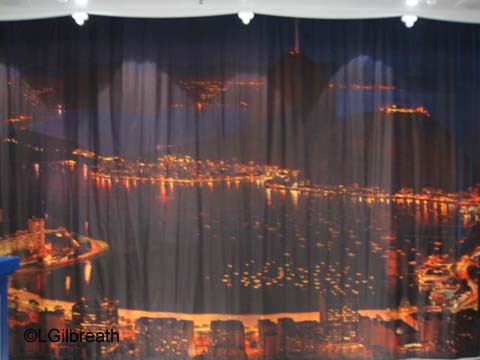 The servers have new costumes:
I like the design of the new china.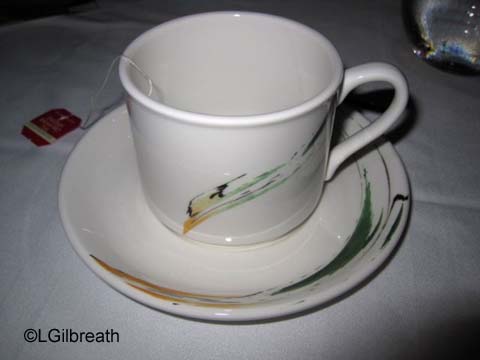 The menu is all new with ingredients and dishes inspired by South America and Latin America, like plantains, cassava flour, pork belly, black beans, bananas and pineapple. There were lots of things that looked good – it was hard to decide what to order. For the most part I was very pleased with my selections.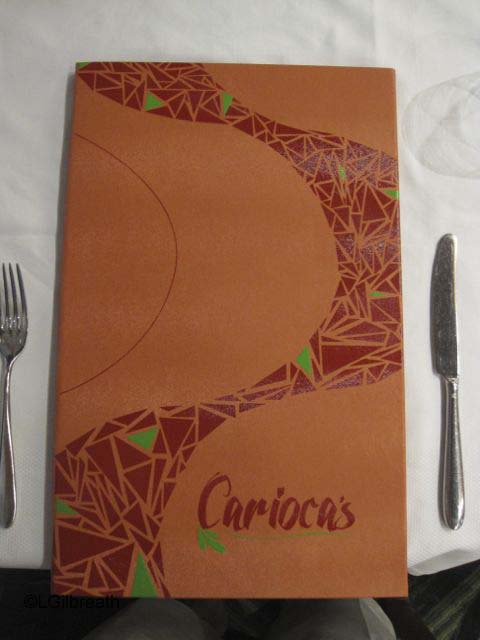 I started with one of the specialty cocktails – a Caipirosa, which was essentially a more sophisticated sangria made the cabernet sauvignon, blackberries, cranberry juice, lime and "leblon cachaca" (whatever that is!). It was very refreshing.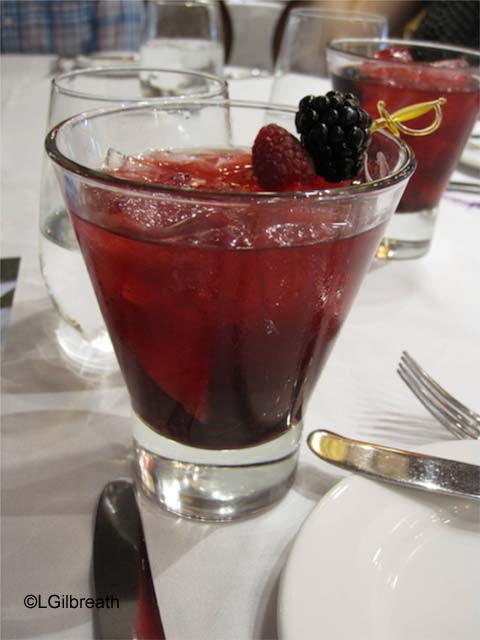 Lee also ordered one of the specialty drinks, though he didn't realize it was the non-alcoholic one: Panchito with coconut cream, pineapple juice, salted caramel syrup, and lemon juice. The salted caramel syrup gave it a slight butterscotch taste. It was good, but very sweet – he thought it would have been better with some alcohol in it. 🙂
The bread service was warm banana bread (which most of our table enjoyed) and some seeded rolls, served with a mango mint sauce. Very light on the mint, fortunately.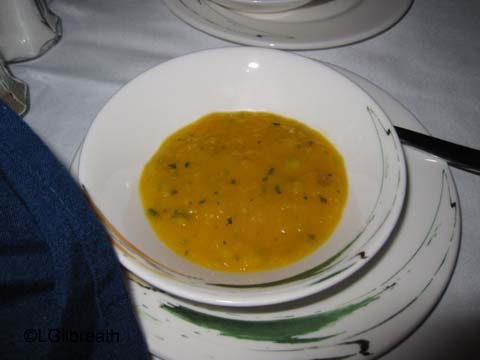 For my first course I ordered the Peruvian Causa, which I had first seen on the Disney Parks blog a month or so ago when they did an entry on Carioca's. It's three layers of potatoes: yellow, blue, and white, with olive tomato salsa and huancaina sauce (don't ask me what that is). It was VERY good, though I was surprised that it was served cold. I think it would've been better if it was hot, but I still enjoyed it. It's also very attractive.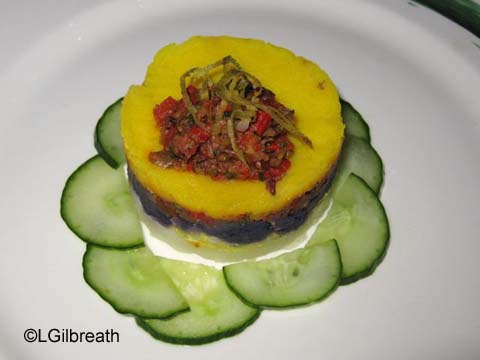 Lee had the Empanadas panzudas de carne – an Argentinian beef empanada with chimichurri. He enjoyed that.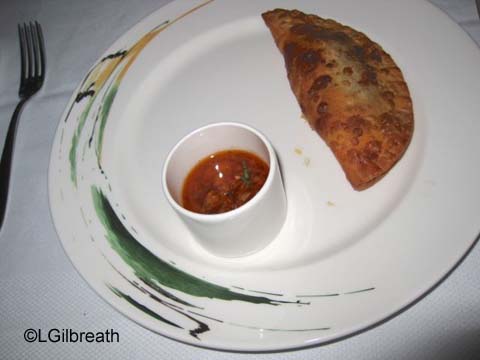 One of our table mates ordered the Ahi Tuna and Avocado Tower with red pepper wasabi, crushed fried plantains, and caviar. Another very attractive dish, and he said it was good.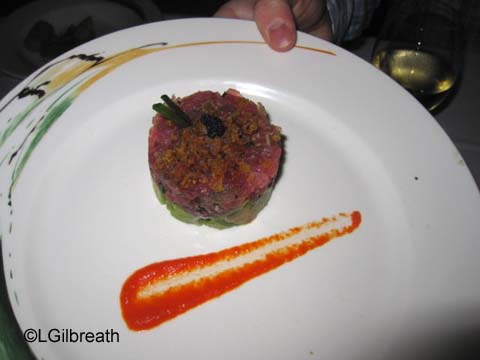 Another selected the Deep Fried Lobster Croquetas with banana-lentil salad and creamed horseradish. The croqueta was pretty small and there was only one of them. I didn't hear a comment on this one, so I don't know if it was good or not.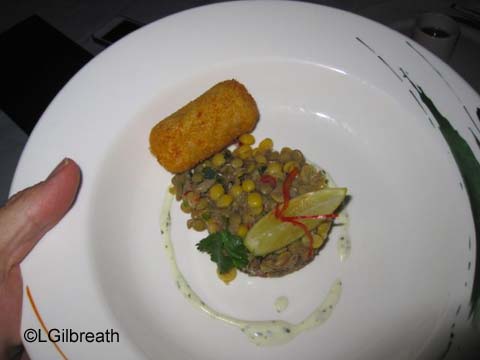 For my second course I tried the Sancocho de Pollo – a spiced chicken and vegetable soup. It was not very spicy, but it was tasty.
Lee ordered Sopa de Frijoles Negros Habanera – Havana-style black bean soup. This doesn't photograph well but it was excellent. (By the way, both of the soups are both gluten-free and dairy-free. The black bean soup is also vegetarian.)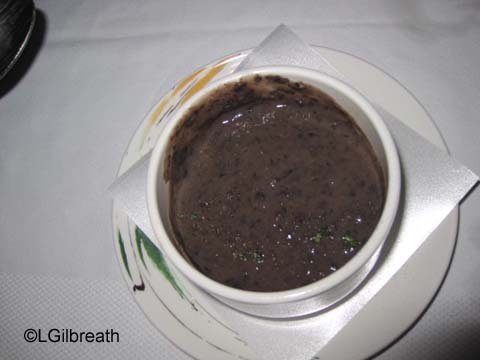 I couldn't decide on an entree, so I ordered three. 🙂 And even with that there were a couple of others I would've liked to try and didn't. First was one of the vegetarian options: Fried Plantain and Malanga Pancakes. It was served over a medley of red and black beans. The pancakes were savory and not sweet – they were just ok. The beans were very good.
A gluten-free, dairy-free option is the Lobster, Shrimp, and Mahi Mahi Skewers. This was my favorite of the three. It was server over Peruvian quinoa salad with dried mango and pineapple. The quinoa was terrific – the best thing I had all evening. Lee really enjoyed it, too. The lobster, shrimp and mahi mahi were also good.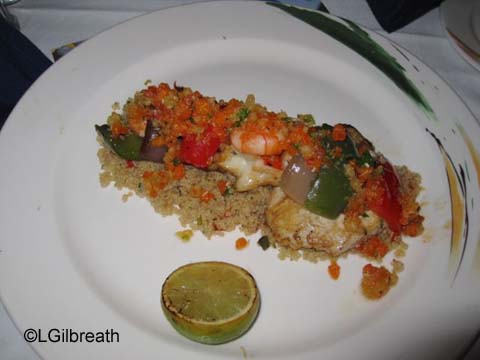 Another vegetarian selection is Small Corn Tortillas, with Veracruzan refried bean dip, green tomatillo-chile and Salvadoran cabbage slaw. This was very disappointing. For one thing, it was served with flour tortillas and not corn tortillas. I think the idea was to make your own tacos, but the fillings weren't very appealing, and this didn't really feel like an entree.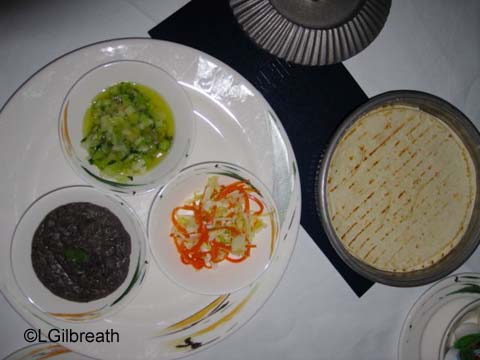 Lee's entree was interesting – it was called Jose Carioca's, so I guess that makes it the signature entree for the restaurant. Before it was served our server came out and put this at Lee's place setting: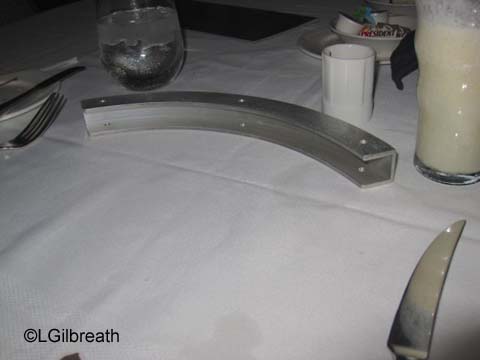 The entree includes skewers of grilled Brazilian sausage, adobo chili crusted lamb and beef tenderloin, which are served with Mexican tomato rice, shrimp, chimichurri and lime-garlic orange mojo. As you can see, the skewer stand made for an attractive presentation. Lee said the various meats were just okay – a little dry.
One of our table mates tried the Slow-Roasted Pork Belly (another one I thought looked good), and he enjoyed it. It was served with crushed sweet potato, creamy grits and collard greens.
This entree is another one I wanted to try: Grilled Rum-marinated Swordfish with pureed black beans, roasted corn and boniato flakes (gluten-free). It also got a thumbs up.
The two entrees we didn't try at our table: Grilled Orange and Lemon-Marinated Flank Steak with onion, lime salsa and black bean rice; and Chicken Criollo Salad with roasted cilantro marinate chicken breast, papaya, mango, iceberg, endive, goat cheese and red malanga chips with sherry vinaigrette. Both are gluten-free.
The dessert menu had a lot of interesting choices, though you know me, I'm always looking for a rich chocolate dessert. There was only one option on the menu with chocolate in it, and it was one of the no-sugar added desserts. It was also included as one of the Sweet Temptations and that's what I ordered. It included the no sugar added Torta de Chocolate, a layered cake with apricot puree, the no sugar added strawberry cheesecake, and the De la Costa Cream Cheese Flan with caramel bananas and Pedro Ximenez reduction. They were all ok, but not great.
Lee ordered the best dessert of the evening: Coconut Tres Leches "Three Milk" Cake. It's described as a moist coconut cake soaked in three milks, served with light coconut cream. It was definitely moist and very coconutty, but fortunately it was not overly sweet like "tres leches" desserts often are. It was very good.
One of our table mates ordered Carioca's Ice Cream Sundae made with dulce de leche ice cream and caramelized apples, with a churro on top. He enjoyed it.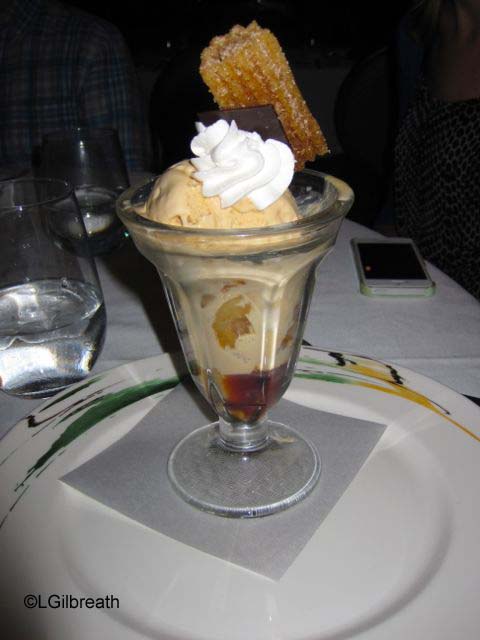 This is the full-size version of the De la Costa Cream Cheese Flan, which is gluten-free.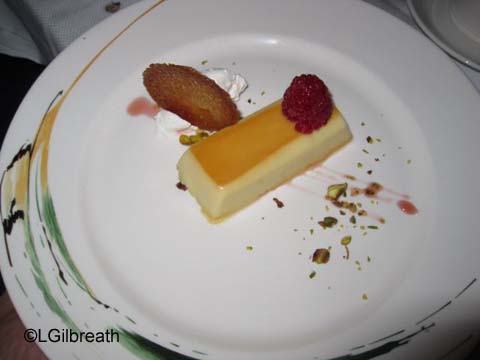 The other dessert option, also gluten-free, is Suspiro Alimenea, a baked lemon cream topped with port wine meringue sprinkled with cinnamon.
We really enjoyed the new Carioca's menu, and thought there were lots of dishes that we would enjoy trying on future cruises.
Our final meal on-board was breakfast in Lumiere's. On the short two-night cruise, instead of going to the restaurant we'd been in for dinner the night before like we usually would, we went to the restaurant we had not yet been in.
It was the usual "Farewell" breakfast menu with pastries, fresh fruit, cereal, and various egg, breakfast meats, and pancake options.
I thought I was getting Eggs for the Road with eggs my way, choice of meat, and hash browns, but my server misunderstood and brought me pancakes instead of meat and hash browns. Scrambled eggs are always a crap shoot on board – I ordered them scrambled dry, but they were a little runny. The mini cinnamon roll I had from the pastry plate was very good, though – I really like those little cinnamon rolls!
Lee ordered the Chef's Farewell, an open-faced omelet with barbecue chicken, green peppers, onions, and swiss cheese. He's had it before and it's one of his favorites.
We enjoyed our meals – and were really glad we were able to try both Animator's Palate and Carioca's. Those two, as well as Cabanas, I think are all improvements over their former occupants.
Laura Gilbreath was an invited Media guest aboard the Disney Magic. Her
opinions are her own.