Since we began visiting SeaWorld Orlando regularly a couple years ago, my son has been fascinated with orca whales and my daughter's love of dolphins has grown. Naturally, when their birthdays rolled around last year, they wanted a celebration that featured their favorite marine animals. (My children's birthdays are one day apart, so some years they have opted for a joint party.) SeaWorld — and its other Orlando parks, Aquatica and Discovery Cove — don't offer organized birthday parties, but there certainly are ways to celebrate a special occasion on property.
The main event for my kids' birthday weekend was a day at Discovery Cove for our family instead of each child having a party. A day at Discovery Cove is pricey — usually ranging form $219 to $399 per person, depending on the time of year, and including a dolphin swim. But Discovery Cove is an all-inclusive park, which means your ticket provides breakfast, lunch, snacks, drinks and alcoholic beverages; wetsuit and equipment used for snorkeling; lockers, towels and sunscreen; and unlimited admission to SeaWorld and Aquatica for the 14 days surrounding your visit. Discovery Cove only admits 1,300 guests per day, so the park is not overcrowded.
Guests wade with stingrays (that have be debarbed), snorkel among exotic fish in a saltwater lagoon, feed tropical birds in a free-flight aviary, float down a lazy river and relax on white-sand beaches. The highlight of the day for many is, of course, a 30-minute interaction with dolphins. As we stood in waist-high water, a trainer directed a dolphin to swim over, and we were allowed to pet him as the trainer explained different behaviors and facts about dolphins. Then, each family in our small group posed for photos with the dolphin. Finally, it was time to hold onto the dolphin's dorsal fin for a short swim. It was an amazing experience for all of us!
Guests even can enhance the experience by having a dolphin deliver a buoy with a personalized message. This is part of the Celebration Package, which also includes a Discovery Cove tote bag; choice of a deluxe photo frame or plush toy; and 25 percent off your choice of a photo package for $129. There are a limited number of Celebration Packages scheduled each day, so they must be booked in advance. Guests also can purchase a cake at Discovery Cove, or even bring one themselves.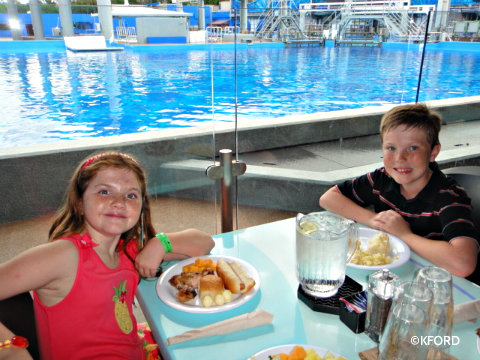 That weekend, we also went to Dine with Shamu at SeaWorld for the first time. Though my son definitely enjoyed Discovery Cove, he was more attracted to whales than dolphins, so we wanted to try something that catered to his interests. We had a great experience there, as well. Both of my children enjoyed the buffet and the front-row seat to some behind-the-scenes dolphin behaviors. And because we told our server the kids were celebrating birthdays, they each received a piece of chocolate cake with sprinkles and gummies. The server also sang "Happy Birthday." (You also can order a specialty cake when making a Dine With Shamu reservation.)
When we went to Dine With Shamu in the fall of 2012, SeaWorld offered a deal where one child was free with each paying adult. Current prices range from $29 to $34 for an adult and $19 to $24 for children ages 3 to 9 for the dinner show, which includes unlimited food, beer and wine. To read all abut our experience, including the full menu, please see my previous blog post.
SeaWorld also offers private VIP tours, which could be another way to celebrate a special occasion. They include preferred parking, front-of-the-line access, reserved seats at shows, animal interactions, a meal at Sharks Underwater Grill and a tour guide for up to seven hours. The rate is $299 per person for ages 3 and older.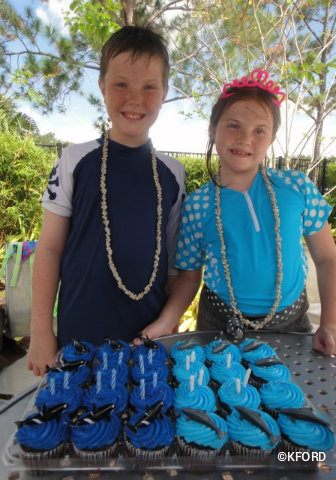 Finally, we decided to stay at the SeaWorld Renaissance hotel that weekend to avoid multiple drives back and forth to our house. While there, some family friends joined us at the hotel pool one day. The main pool is beautiful, surrounded by plush chairs and a restaurant with a bar. The kids enjoyed "riding" on the inflatable dolphin and whale I had purchased at Target. There also is a splash area just for kids that features two water slides.
I served our friends fish food (a mixture of colorful crackers and cereals) from a traditional glass fish bowl. Our cupcakes were topped with two shades of blue frosting, and the plastic whales and dolphins that can be purchased in bulk at SeaWorld. And they each took home a towel that had been fashioned into a dolphin or whale tail. (A good friend sewed strips of Velco or ribbon at one end to form the waist, and I used hairbands to fashion the tail.)
If your kids are fascinated by the aquatic life featured at SeaWorld Orlando, activities like these and more can be a perfect way to make a splash for birthdays or other special occasions.