Walt Disney World has plenty of parades. The Magic Kingdom currently has the "Celebrate A Dream Come True" parade every afternoon at 3:00 and the "Main Street Electrical Parade" at 9:00 and 11:00. Disney's Animal Kingdom features the "Jammin' Jungle Parade" at 3:45
Over the years there have been many themed parades at each of the Disney parks but the undisputed grand-daddy of all parades is the Electrical Water Pageant which sails the waters of Bay Lake and the Seven Seas Lagoon. It has been running every night (weather permitting) since October 26, 1971. There have been a few subtle changes over the past 42 years, but it is still as captivating as it was the first time I watched it in 1977.
One of our favourite ways to end our day at Disney's Fort Wilderness Resort and Campground is to head to the beach and watch the nightly performance of the Electrical Water Pageant.
We try to arrive a bit early, find a comfy seat on the patio beside the marina and wait until those tell-tale green lights begin to appear. The 14 barges which provide the show run very quietly. They are nearly invisible, with only their running lights to reveal their approach. Then once they are in position the show begins with a fanfare of techno music and all those wonderful lights reflecting off Bay Lake.
The first four barges all light up their 40 foot long and 25 foot high displays at once and portray the image of a sea serpent accompanied by "Boo Bop Bopbop Bop (I Love You Too)" from Pete's Dragon.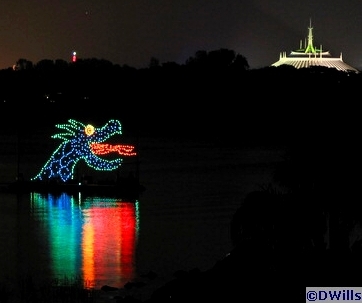 Soon the next float comes alive with the image of a spouting whale as you listen to "Whale of a Tale" from 20,000 Leagues Under the Sea.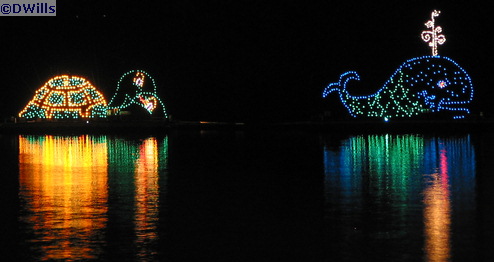 Floats six and seven feature a turtle bobbing its head under water and an octopus, also accompanied by lively music generated by the 800 watt sound system.
Soon the first three floats in the second string light up to reveal three jumping dolphins, followed in turn by a Brachiosaurus, a crocodile, four seahorses and finally King Triton. By the time all 14 floats are illuminated there are over 50,000 lights involved in the animated panorama. WOW!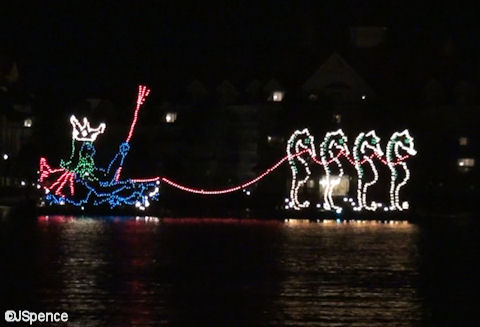 Then, just when you think it's all over, the grand finale begins. It's an inspirational salute to America, with Flags and Stars set to a patriotic musical medley of God Bless America, Yankee Doodle, and You're a Grand Old Flag.
You don't even have to spend money on park admission to enjoy the Electrical Water Pageant.
It sails past the beach at every Disney resort on Bay Lake and the Seven Seas Lagoon. The normal schedule is:
• 9:00 p.m. – Polynesian Resort
• 9:15 p.m. – Grand Floridian
• 9:35 p.m. – Wilderness Lodge
• 9:45 p.m. – Fort Wilderness
• 10:05 p.m. – Contemporary Resort
• 10:20 p.m. – Magic Kingdom (only when MK is open past 10:00 p.m.)
The Electrical Water Pageant is an often overlooked feature at Walt Disney World and it truly is a hidden gem. Plan to watch it from the beach at one of the resorts soon. With a little planning you might even see the Wishes fireworks spectacular reflecting off the water before or after the pageant. Check with Guest Services at your resort to confirm exact show times.
If you watch it from the Polynesian Resort I recommend a stop at Captain Cook's on the way. Pick up a cool Dole Whip to enjoy as you sit on the beach enjoying the show. If you watch from Fort Wilderness, take a look around, you may just see Carol and I on the patio beside the marina!