Disney Publishing Worldwide has announced it is expanding its outreach to children with type 1 diabetes through a series of custom books that have been co-created with Lilly Diabetes, a subsidiary of pharmaceutical firm Eli Lilly & Co. The books, which debuted in 2011, are being translated and made available in 18 countries through doctors' offices.
The Disney group entered a partnership with Lilly Diabetes two years ago to educate children and their families about the disease — and to help them find a sense of normalcy in their lives. Now, the two companies aim "to reach even more families who have been impacted by type 1 diabetes – emphasizing what they can do instead of what they can't do, and offering stories of familiar characters, such as Mickey Mouse and his friend, Coco, the fun-loving monkey who has type 1 diabetes," said Lilly Communications Director Kelley Murphy.
Coco's adventures can be found in two titles that are part of the popular children's Mickey Mouse Clubhouse series, "Coco Goes Back to School" and "Coco and Goofy's Goofy Day." The latter is the first to be translated for global distribution. In "Coco and Goofy's Goofy Day," Coco shows Goofy that she can attend his birthday party, enjoy the treats and activities in moderation and still have fun. Goofy is the one who struggles with limiting himself on his special day.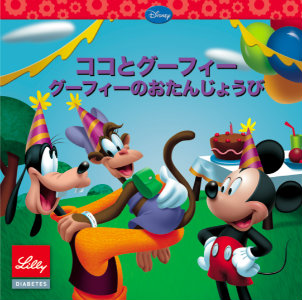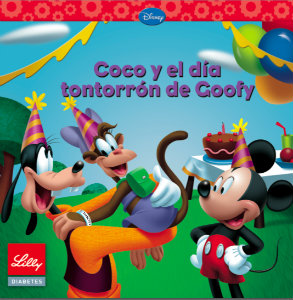 A third book starring Coco will be released this summer. "Coco's First Sleepover" was written to help children and their families prepare for the child's first night away from home after being diagnosed with type 1 diabetes. People with type 1 diabetes, which often has an onset in childhood, have high blood sugar levels, usually because their bodies do not produce enough insulin or respond to the insulin that is created. They must monitor their condition daily and adjust medicines, food and exercise accordingly.
To that end, another Disney book in the series is a cookbook, "Dishing it up Disney Style," with healthy recipes for the entire family to enjoy.
Tweens also will be offered books that address their concerns about sharing their type 1 diabetes with their peers. Among them are "Up for the Challenge," "Power Forward," "Running Interference" and "Hannah Montana – Uptight, Oliver's Alight"; the first two are being translated into languages other than English. Two new titles for kids ages 9 to 13 also will be introduced this summer: "Superstar Dreams" and "Covering the Bases."
In another effort to reach more families, the first three books that are being translated and the cookbook will be posted online when a new website is completed in August or September, Murphy said. In the meantime, Disney is hosting content from dietitians, psychologists, nurses and families on its website, spoonful.com/type1. It offers tips for everyday challenges and includes recipes and printable resources.
"Lilly Diabetes' objective is to bring safety, health, comfort and a bit of magic to children worldwide," said Andrew Hodge, international vice president of Lilly Diabetes, in a statement. "We saw the positive impact our collaboration with Disney Publishing Worldwide had on families living with type 1 diabetes in the U.S. over the last two years, and we are excited to expand our reach globally."
Lilly introduced the world's first commercial insulin and continues to market related medicines.
And though guests at Disney Parks won't see the Coco character, the little monkey already is having a positive effect on some.
One AllEars.Net reader whose 9-year-old daughter who lives with type 1 diabetes said the resources were invaluable in her family's planning for an upcoming trip to Walt Disney World. "Coco carries her diabetic supplies in a backpack and wears a diabetes bracelet, too," said Sheila Meyle. "Thank you Disney and Lilly Diabetes for bringing this very important issue to the public's attention and making a friend of Mickey's seem as normal as all the kids with diabetes want to be."
AllEars.Net has a section about how to plan for a vacation at Walt Disney World when someone in your party is living with diabetes. Plus, we have updated and complete menus for all the resort restaurants, so you can plan meals in advance.