It's January 1 and time for all those New Year's resolutions to kick in. For many of us, among our annual promises is one to eat healthier and/or lose weight.
Admittedly, this can be tough when you're visiting Walt Disney World. And, if this is your once-in-a-lifetime vacation, it's understandable that the calorie content of your meals and snacks is not your top priority. For some, though, eating well continues on vacation. It's always a bonus to get home and find you haven't gained weight, right?
Because I live in Orlando and am fortunate to visit The Most Magical Place on Earth frequently, I want to find foods that fit my dietary needs without feeling like I am being deprived while visiting a theme park with my family. For me, this means mostly quick-service foods with protein and a lot of vegetables, limiting the carbs and sugar. More often than not, I end up eating salads.
To that end, here are some of my favorite salads in the Disney parks that are available at counter-service restaurants (for the most part), are comparatively inexpensive, and are more interesting than a basic garden salad.
Magic Kingdom
In the summer of 2011, Columbia Harbor House in Liberty Square at Magic Kingdom added several healthy dishes to a menu that was heavy on fried foods. That's when the Broccoli Peppercorn Salad was introduced to the menu, replacing the BLT salad.
Broccoli Peppercorn Salad
It contains mixed greens, garden vegetables (including peas, corn and carrots), chicken, broccoli, bacon and Parmesian tossed with a creamy Peppercorn dressing." What the Disney description doesn't tell you is that the grilled chicken also is served warm on the salad, and there is a generous amount of protein for the $8.19 price. I really love this salad and usually have it when I'm at Magic Kingdom. A bonus: Columbia Harbour House is located close to New Fantasyland.
If I am looking for tasty salad at a sit-down restaurant in the Magic Kingdom, I choose the Chicken Strawberry Salad at The Plaza restaurant. It contains fresh garden greens, grilled chicken breast, fresh strawberries, Gorgonzola cheese and is tossed in a white Zinfandel vinaigrette dressing for $14.99. It's also filling, which is key when you're limiting what you eat.
Animal Kingdom
For many, a trip to Disney's Animal Kingdom is not complete without a meal at Flame Tree BBQ. The counter-service restaurant not only serves up delicious barbecue favorites, but it also has unique outdoor dining with terraces that overlook fountains, foliage and even Expedition Everest. (Many years ago, an open-air boat also shuttled Disney characters around the lake, and diners on the lowest terraces could exchange waves while dining. We miss that!)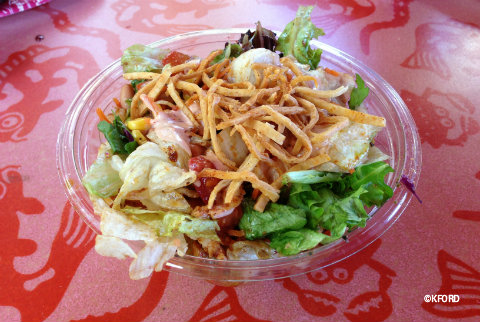 Barbecued Chicken Salad
My longtime favorite here is, you guessed it, the Barbecued Chicken Salad for $7.79. However, the ingredients were changed last summer, and it doesn't have quite the same appeal for my taste. The thin slices of chicken still are coated with the restaurant's signature spice rub, but garbanzo and pinto beans have been added, as well as tortilla strips, to the salad. I liked the previous version better, but this still is a good option for healthy dining, in my opinion, and others might find it more tasty than I do.
Epcot
Talk about making the tough choices! Forgoing all the great food at Epcot is not my favorite thing to do, but I have found a salad that makes healthy eating not quite as painful. Sunshine Seasons in Future World's The Land serves a Roasted Beets and Goat Cheese Salad with honey sherry dressing for $7.89. I don't care for beets, so I always ask if I may substitute grilled chicken, and my request has been honored. (Sometimes there is a charge for the additional protein, though some servers consider it an even trade.) This salad also contains a generous portion of nuts, which helps make it satisfying.
Hollywood Studios
The Brown Derby at Hollywood Studios is known for its famous Cobb Salad, but I found this Disney theme park to be the most difficult in which to find a good salad at a counter-service restaurant. After experimenting with several salads — including the Asian Salad (which has since been replaced) at ABC Commissary and the Fairfax Salad at Fairfax Fare — I finally hit the jackpot at Backlot Express.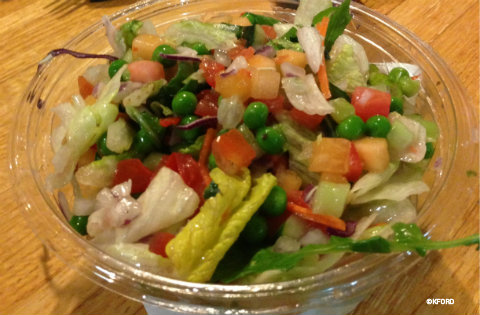 Cantaloupe and Cucumber Salad
This restaurant, located near the Jedi Training Academy and Star Tours, now offers two interesting salads, though only one has protein included. The Southwest Salad with Chicken includes mixed greens, crisp corn tortilla, black bean relish and cilantro vinaigrette with hefty chicken strips for $8.49. The Cantaloupe and Cucumber Salad offers chopped romaine, red onion, tomato, green peas and Zinfandel vinaigrette for $6.49. I prefer the Cantaloupe and Cucumber Salad, but it definitely is not as filling without some protein.
If you have a favorite salad, please tell us about it in the comments. We'd also love to hear your tips for eating healthy when you're visiting Walt Disney World.