Last week, I discussed Bountiful Valley Farm, one of the districts of Golden State. I described to you how this area contained exhibits of agricultural crops and farm equipment. I mentioned the smattering of lackluster structures that sold souvenirs and food stuffs. And I told you how utterly boring this all was. Fortunately, Disney came to their senses and realized that the public wanted to do more than watch plants grow when visiting Disney California Adventure (DCA).
As you know, Bob Iger authorized $1.1 billion to refurbish DCA. The lion's share of this money was spent on Cars Land, an entire section of the park devoted to the Disney/Pixar movie "Cars." Although much of Cars Land would rise on previously undeveloped land, Bountiful Valley Farm was also plowed under to make way for this new adventure. Thank goodness.
Cars Land recreates Radiator Springs, the forgotten town along Route 66. Here, the Imagineers went to great lengths to capture every detail and nuance of this friendly community. Guests visiting here actually feel as if they've left reality and have been transported to Ornament Valley with Lightning McQueen, Tow Mater, and Sally.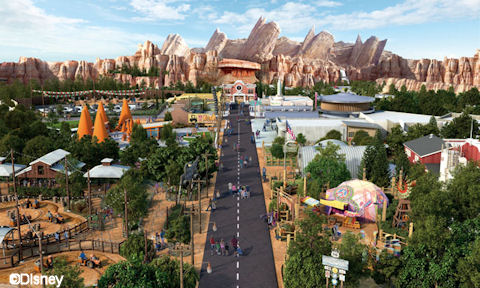 I realize that much has already been written about Cars Land. I'm a late comer to this subject. But I still thought you might enjoy a detailed description of all of the businesses and characters of Radiator Springs.
The main roadway in this area is Route 66. Motorists are first greeted by a large billboard, welcoming them to Cars Land.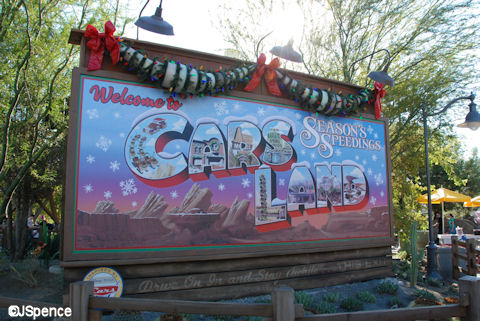 Near the billboard is the typical sign which announces the town's name and displays the crests of the various fraternal organizations. Here we learn that the population of Radiator Springs is 12 and the elevation is 160 feet. Represented here are the Knights of Combustion, the Loyal Order of Lugnuts, the Association of Cogs in the Machine, and the Downtown Radiator Springs Association.
The first business we come to is owned by Fillmore. Fillmore is a VW van and the stereotypical hippie and flower child. His license plate is "51237" which represents the birthdate of the late George Carlin (May 12, 1937), who provided Fillmore's voice.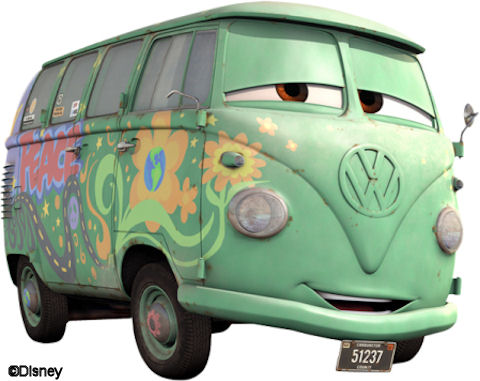 Fillmore owns an organic fuel station which is housed beneath a colorful camping tent. Now that more motorists are visiting Radiator Springs, Fillmore also sells fruit, bottled drinks, and chips. His business is known as Fillmore's Taste-In.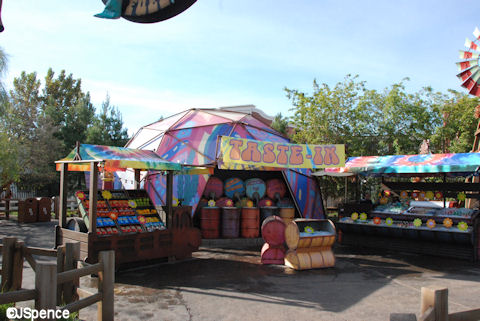 Next door to Fillmore's we find the Quonset hut of Sarge. Sarge is a Willys MB U.S. Army Jeep and a veteran of World War II. His license plate, "41WW2″ signifies the year he entered the army.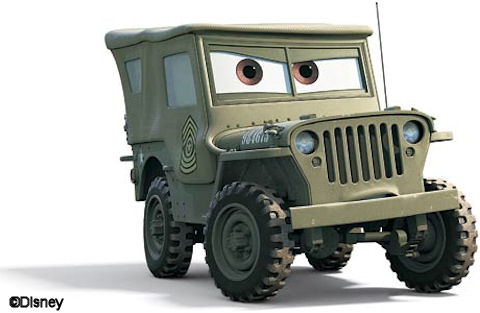 Sarge runs an Army surplus store named "Sarge's Surplus Hut." Inside guests can find a large selection of Cars related toys. The small tires seen hanging outside the shop are actually hats.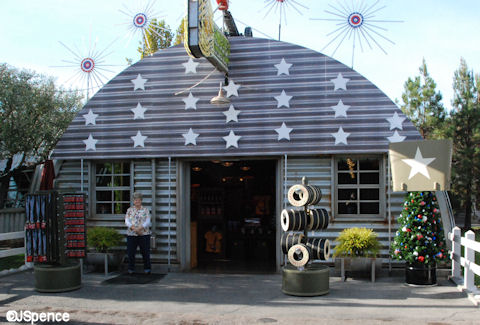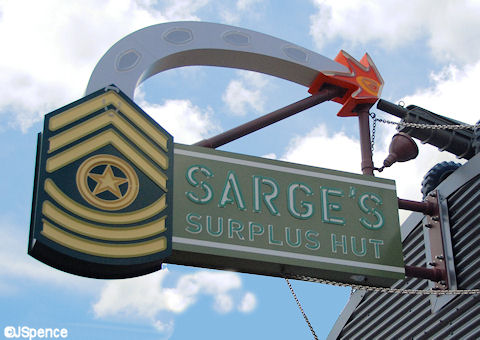 Across the street from Fillmore and Sarge is Tow Mater Towing & Salvage. Inspired by a 1951 International Harvester tow truck, Mater is the first of the Radiator Springs' townspeople to take a liking to Lightning McQueen
Mater runs Mater's Junkyard Jamboree. This attraction features a number of tractors pulling farm equipment that is suitable for human riders. The tractors navigate a double figure-eight and as they do, the farm equipment and their inhabitants are whipped from side to side. All the while, Mater can be heard singing a different song for each ride rotation. Some of these songs include:
Junkyard Jamboree
Big Bull Dozer
Tow Mater (The One You Want To Call)
Mater's Square Dance
Let's Go Driving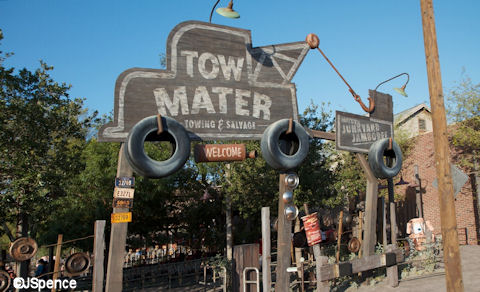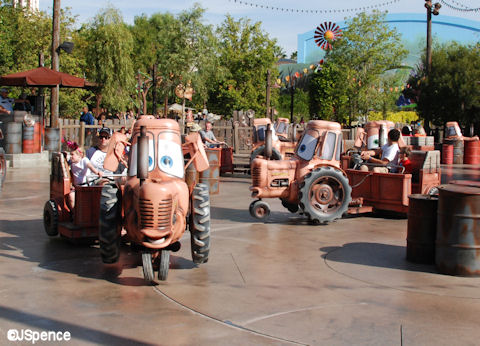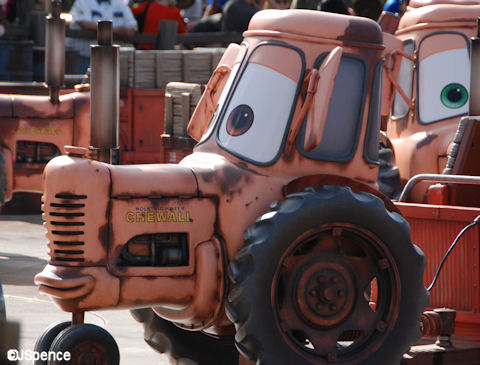 Here we have a picture of me riding on Mater's Junkyard Jamboree and my less than respectable niece, Shayne. LOL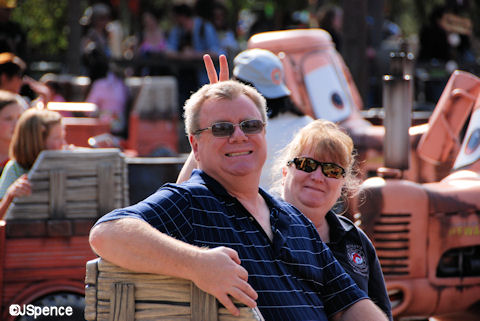 I am not a fan of the Tea Cups in Fantasyland. The spinning makes me nauseous. But I'm okay with Mater's Junkyard Jamboree. The whipping motion gives a decent thrill, but isn't consistent enough to throw my stomach out of whack. I think almost all ages would enjoy this attraction. Mater's Junkyard Jamboree has a minimum height requirement of 32 inches.
Nearby we find Mater's Petting Zoo. This spot offers some great photo opportunities.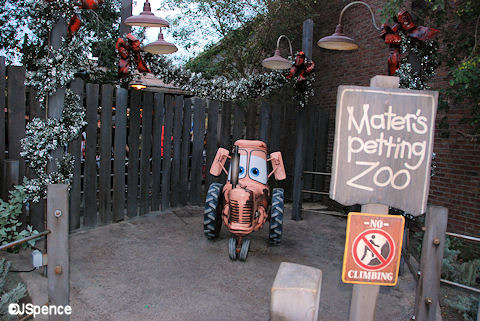 Next to the petting farm is the Carburetor County Tractor Feed and Farm Truck Association Hall. This building is for the residents of Radiator Springs only and guests are not allowed in. This was an existing building left over from the Bountiful Valley Farm era.
Sally is a 2002 Porsche 911 Carrera and owns the newly-refurbished Cozy Cone Motel.
The Cozy Cone Motel was intended to resemble the Wigwam Motel chain, a motor lodge where each cottage was designed to look like a tipi. At Sally's, each of the rooms, or this case, concession stands, resembles a giant highway safety cone. Each cone offers a different snack. These are Churros, Ice Cream Cones, Chili Cone Queso, Cone-Coctions, and Popcone. Nearby tables have orange cone umbrellas.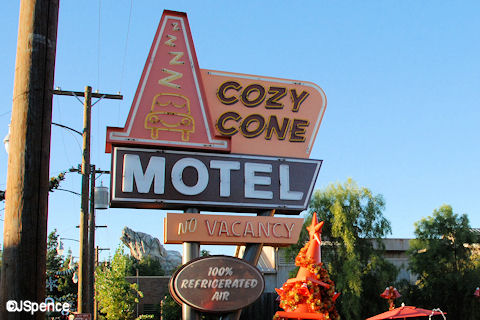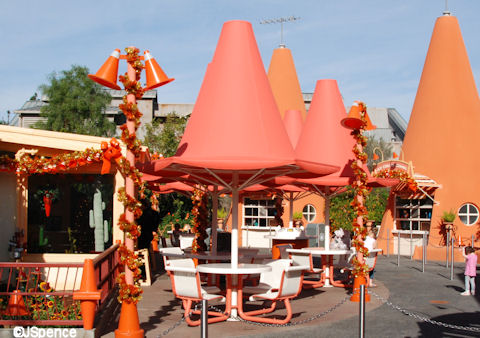 The Cozy Cone Motel also plays host to a number of Radiator Springs' residents that are more than happy to pose for photographs.
Lizzie is a 1923 Ford Model T coupe (license plate, "MT23″. She is the town's oldest resident and the owner of Radiator Springs Curios.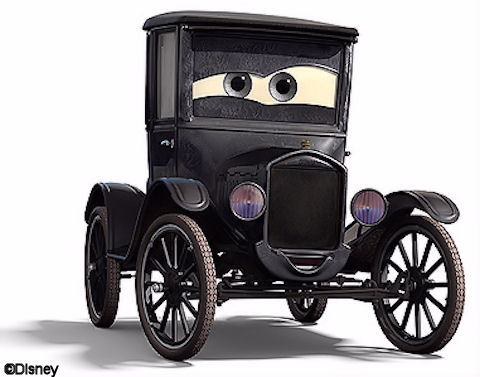 Radiator Springs Curios sits on the corner and offers a selection of Radiator Springs souvenirs and automobile paraphernalia. Everything from snow globes, mugs, clothing, and Route 66 signs can be found here. You might even come across some genuine Radiator Springs postcards for sale.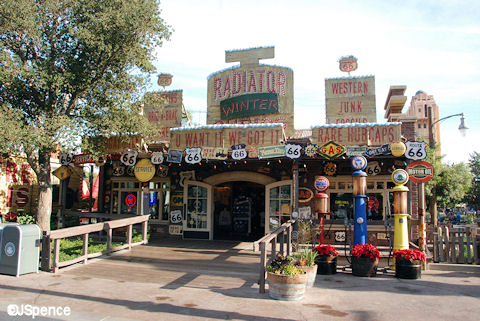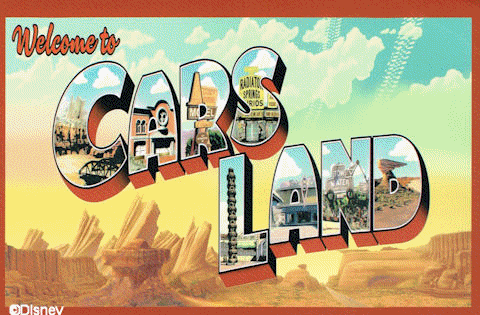 Across the street from Radiator Springs Curios we find Flo. Flo was inspired by three early- to mid-1950s show cars: the 1951 Buick XP-300, the 1956/57 Chrysler Dart, and the 1951 Le Sabre. Her license plate reads "SHOGRL".
Flo runs Flo's V8 Café. This place of business is based on the Midpoint Café in Adrian, Texas which bills itself as geographically halfway between Chicago and Los Angeles. The Midpoint Café sold gas, souvenirs, antiques, food, and was famous for its pies.
Flo's V8 Café offers traditional breakfasts in the morning and serves rotisserie meats, home-style sides, and house-made pies for lunch and dinner. This is a counter service establishment.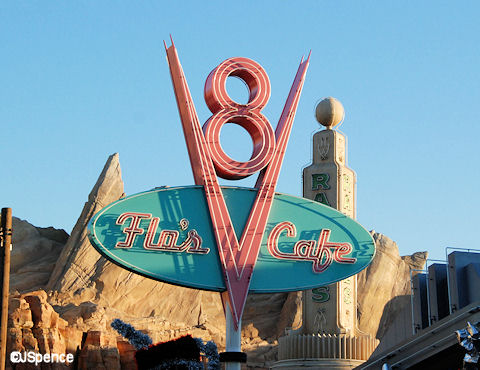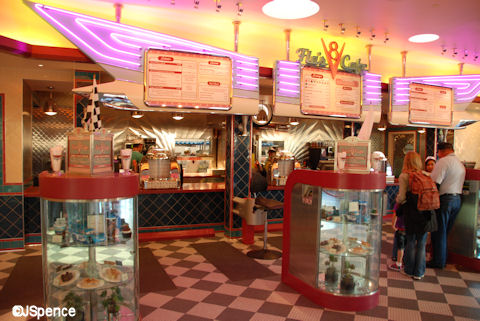 When visiting Flo's, take the time to read some of the song titles on the jukebox selector. Here is just a sampling.
U-Turn Back on Me
Get It In Gear
No Passing Zone
Don't Make Me Break Down
Whole Lot Of Breakin' Goin' On
Outdoor seating at Flo's V8 Café is available near the entrance, next to the gas pumps.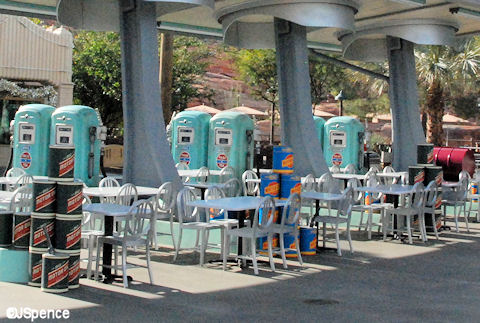 Indoor seating can be found in the adjacent Ornament Valley Mechanical Clinic. This is also the spot where you can see Doc's three Piston Cups.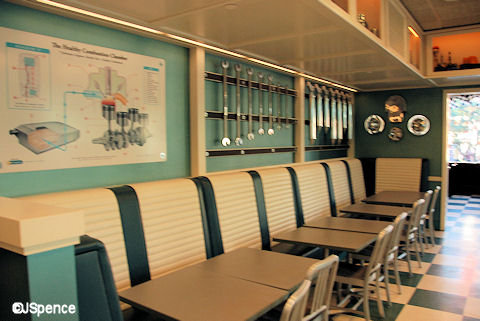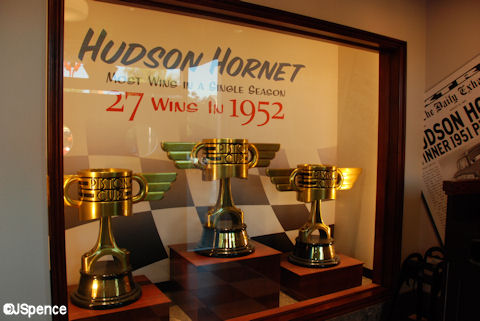 After retiring from racing, Doc became Radiator Springs' judge and mechanic. His license plate reads "51HHMD". This represents his model year and racing track number, that his automobile type is a Hudson Hornet, and the fact that he's a medical doctor.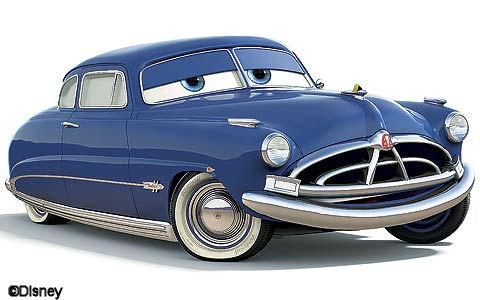 Across the street from Flo's V8 Café we find Ramone, a 1959 Chevrolet Impala Lowrider and his tag reads "LOWNSLO". Ramone is usually depicted as purple with a yellow and orange flame job, but if you pay attention, you'll notice he changes colors numerous times throughout the movie.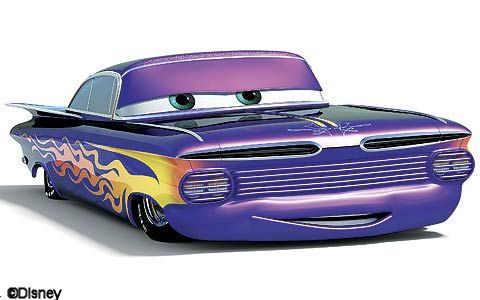 Ramone owns and runs Ramone's House of Body Art. At DCA, his shop sells more Cars Land souvenirs.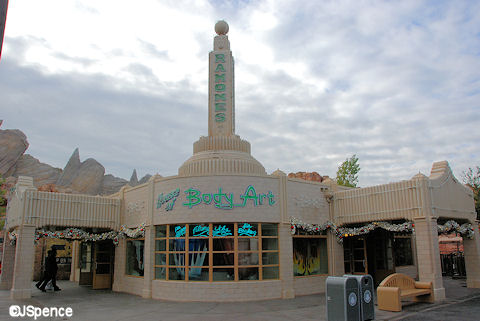 The other residents of note in Radiator Springs are Luigi and Guido. Luigi is a 1959 Fiat 500 with a tag that reads 445-108. This is the latitude and longitude for the main Ferrari factory in Maranello, Italy. Guido is an early 1950s Isetta forklift.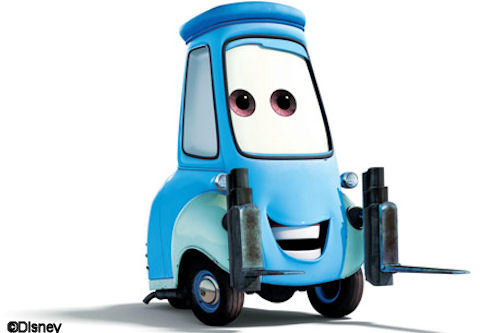 Luigi owns Casa Della Tires. His "Leaning Tower of Tires" was once world famous and is a mini-landmark for Radiator Springs.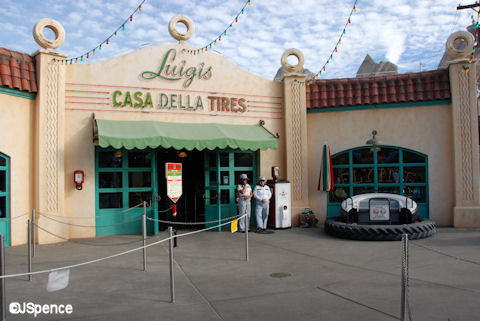 Luigi has come up with a way to supplement his income when the tire business is slow. On the backside of his shop he's created an ingenious apparatus that allows customers to float on a cushion of air while riding in one of his oversized tires. He calls his invention, "Luigi's Flying Tires." To reach this attraction, guests enter through the tire shop. Inside they see the various brands of tires Luigi sells, racing posters, and his office.
As the queue continues outside, guests encounter tire topiary, tire planters, tire fence ornaments, and instructions on how to operate the tires once onboard.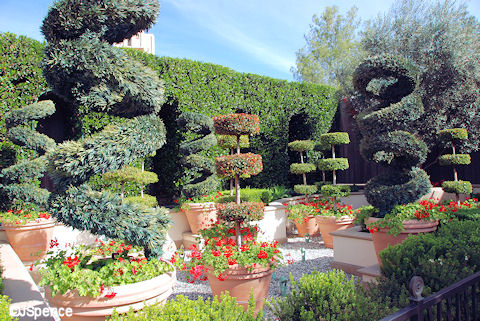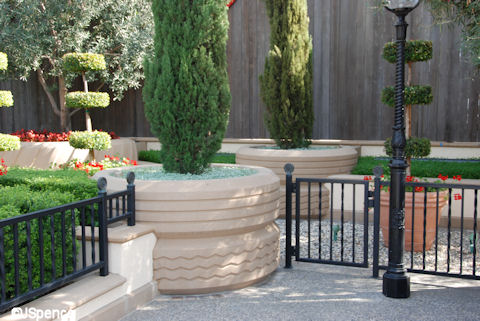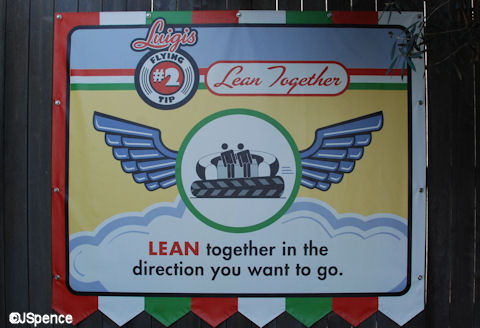 One to three people can fit into each tire. Once the adventure begins, a cushion of air is pumped from the surface below, causing the tires to float a few inches off the ground. To propel them, guests simply lean in a direction and the tire takes off. In the third picture, you can see my niece Shayne and me trying to go left.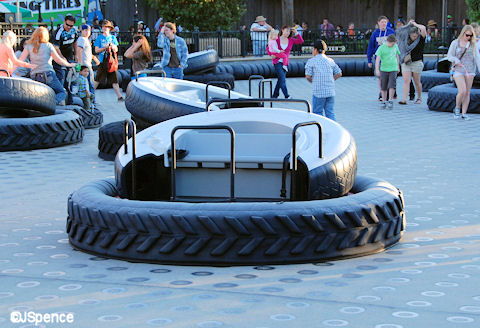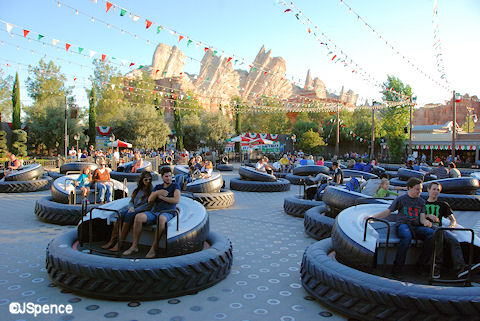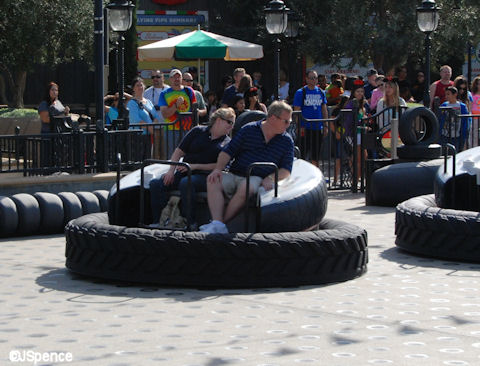 Although incredibly fun to watch from the sidelines, Luigi's Flying Tires has met with mixed reviews from its riders. Many find the tires difficult to maneuver and spend their entire ride sitting in one place. Others find the playing field too congested and difficult to gain any speed as open space is limited.
Having heard these complaints before I rode Luigi's Flying Tires, I did not let my expectations get away from me. Shayne and I had a good time riding, but we weren't blown away by this attraction either. With the right attitude, Luigi's Flying Tires is good for a laugh or two.
Before reaching the courthouse, there are four other businesses along the main drag of Radiator Springs. None of these house anything open to the public. These are The Oil Pan, Lube O Rama, Sparky's Spark Plugs, and Mr. Curb Feeler.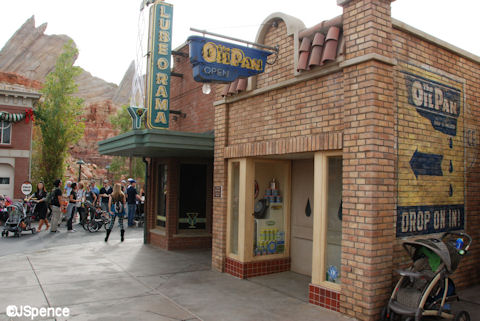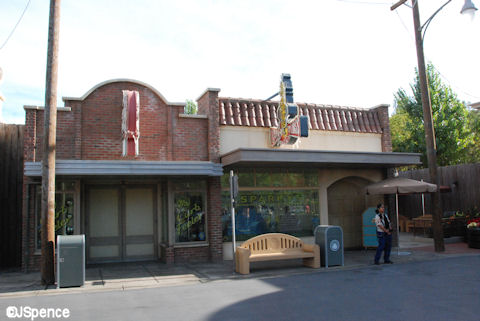 A combination courthouse, fire station, and police headquarters is located at the foot of Radiator Springs' main drag. Here we find a statue of Stanley, Lizzie's late husband and the founder of Radiator Springs. As you can see in the following pictures, the town is decorated for Christmas with a hubcap-adorned tree and Stanley wearing a Santa cap and carrying a toy sack.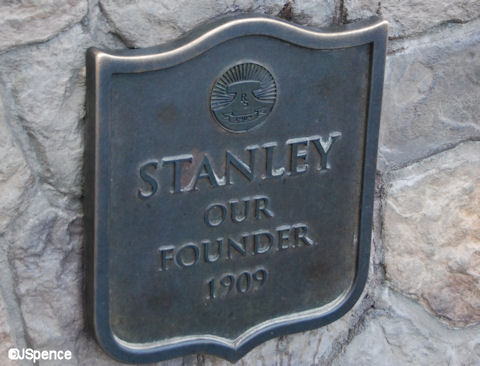 Stanley is a Stanley Steamer, a vehicle that was powered by steam rather than an internal combustion engine. To see Stanley as a young (and alive) car, visit Blue Sky Cellar over in the Pacific Wharf section of the park and watch "Time Travel Mater." This short cartoon explains how Stanley founded Radiator Springs and met Lizzie.
Radiator Springs is transformed into a wonderland at night when all of the neon comes to life. If you've visited this section of DCA during the day, make sure to return after sunset for a completely new experience.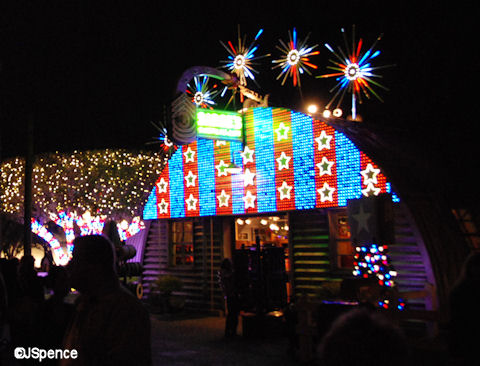 A number of Radiator Springs' residents make appearances during the day. You never know when one of your favorites might appear.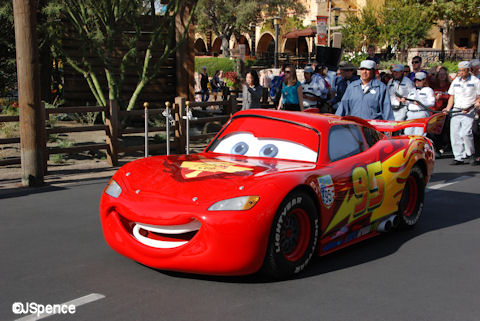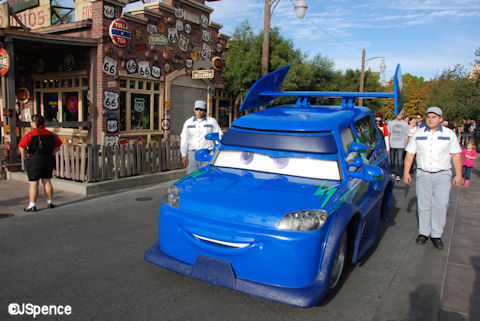 The highlight of the new Cars Land is Radiator Springs Racers. This attraction is a mega hit with guests and long lines ensue immediately after DCA opens. One to two hour lines are common for this attraction. In addition, the line for a FastPass can be 30 minutes long in the early morning and all of them have been distributed within an hour or so.
The queue for Radiator Springs Racers begins near the Courthouse. A sign points the way.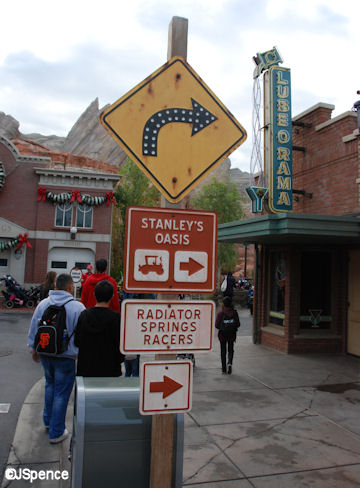 Guests then pass beneath an archway directing Stand-by Riders, FastPass Riders, and Single Riders to their respective line. I strongly recommend the Single Rider line if you don't mind touring Ornament Valley alone. However, this line can also be 30 minutes long on busy days.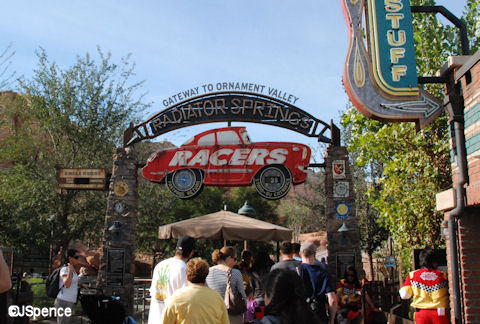 Shortly after queuing up, you pass beneath an old iron truss bridge and a wooden trestle.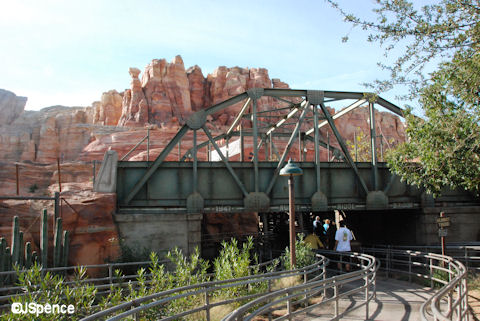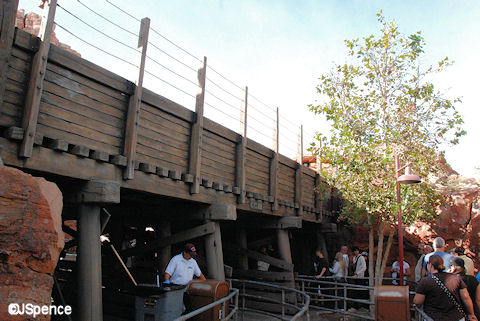 Next we come to Stanley's Oasis, a place where natural spring water bubbles up from the ground.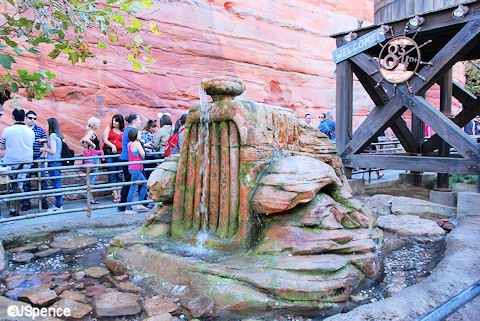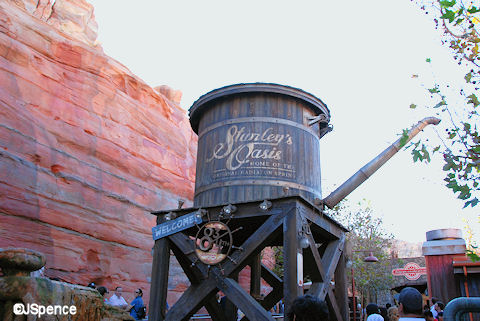 The queue then meanders through several old, automobile related buildings. These include Stanley's Cap-n-Tap, an old service garage, and the Amazing Oil Bottle Room. As the line can be quite long, Disney has stationed several cast members along the route selling snacks and drinks.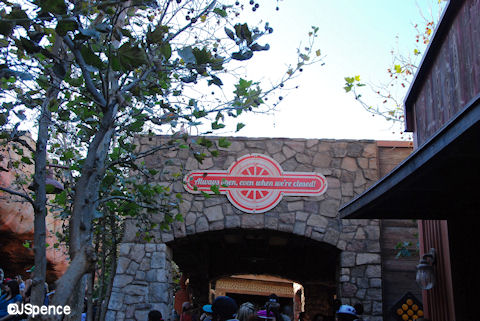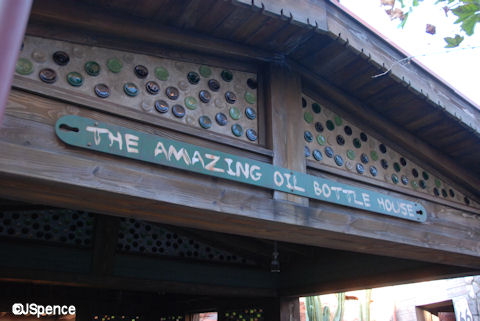 Outside the various buildings we see a number of cacti as Radiator Springs is located in an arid desert.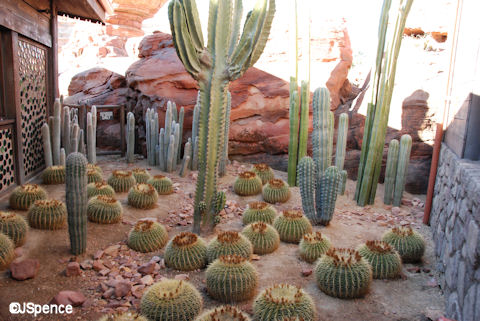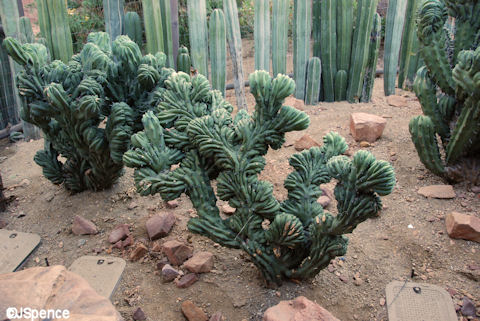 Eventually we reach the loading area which is located inside the Comfy Caverns Motor Court. Each car seats six passengers, three in the front and three in the back.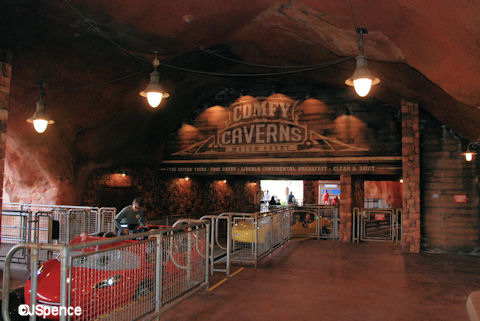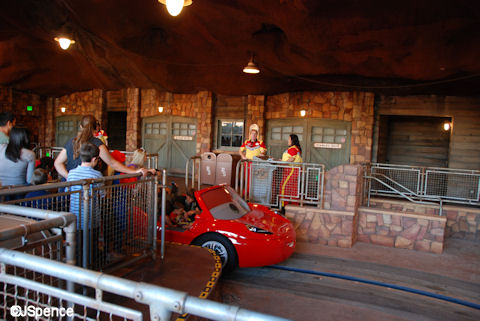 Our journey begins at a leisurely pace as we take in the sights of Ornament Valley. As the elevation changes, cacti gives way to pine trees. Higher still, we drive through a natural tunnel. Emerging on the other side we're provided with an awesome view of a bridge far off in the distance and a waterfall cascading behind it.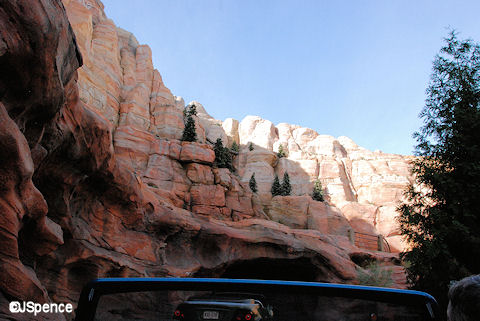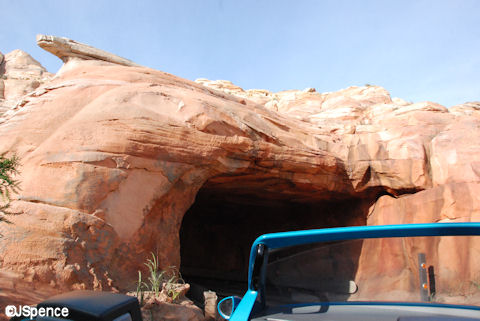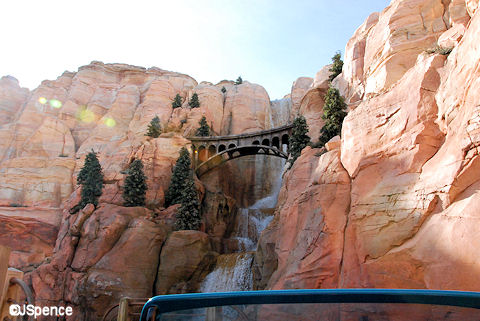 As we continue our sightseeing tour, we enter a tunnel where we find ourselves on the outskirts of Radiator Springs. We almost have a head-on collision with Mac and run Van and Minny off the road.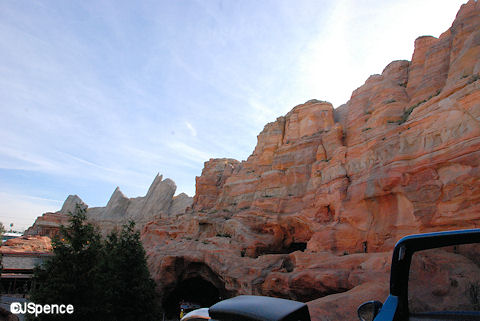 After we narrowly miss hitting a train, we encounter the Sheriff who tells us to slow down.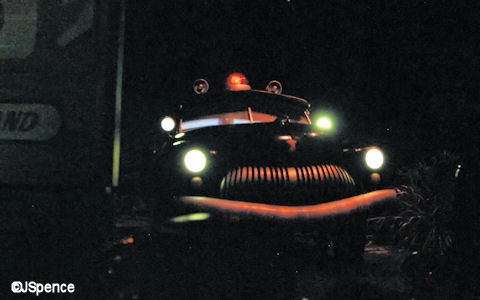 Next we meet Mater who convinces us to join him in some good spirited tractor tipping.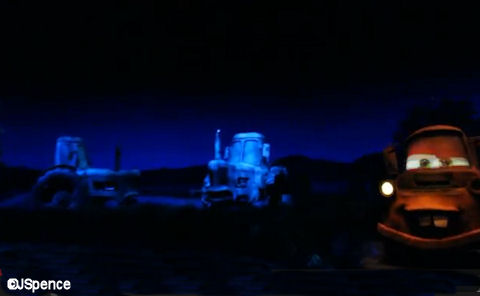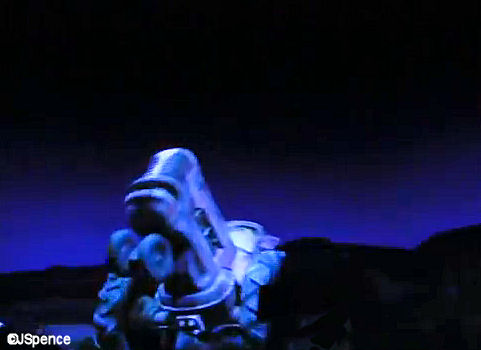 Of course Frank, the combine harvester bull, isn't too happy about this and comes after us with a vengeance.
We skedaddle on our way through the countryside and eventually wind up in Radiator Springs. Here we encounter Fillmore and Sarge parked at Flo's. Further down the road we find Lizzie idling in front of Radiator Springs Curio and Red watering some plants.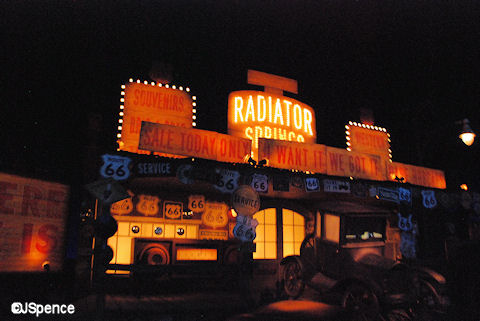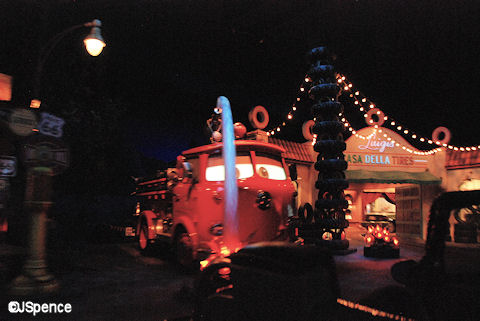 Next we meet Sally and Lightning McQueen. They will direct our car to either Luigi's Casa Della Tires or Ramone's House of Body Art. At Luigi's, we are given a brand new set of whitewalls. At Ramone's our car receives one of his special paint jobs.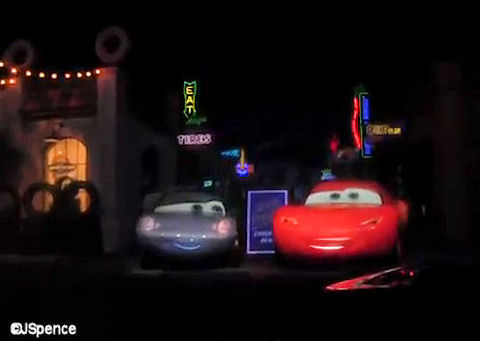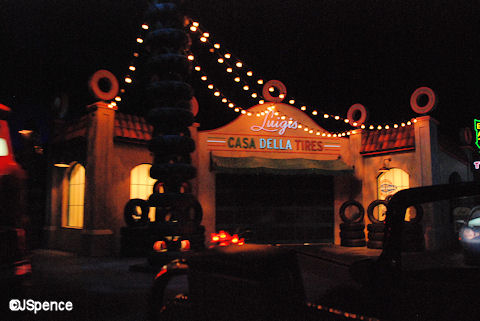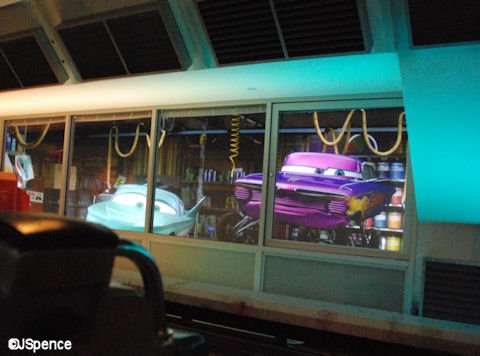 In the next room we meet Doc who gives us a pep talk for the race that's about to ensue.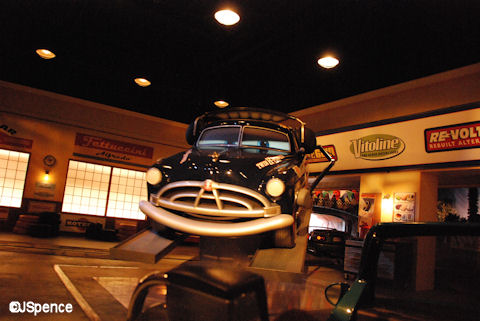 As we pull up next to another car, Guido and Luigi cheer us on and begin the countdown. At zero, wheels squeal and we take off.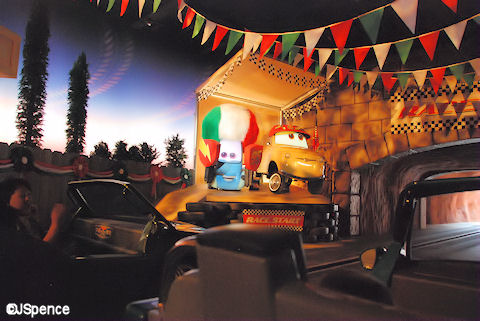 Our race takes us on a high speed spin around banked turns, up and down hills, over bridges, along mountainous terrain, and dashing beneath a tunnel or two. At the end of the race, one car is pronounced the winner and the other congratulated for a job well done.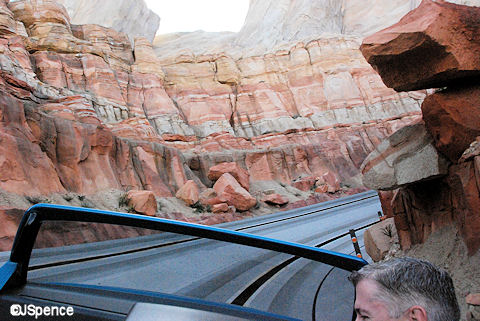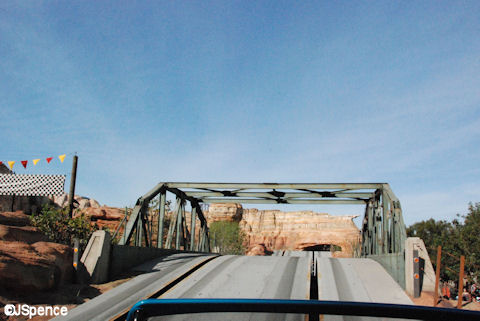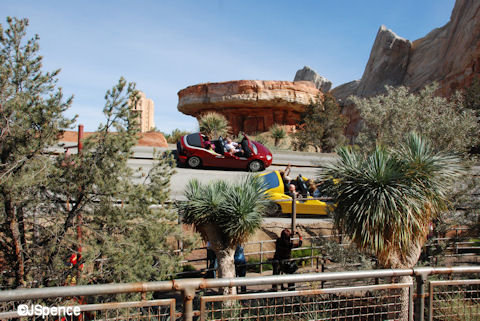 There are also a number of great photo opportunities around the roadway where your friends and family can capture you as you speed by. Here's a shot of me enjoying my adventure.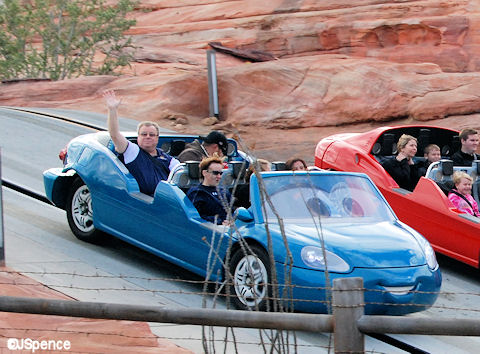 After the race, the cars enter Tail Light Caverns and Lightning and Mater welcome us back home.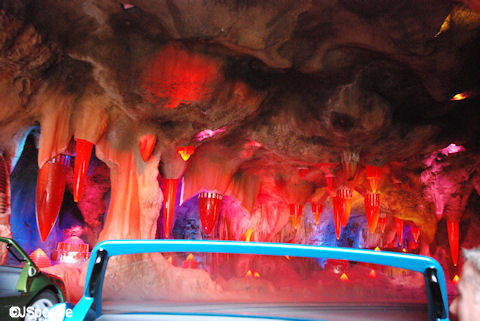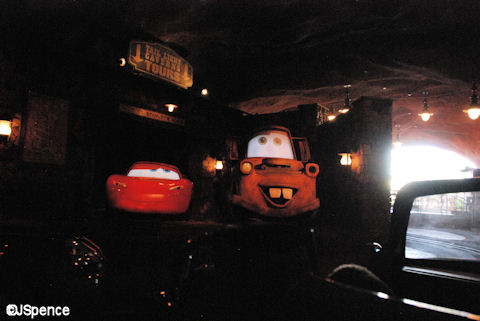 I am often asked what my favorite Disney attraction is. I'm always evasive with this question and answer with, "The best I can do is name my favorite attraction in each park." But after riding Radiator Springs Racers, I just might have to put this attraction at the top of my list. It has everything going for it – a great story, great AudioAnimatronics, great scenery, a leisurely and inspirational ride, and then a high speed race along a wonderful course. I rarely will wait in a line that's over an hour long. Radiator Springs Racers would be an exception – but thank goodness for FastPass and Single Rider Lines.
Radiator Springs Racers also offers some fantastic scenery that is perfect for amateur and professional photographers.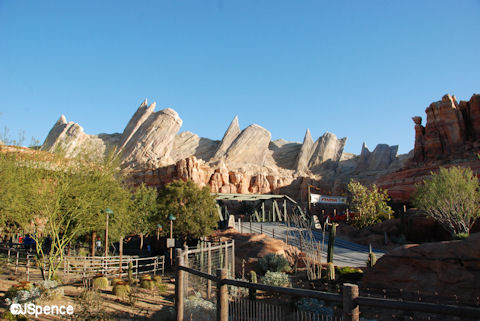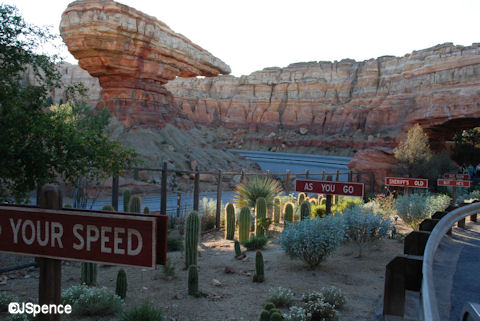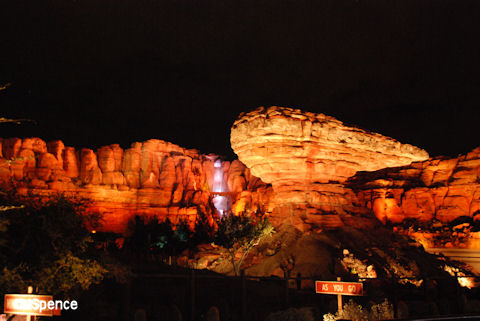 This completes my article about Radiator Springs. Trust me when I say, I've only scratched the surface of all there is to see and enjoy here. There are details piled onto details at every turn. It was truly a delight visiting this area and I look forward to my next visit to California so I can experience it all over again.
Check back tomorrow for my final installment about Disney California Adventure. Paradise Pier will be the topic.