If you or your children enjoy Nemo and his ocean friends, Walt Disney World offers plenty of opportunities to visit his Big Blue World. And, with the recent theatrical release of the 3D version of the film, now is the perfect time to dive right in and continue to experience the joys of the film.
We are in the middle of the limited-engagement theater release of "Finding Nemo 3D." If your children, like mine, were too young to see this Disney-Pixar classic when it first was released in theaters in 2003, now is your time to experience this colorful marvel on the big screen. The 3D effects really enhance an already wonderful movie. (This version is expected to be released on Blu-ray and DVD on Dec. 4.)
In support of the movie, Disney Publishing Worldwide has released two apps — Finding Nemo: Storybook Deluxe and Finding Nemo Interactive Comic. In the storybook app, young readers will experience the story with a special set of effects, including underwater sounds, the ability to create bubbles and a Whale Chat with Dory. Like other Disney storybook apps, this one has different reading levels and allows kids to record their own voices reading the story. There also are new versions of kid favorites such as finger-painting pages, games and puzzles. Finding Nemo: Storybook Deluxe is $6.99 and is available on iPhones, iPads and iPod touches.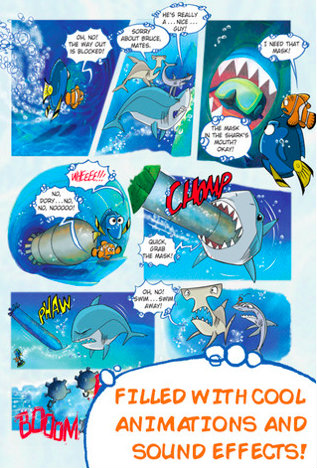 Finding Nemo Interactive Comic is aimed at older kids, ages 7 to 12, because it's an advanced interactive graphic novel. It includes concept drawings by Disney Pixar artists who worked on the original film, sound effects and even step-by-step drawing lessons. Finding Nemo Interactive Comic is $1.99 and is available on iPhones, iPads and iPod touches, too.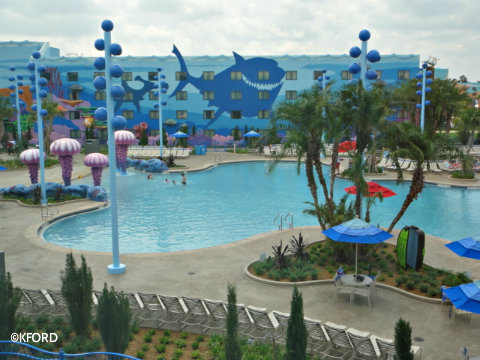 Planning a trip to Walt Disney World? There are several ways to visit with Nemo. The new Art of Animation Resort opened in May, allowing guests to feel like they have stepped into the movie. The Finding Nemo family suites are aptly themed and cleverly designed. From plastic coral chairs for the dining table to bathrooms fit for Bruce and friends to the school-of-fish artwork, every detail recalls "Finding Nemo." The Big Blue Pool, or main pool, has larger-than-life statues of many of the characters, and even offers music underwater, jellyfish figures that drip water, and a splash pad where Nemo's friends shoot water. In the restaurant and lobby, guests will find concept and landscape art from "Finding Nemo."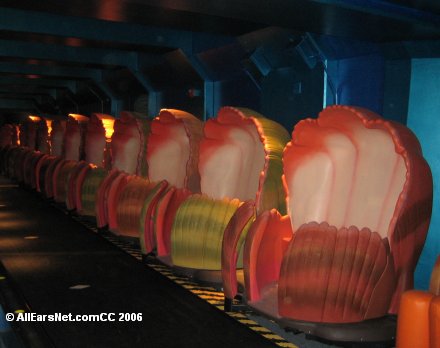 At Epcot, The Seas with Nemo & Friends pavilion is the place to be. A ride by the same name takes guests on Marlin's journey to find his son as they travel under the sea in clam-mobiles. Much of the dark attraction projects the animated characters on the aquarium, but there also are some very cool effects, such as the moving jellyfish and riding the EAC with Crush. Outside the pavilion, guests will hear the sea gulls chirping "Mine! Mine! Mine!" and there is a great photo opportunity with statues of Nemo and friends.
While inside The Seas pavilion, guests also can interact with the popular surfer sea turtle at Turtle Talk with Crush! This attraction uses 3D animation and allows Crush to talk back and forth with kids in the audience. During the 10-minute show, Crush tells jokes and performs some on-screen acrobatics.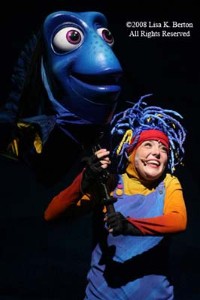 At Disney's Animal Kingdom, guests can experience a 30-minute Broadway-style show called "Finding Nemo – The Musical" at Theater in the Wild. This amazing performance showcases talented actors, singers, dancers and acrobats who use large, colorful puppets and animated backdrops to retell the story of "Finding Nemo." It also features the original song, "Big Blue World," which was written for this show and also can be heard at the end of The Sea with Nemo & Friends ride. "Finding Nemo — The Musical" offers the only opportunity for guests to meet the Nemo characters; performers may bring their puppets back out to the stage after the performance and talk with guests.
When "Finding Nemo" was released in 2003, it was an immediate hit with filmgoers and critics alike. Its compelling storyline of parenthood resonated with family audiences, as did Nemo and Marlin's epic quest set against the timeless theme of loss and redemption. As with most all Pixar films, its visual beauty on the big screen was, and remains, unrivaled. Now, some nine years later, fans can continue to experience the film's characters and themes here in Orlando.
Just keep swimming. There's no telling what you might see.