"180 days," a number and a noun that drives seasoned Walt Disney World vacationers into a salivating frenzy. For it is at the 180 day mark prior to the moment their feet touch magical soil that advanced dining reservations can be booked. Such concise detail goes into strategizing a trip to Mickey Mouse's own vacation destination (he lives at Disneyland) that even members of the military would take notice. Menus are read over and over once decisions are made regarding which park to visit on which day. Then with a phone call or clickety click of a keyboard, meal times and locations are solidified and an adult lets out a huge sigh and crosses another item off his/her To Do List.
This week Scott and I take aim at restaurants. My photo of choice comes to you from Sci-Fi Dine-In at Disney's Hollywood Studios. Relive or experience for the first time what it felt like at a drive-in movie theater. Every car has a great view of the science fiction clips playing on a large screen and stars twinkle in the midnight blue sky.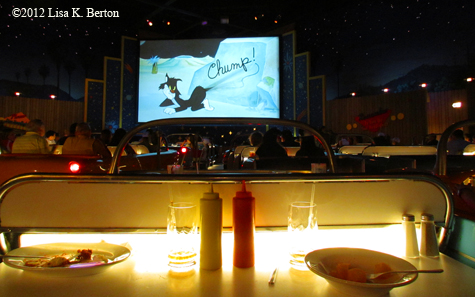 Taken with a Canon PowerShot SX30 IS and a mini tripod.
Keep up with my shenanigans via my Facebook page.