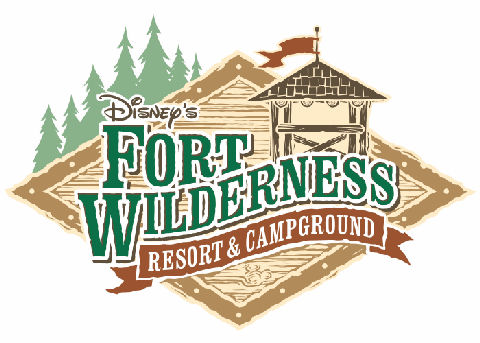 I have written several blogs touching on the various activities found at the Fort Wilderness Resort & Campground, but two recent events have prompted me to revisit this resort in-depth. First, I stayed in one of the cabins for the first time. And second, while I was there, I created a comprehensive video of this sprawling campground. So here goes, a look at one of the best loved spots at Walt Disney World that has perhaps the most loyal following of any resort.
One of the first things I notice whenever I visit Fort Wilderness is that the other guests staying here are extremely outgoing. Everywhere I wander, people say "hello" to me when I pass them on a sidewalk or while I'm browsing at one of the two trading posts. There is just something about this place that makes people friendlier. I'm normally a "keep to myself" kinda guy, but this sociable attitude is infectious and in no time at all, I'm initiating the greetings. If you've visited here before, you know what I'm talking about. If you haven't ventured to this portion of Walt Disney World yet, you're in for a treat.
Fort Wilderness officially opened on November 19, 1971. It has grown over the years and currently covers over 700 acres with 409 Wilderness Cabins and 784 campsites designed to accommodate tents and recreational vehicles. The name "Fort Wilderness" came from the fort found on Tom Sawyer Island located at Disneyland.
Fort Wilderness has three distinct areas, The Outpost, The Meadow, and The Settlement. Campers arrive at The Outpost via Vista Boulevard. Like all Disney resorts, a large sign welcomes guests to the property. Those driving RVs proceed to a special "drive-thru" check-in counter. Visitors staying in a cabin should park their vehicle and check-in at the Reception Outpost. Guests staying in tents may use either check-in spot. The Reception Outpost was constructed out of pine logs imported from Montana.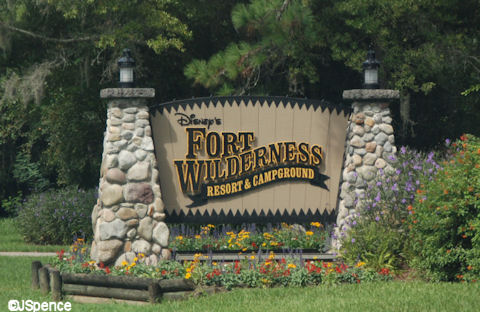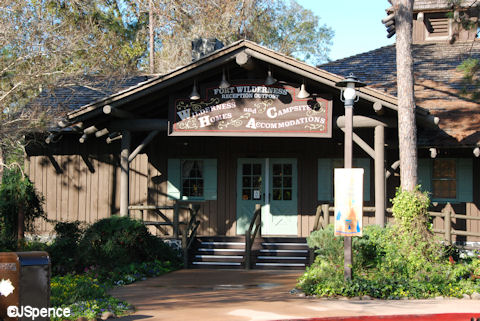 After finishing the required paperwork, the receptionist will give you a map and driving directions to your campsite or cabin.
There is limited automobile parking at The Outpost and none at The Meadow and The Settlement. Guests who wish to take advantage of the various activities available at Fort Wilderness should walk, bicycle, use the internal bus system, or use an electric cart. Electric carts can be rented at Reception Outpost and cart and bicycle parking is available at all three areas of the campground. If you do rent an electric cart or bring your own, be sure to read the "Rules & Regulations" guide given to all guests at check-in. Electric carts can be reserved in advance by calling 407-824-2742. Drivers must be at least 16 years old with a valid driver's license.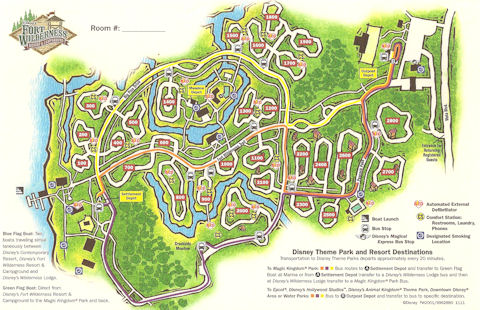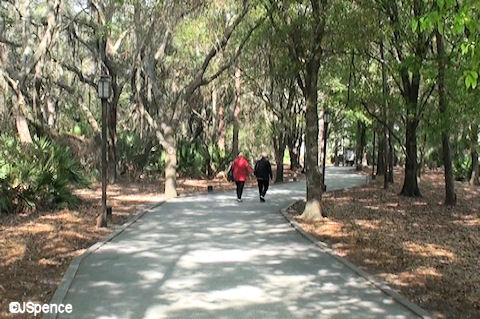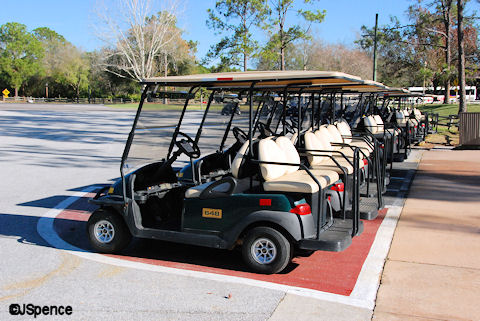 If you don't have a bike or electric cart, you will probably be using the internal bus system within the campground. Three routes navigate the 700 acres and take guests to the various loops, The Outpost, The Meadow and The Settlement. The routes are designated by color — Orange, Yellow, and Purple. All bus stops have maps with easy-to-read indicators. Like all Disney buses, the ones at the campground are clean and reasonably efficient. However, some people dislike the fact that in order to go to any theme park or Downtown Disney, you must first take a campground bus then transfer to another bus or boat. This can easily add 15 to 20 minutes to your journey.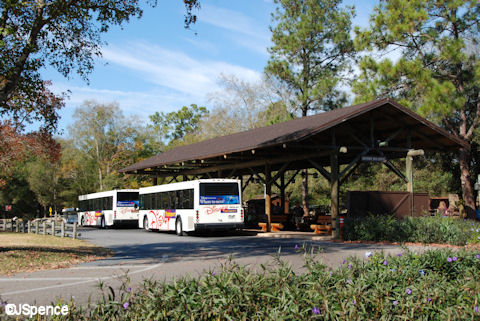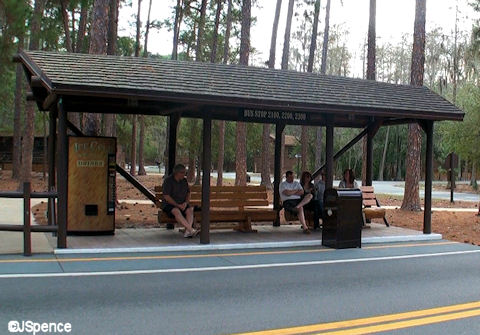 The designers of the campground did their very best to disturb as few trees as possible when creating Fort Wilderness. This area is a surprise to most first-time visitors. They have no idea that such a peaceful spot exists on property. Groves of pine and cypress surround the campsites and roadways. Combine this with numerous canals and grassy knolls and you have the perfect spot to pitch a tent or park your RV. Fort Wilderness Campground consistently receives AAA's Level 3 rating (their top) and Trailer Life Magazine awarded this property with a 10/10/10 rating, the highest possible.
The campground is divided into 28 loops. Some of these loops are designated for cabins, some for RVs, and some for campers and tents. Most sites are separated from one another with a barrier of bushes and trees, adding a secluded nature to the area.
The loops for RVs have concrete pads ranging in size from 25 feet to 60 feet deep and widths of up to 25 feet. Those intended for tents have a concrete pad for your car and a sandy patch in which to set up camp. All sites have electricity (120/220 volts), city water, charcoal grill, picnic table, and cable TV hookup. All but 90 sites offer full sewer hook-ups. The ones that don't are intended for tent campers. Check-in time for campsites is 1pm and check-out at 11am.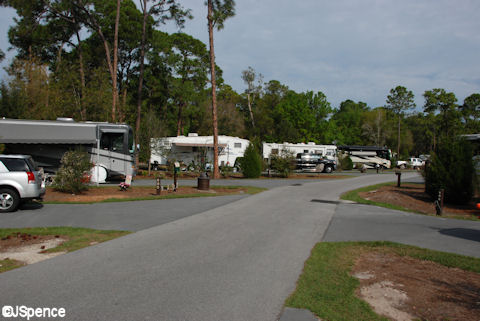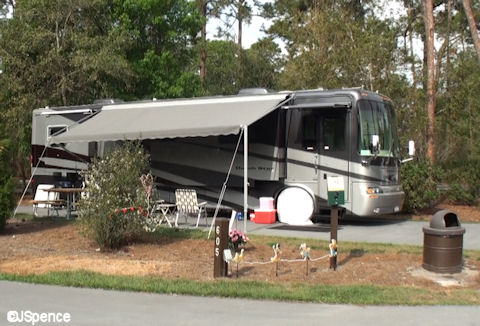 There are a number of comfort stations located around the campground. These are clean facilities that offer toilets, showers, laundry facilities, ice, and campground information. I was especially impressed with the showers. Each shower is individual with its own, private dressing room. Unfortunately, I could not get an adequate picture of the shower and dressing room to share with you here.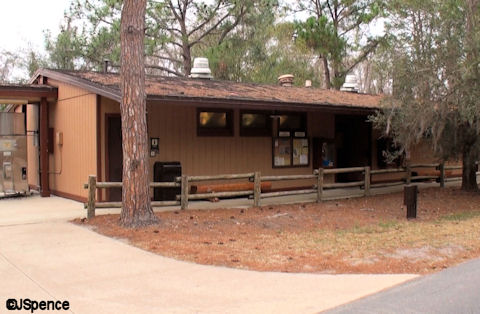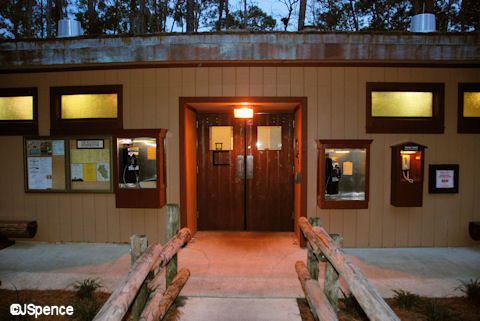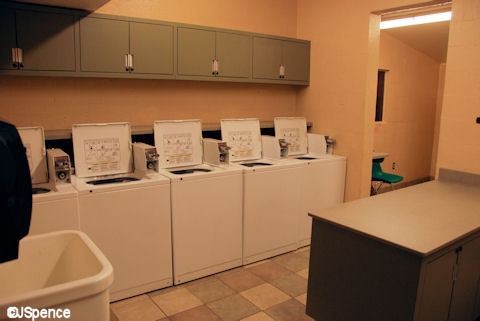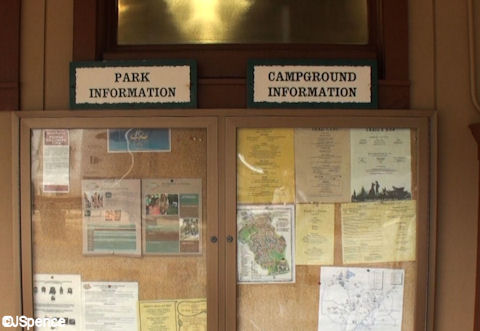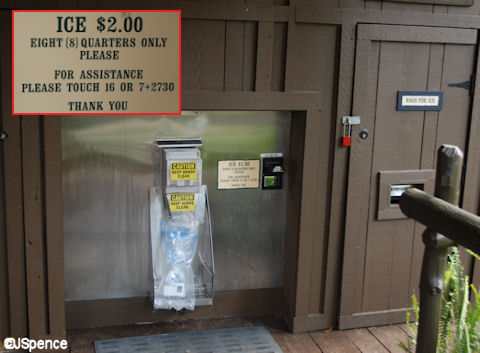 The campers at Fort Wilderness love to decorate their campsites. Christmastime is especially festive with strings of multicolored lights and holiday adornments. However, Christmas isn't the only time campers pull out all the stops. Take a look.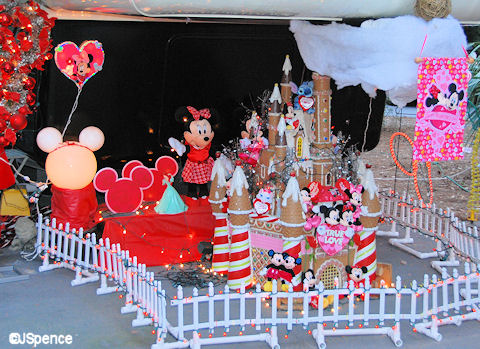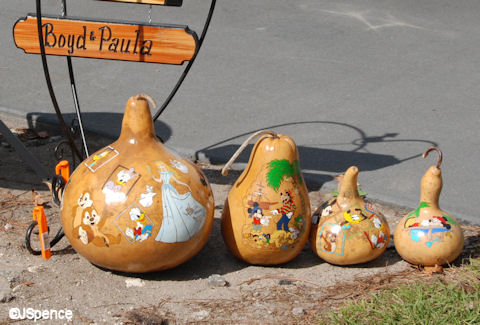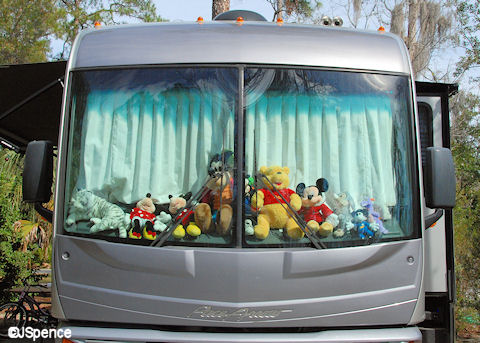 Pets are welcome at several of the loops at Fort Wilderness. When making your reservations, make sure to let the cast member know you will be bringing your animal family with you. While enjoying the campground, pets must remain on a leash. However, Waggin' Trails Dog Park offers a wonderful, fenced-in grassy field where you can let Rover run free with other vacationing K9s. The dog park is located next to the playground at loop 300. A number of signs point the way so you can easily find this doggie retreat from anywhere within the campground.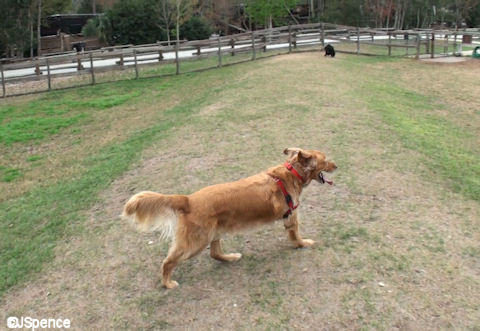 For those of you who like the idea of spending some time communing with nature, but have neither an RV, camper, or tent, Disney offers the Wilderness Cabins. Introduced in 1997, these "cabins" are actually modular homes that have been given a rustic feel both inside and out. The exterior of the cabins is covered in real timbers. A deck, complete with picnic table, is accessible from both the living room and bedroom. A charcoal grill is just a few feet away. Note, there is only room for one car.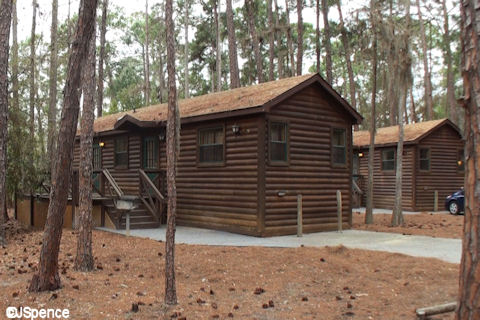 An extensive use of wood is applied to the interior of the cabins. Combine this with country furniture, "lantern" style lighting, and Native American rugs and bedspreads, and you've got yourself a real rustic retreat.
The cabins measure a little over 500 square feet and can sleep six, four in the bedroom (one double bed and twin bunk beds) and two on the Murphy bed in the living room.
The living room has a loveseat (that will comfortably seat two adults), a coffee table/ottoman, and a children's table and two small chairs.
The dining area features an oval table with a bench seat and three full-sized chairs.
The kitchen has a stove/oven, microwave, full-sized refrigerator, dishwasher, and a double sink. The kitchen is fully stocked with cooking utensils, pots and pans, dishes, and flatware.
The bathroom has a combination shower/tub, a sink, and toilet.
In the two closets are a vacuum cleaner, iron and board, collapsible crib, safe, stepladder, and broom.
There are two TVs, one in the living room (with DVD player) and one in the bedroom.
High-speed internet connections are available for a fee. WIFI is not available in the cabins. I do not know if Disney plans to add it in the future.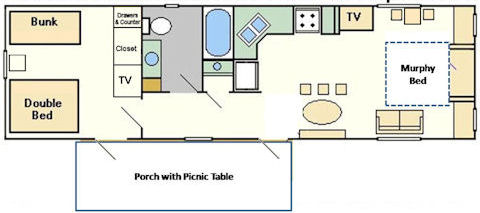 Pictures of the Living Room: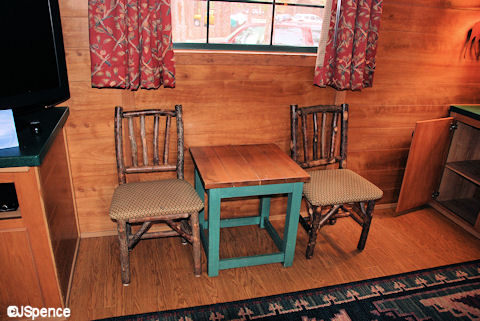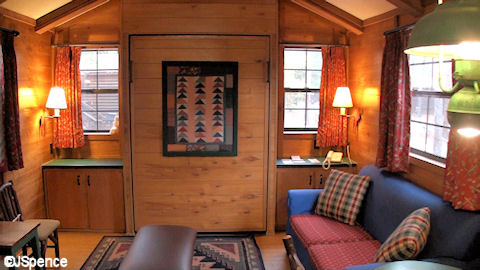 Pictures of the Dining Area: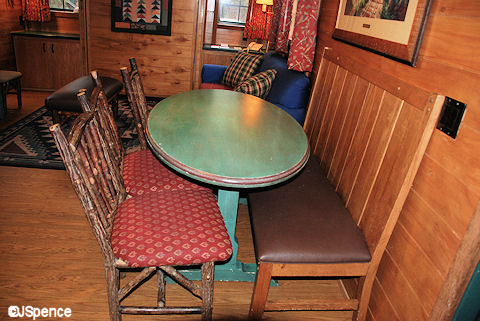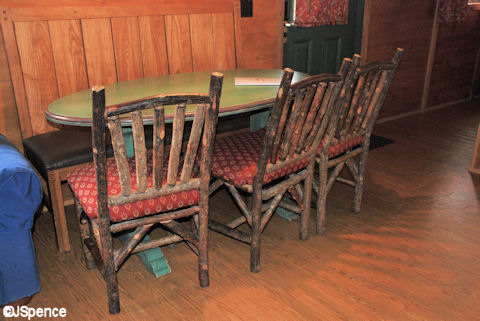 Pictures of the Kitchen: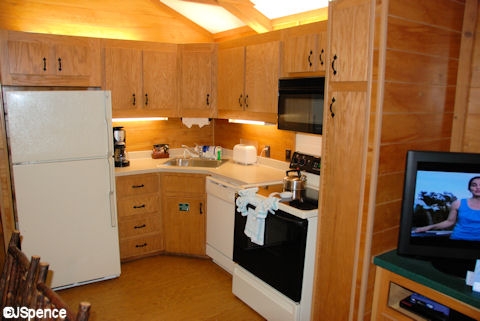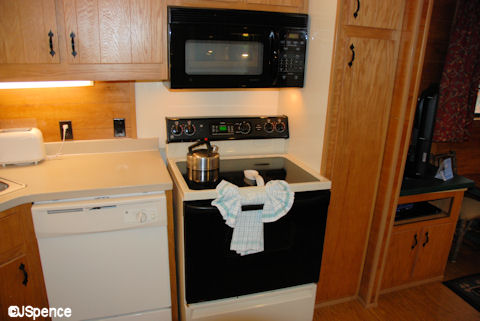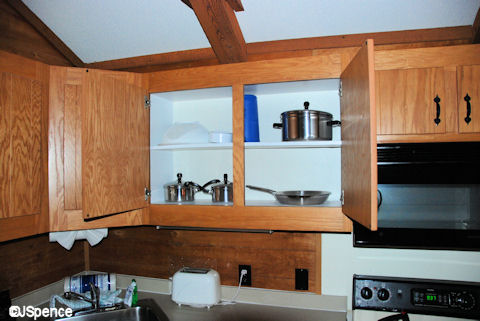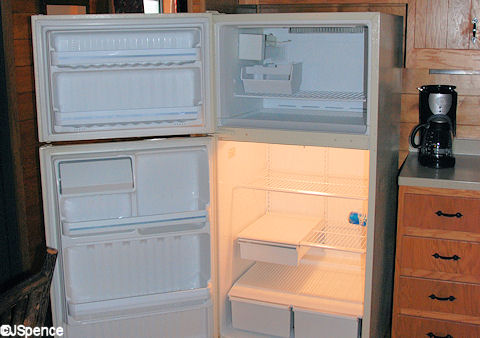 Pictures of the Bathroom: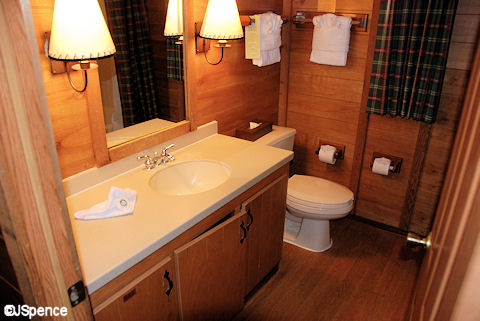 Pictures of the Bedroom: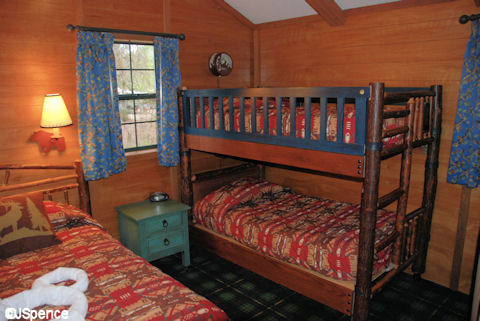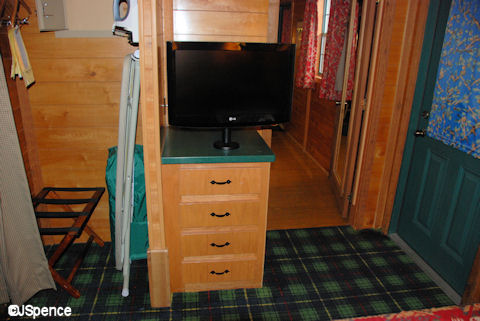 Things I like about the Wilderness Cabins:
The cabins are located at Fort Wilderness. This is fantastic! If you're not a camper, but still want to experience the rustic appeal of this wonderful portion of Walt Disney World, the cabins are the way to go.
The kitchens and bathrooms have recently been refurbished.
The kitchens are well appointed. Just about anything you'd need to prepare a meal is here.
The Murphy bed is far easier to open and close than the convertible sofas found elsewhere on property. Since the beds use cables to counterbalance their movement, even a person with limited strength can effortlessly operate them.
What I don't like about the Wilderness Cabins:
The cabins are advertised as "sleeps six." I would not like to put this to the test. In the bedroom, the double bed is pushed up against the wall. If the inner sleeper needs to get up in the middle of the night, they must disturb their companion. The same is true of the Murphy bed. One side of the bed is a mere six inches from the couch when open. It is impossible to enter or exit the bed from this side.
The bathroom only has one sink. If six people were really using this cabin, two basins would be most useful.
The living room only has seating for two adults. Others must sit on the less than comfortable dining table chairs to watch TV.
Although the kitchen and bathroom have been recently refurbished, the rest of the cabin has a dingy feel about it. I realize it's supposed to feel rustic, but the rooms at the Wilderness Lodge accomplish this with a cleaner feel.
I'm hoping this last complaint is just a misfortunate oversight rather than being indicative of the overall housekeeping provided at the cabins. During my stay, I found a number of items that should have been attended to before I arrived.
A can of beer was left in the refrigerator.
Empty bags were found in a kitchen cabinet.
The top of the refrigerator was very dusty.
A dead and dried lizard was found lying in the middle of a counter.
Would I stay at the Wilderness Cabins again?
Probably not. If I want the "home-away-from-home" feel a separate bedroom and kitchen provide, I would rent one of the DVCs found at other resorts around property. However, I'm a champagne and caviar type of guy. I've never really been into camping. I'm sure others love these rustic cabins and can't imagine staying anyplace else.
I have created of video of the Fort Wilderness Cabins. This should give you a good idea of what they offer.
That's it for Part One. Check back tomorrow when I discuss the many activities that can be found at Fort Wilderness.