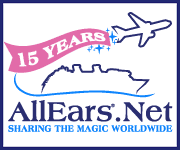 In January 2011, AllEars® reached an important milestone – 15 years online!! To thank everyone who has supported us over the years, we decided to have a year long celebration. All Ears has had meets in Walt Disney World, Disneyland, on the Disney Wonder cruise ship, and in New York City. The grand finale of our yearlong anniversary celebration is "A December to Remember", December 8-11, 2011 — a long weekend full of special events held at various locations in the Walt Disney World Resort.
One week from today is the official beginning of our special celebration — December to Remember
While some events are sold out, many others are open to all – no RSVP necessary. We have lots of new AllEars Trading Cards to hand out and team members now have their own individual cards as well! Be sure to see how many you can collect during December to Remember.


On Thursday December 8th, we focus on the Magic Kingdom/Resort area.
5pm Magic Kingdom. Closing in on almost 10 years, Mike Scopa has hosted his December Dole Whip Meet as a venue for all December guests to meet up, get reacquainted, and just share the joy of Walt Disney World, and of course, that delight know as Dole Whip. Join Mike as he celebrates yet another signature meet at Magic Kingdom's Aloha Isle in Adventureland.
Fort Wilderness Holiday Lights Tour! 6:30pm – 8:00pm. – Ft. Wilderness Campground – Hosted by Erin Blackwell. The Fort Wilderness resort's holiday decorations are becoming famous, featured on the Travel Channel and Orlando Attractions and a favorite with photographers. Now we're giving a tour of some of the greatest guest displays, ending with watching the Wishes fireworks! It's a great opportunity to enjoy spirit, the holidays, and the unique community planned by Walt Disney himself.
Meet at Pioneer Hall (where the Hoop Dee Doo is performed) at 6:30pm. We will wait fifteen minutes for everyone to join us while Erin Blackwell gives history and details that make Fort Wilderness unique. This is an easy walking tour, but Erin will also have an electric (golf) cart for up to 5 people to ride if they prefer. And, of course, Fort Wilderness is ECV friendly.


Friday, December 9th is Disney's Hollywood Studios Day.
AllEars® Meet and Greet at Rosie's All American Cafe on Sunset Blvd.
10:00 – 11:00 a.m. We held this meet in 2010 and it was such a great success we decided to do it again!!! Just head down Sunset Blvd towards the Tower of Terror. Rosie's is on the left side.


Saturday, December 10th is Animal Kingdom Day!

Smile and Say Jambo at Animal Kingdom 8:15 a.m.
Meet AllEars® Picture This! Photo Bloggers Scott Thomas and Barrie Brewer for a morning at Animal Kingdom. Early risers (or those wanting coffee) should meet outside the Rainforest Cafe. No tickets required.
Once the park opens AT 9AM, the group will get Kilimanjaro Safari FastPasses and then walk the Pagani Exploration Trail.


Sunday December 11th is Epcot/Resort Area Day

Team AllEars® Run/Walk/Wog Yer Buns Off – 7 a.m. Join Team AllEars® Co-Captains Michelle Scribner-MacLean and Mike Scopa as they go for a leisurely run/walk/wog (weather permitting) from the Boardwalk Bakery to Disney's Hollywood Studios and back. This enjoyable 5K+ route will take us past Storm-a-Long bay, along the path to Disney's Hollywood Studios, and a return back to Boardwalk. We will meet at the Boardwalk Bakery and be ready to run by about 7 a.m. Will the Osborne Lights be on? You never know…
The Around the World CHOCOLATE Challenge from 2:00pm -4:00pm

2:00pm at Epcot's World Showcase — The French Arm, that quiet little spot that's located down the stairs along the water in the France pavilion.
Join your AllEars.Net co-hosts Laura Gilbreath and Deb Koma, as we go "in search of"…
CHOCOLATE! We have devised a scavenger hunt/game that will send AllEars.Net readers out into the World to answer questions and gather clues from those country pavilions in an effort to win prizes — all involving CHOCOLATE, of course! The mission? Complete an assortment of CHOCOLATE challenges, to be revealed closer to the mission date.
Prizes will be awarded; all will involve CHOCOLATE in some way!
Special gift to the first 50 participants at the meet — gift only available while limited quantities last.


So as you can see, there are lots of fun activities planned. We hope you'll join us for our December to Remember 15th Anniversary Celebration!
For More Information visit the December to Remember Area!