by AllEars® Team Member Jack Marshall
You have probably seen them a hundred times. Walked right past them without paying any mind. I know. I'm guilty of doing it, too. Every resort lobby in the Value and Moderate categories has one. Wilderness Lodge and Animal Kingdom Lodge, too. I'm talking about that little fold-up stand by the door where the caricature artist sits.
Every night from 6 to 11 pm and an occasional mid-day, too, you will find one of these artists ready to perform right in front of you. Most of their subjects are children but they do all ages. They can do face only or they can put your face on one of many body poses you can choose from a notebook they have. You can even specify one that isn't there and they will tell you whether they can do it or not.
The artists themselves are not Disney cast members. They work for an outside firm that Disney contracts with. There are currently about 40 artists who alternate between 11 locations. Some work once or twice a week. A few work a little more and a few are vacation/illness fill-ins. There are four different art companies that handle the various caricature and portrait business throughout Walt Disney World.
The artist that I spoke to on a recent Sunday night was named Michael. As I was asking him some questions, a young lady named Lily, all of 4 years old, came up to the booth with her mother and asked to have her caricature done. She was wearing the cutest Little mermaid dress. When Michael asked what she wanted her body to look like, she didn't hesitate: "Mermaid!" Shocker, huh?
So Lily was seated and Michael took out a fresh piece of paper to begin. The first step is to put the name in the upper left corner. Then it's on to the rough sketching of the shape and features of the head using a pencil.

The beginning: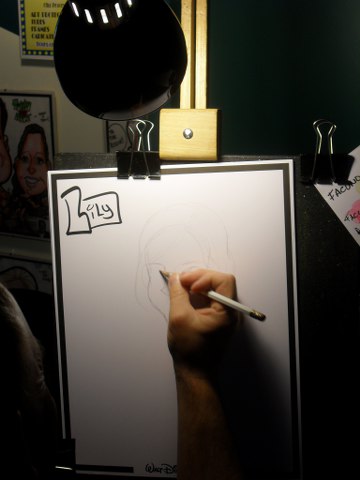 Pencil sketching:


Michael drawing:


Once satisfied with the pencil drawing, Michael uses a thin-tipped permanent marker to outline the features.

Adding marker: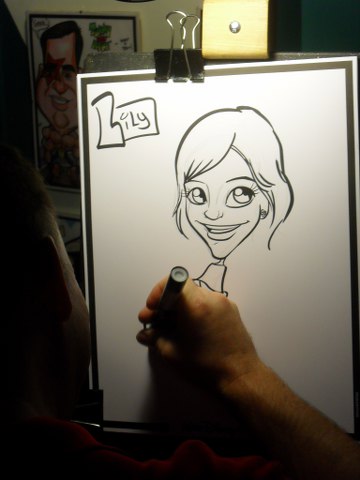 Soon the mermaid's tail is added and other "under the sea" friends start to appear.

Tail fin appears: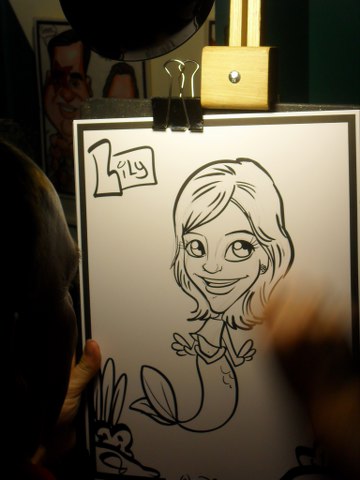 Sebastian and Flounder appear: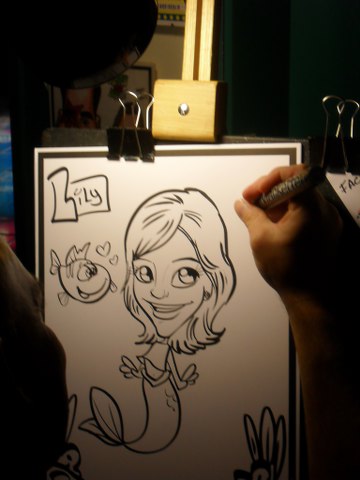 If you want the black and white sketch, this would be your finished product. Total time from start to this point was about 8 minutes.

Finished black and white head and body picture:


But Lily is going to be in full color so here goes:

The coloring begins: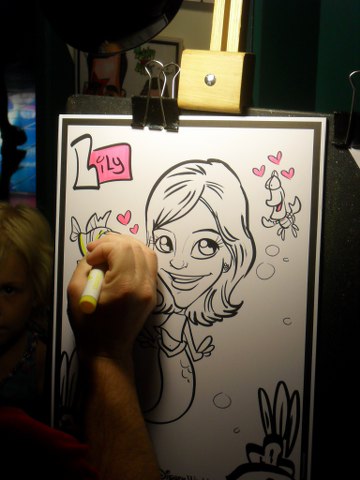 Sebastian comes to life: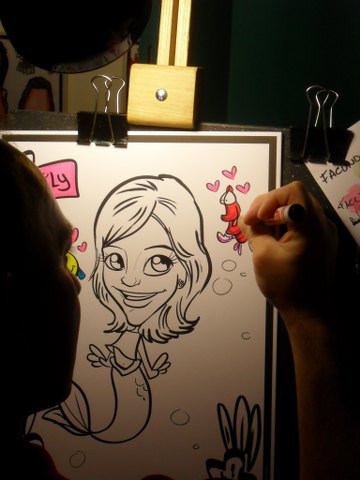 Flounder is colored and work on the tail begins:


Almost done: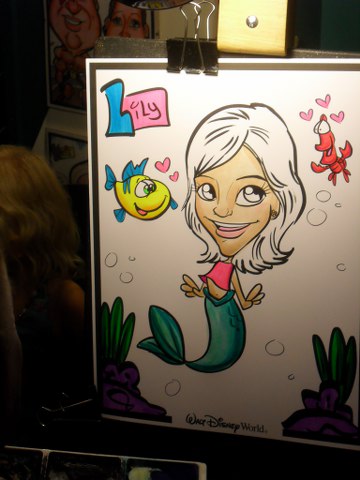 Finally, Michael adds the sea and the finished product appears. Total time: about 15 minutes.

Putting the finishing touches on the sea: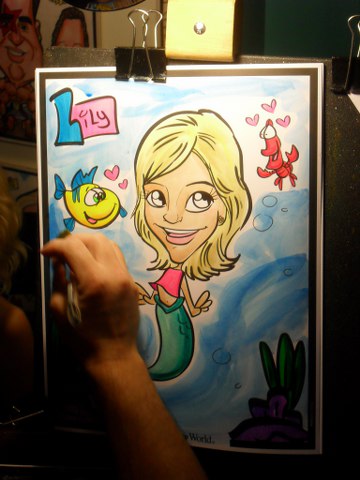 The finished product: Lily the Mermaid


The cost for these caricatures is currently $15 for face only black and white, $20 for face only color; $20 for face and body black and white; $30 for face and body color. But note that the price is PER PERSON.
If you are worrying that your child would never sit still for long enough, here's a secret. The child only needs to be looking at the artist during the pencil sketching. Once that's done (and it only takes about two minutes), the child can do pretty much whatever they want.
The artists can also work from photographs as long as they are of a decent size. Postage stamp size photos don't work well, but they can use most photos from cell phones.
I asked Michael about mistakes. "Do you ever do an oops when you're drawing?" He said absolutely. Just the other day he spelled a name wrong and redid the entire caricature. Yes, mistakes do happen.
So next time you come upon one of these artists seated at their booth, stop and think about it. Ten years from now you will wish you had. My wife had one of these done of my daughter about 12 years ago and it's still one of my most treasured things from her childhood. Fifteen minutes now will mean a lifetime of memories.