Guest blogger Becky Breiland of the Mousetalgia podcast (www.mousetalgia.com) shares her experiences at Disneyland and Walt Disney World as a new mom.
Whenever I told people that we were headed to a Disney park with a 3-month-old in tow, they looked at me like I was crazy. During our first hour at the Magic Kingdom, I was almost convinced that all the naysayers were right. We made it to the hub (coming from our room at the Contemporary) before the precious girl decided it was time to eat. I sat down on a bench to feed her. About 5 minutes later a very loud street show began, resulting in a screaming, frightened child. Minutes later, a diaper issue of epic proportions presented itself. Not having figured out where the closest bathroom was, and not knowing how close we were to the Baby Care Center, I decided to just change her in the stroller while she continued to scream because of all the noise. By the end of all this, we were all exhausted and sweaty.
I'm happy to report that this is where the difficulty ended. The rest of the trip was an absolute breeze (for the most part). In fact, I'm almost convinced that 3 months might be the easiest age to take a child to a Disney Park. At 3 months, they still sleep anywhere, don't ask for souvenirs, and feeding them is pretty simple. We've taken our daughter to Disney World at 3 months old, and Disneyland at 5 months and 7 months old. So what's the secret to staying happy with an infant in tow?
First off, consider the wonders of Disneyland over Disney World. While I love both resorts, I tend to be more charmed by Disneyland. This is especially true when carrying an infant around the parks. The size of Disneyland is much more manageable than what I found Disney World to be. We could walk to both parks from our hotel, and were never more than 15 minutes away from the peace and quiet of our hotel room. This was a huge advantage over the sometimes 30-40 minute commute from the parks to a hotel room at the World, depending on what park we had chosen to visit.
I credit a large part of our happiness in touring the parks with an infant to a good baby carrier. It quickly became clear that viewing the parks from a stroller was very overwhelming for our little one. Baby wearing has become quite trendy in the last few years, and is also very practical. The basic idea is that the baby is strapped to the adult, using any number of products, allowing baby to feel close and secure, and giving the wearer two free hands and a ton of mobility. Once I put our child in the carrier, she could not have been happier. During our first two trips, we used the Baby Bjorn Active, and have now graduated to the Ergo Performance Carrier. Both have been excellent. Our baby absolutely loves going to the parks because it means that she gets to hang out close to mom all day and there are always people to look at. Additionally, she'll sleep in both carriers. We have continued to tour the parks while she slept because we could still visit the shows and attractions. I love that there is no stroller to park or retrieve, and crowds are not nearly as overwhelming because she is kept close to me. When our Mouseketeer was three months old, I ate almost every dinner of our 14 day trip with her asleep in the baby carrier. It was very convenient.
While our baby does sleep well in the carriers, the importance of an afternoon nap should not be overlooked. Many people have sung the praises of the afternoon nap. This is not only important for baby, it is also important for mom. While I tend to be a napper at the parks, even without the baby, this 1-2 hour break (minimum) from carrying her around and time to relax was a necessity. Our daughter also seems to enjoy the time to spread out and she needed the quiet, climate controlled room at the hotel.
This brings me to my next point, a little more space may be worth a few extra dollars out of your pocket. I really enjoy having a couch in the hotel room. It provides an additional place to nurse and is a great makeshift changing table (we always travel with changing mats to put over the couch). We also find that everyone sleeps better if the portable crib can be placed further away. A good night's sleep helps to make a more enjoyable vacation and so I'm willing to pay a little more to make sure that happens.
Finally, use the Baby Care Centers. I found the Baby Care Centers, especially in Disneyland and Disney California Adventure, to be extremely nice. The Baby Care Centers (in all 6 U.S. Parks) provide a place for moms to nurse, high chairs, large changing tables, places to rinse cloth diapers, and small toilets for potty training kids. They also sell a variety of baby items from food to diapers. Disneyland's Baby Care Center is located on the right side of Main Street (when facing the castle), just before you get to the Plaza Pavilion. Disney California Adventure's Baby Care Center is a little more out of the way, at the "back" of the park near to what has been Mission Tortilla Factory. I have no problem nursing in public. However, the air-conditioned quiet of the Baby Care Centers always breathes new life into both me and my baby. Because of the size of Disneyland and the location of the center, it gets my vote for best Baby Care Center in the U.S. Parks. It is completely worth the extra five minute walk it may take you to get there. I've been offered glasses of water by the friendly attendants, and they always coo over my child. Anything I could possibly need I can find there, and my daughter really appreciated the softer changing tables that they provide.
All in all, these trips have been a blast. I love that my daughter laughs out loud on Pirates of the Caribbean, and that the minute Minnie shows up she wants to eat her nose. While visiting the Disney Parks with an infant may be different, it is still special and worth doing. I'm glad I didn't let other people's intimidation stand in my way.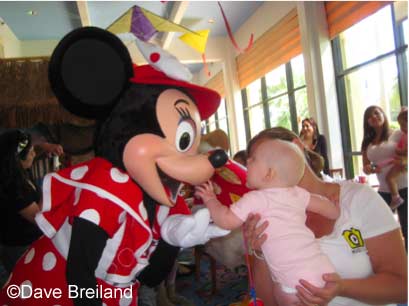 ---
About the author: Becky Breiland has been traveling to Walt Disney World and Disneyland since she was three. One of her fondest memories is getting Mickey Waffles for breakfast on those early Disney trips. Becky, her husband, and two friends comprise the Mousetalgia.com podcasting team. Mousetalgia is a show dedicated to the exploration of Disney's past, present and future, emphasizing the theme park culture and the people who have imagined Walt's happy place into existence. Go "Carpe Kingdom!"