Day 2 of Destination D came early! I'm not sure what time people started lining up to get in – the first session started at 9:00, and they didn't open the doors until after 8:00, but there was already a substantial line at 7:30. Lee and I have been happy just to wait and go in after everyone in line goes in – we're still getting a seat with a clear view of one of the screens, and if we stand up we can see the stage/presenters – or I can always go to the back of the room if I really want to take photos. (Speaking of people lining up – even before this morning's session ended at about 11:45, there were already people lined up for the afternoon session, which doesn't start until 2:00! They are far more dedicated than I…)
Oh, and here's us (thanks to Pamela for taking the photo!)
(I apologize that some of this is more like notes than full paragraphs – I've been writing a lot of it while sitting in the sessions.)
Disneyland on TV:
Rob Klein and Tim O'Day were the hosts for this session which featured lots of archival footage of Disneyland over the years. One highlight: they had all of us stand up, put our hands on our hearts, and recite Walt's opening day "Welcome" speech along with Walt. That had to be a first! We saw pieces of the Disneyland TV show (from before the park opened!), TV specials, commercials, and pieces that aired on Disneyland's Wonderful World of Color.
Disneyland '61 TV special featured a new catchy tune by the Sherman brothers, called, appropriately enough, "Disneyland '61". It featured Nature's Wonderland and the topiary garden for Storybook Land, and Snow White's wishing Well, and an expansion for the monorail, all the way out to the Disneyland Hotel.
"It could only happen at Disneyland", was the tag line for commercials on Space Mountain, the new Matterhorn, and Big Thunder Mountain Railroad.
What I think is the funniest moment of the event so far: they showed us a musical number from the Disneyland 30th Anniversary TV special. I wish this was something I could've recorded to share with you! Imagine, if you will, many of the audio-animatronic figures in Disneyland, from the "small world dolls" to the Pirates of the Caribbean to the jungle cruise hippos to Mr. Lincoln himself, singing along to "I'm So Excited". It was absolutely hysterical – I had tears in my eyes afterwards. It took a truly twisted mind to think up something like that!
A few notes from the "Disneyland Undiscovered" session, presented by Imagineer Dave Fisher.
First he told us that the is Mark Twain coming out of a short rehab next week with a brand new narration.
During his session he shared a lot of Disneyland artwork from the Art Library. This included lots of concept art and early artwork and drawings of the development of
Disneyland. Some things look very much the same (like Main Street), and some things look very different – the Fantasyland drawing looks much like it does today, but that's not how it looked on opening day due to budget and time constraints.
In the famous painting of Disneyland by Peter Ellenshaw he used black light paint – here's what the painting looks like normally:
And here's the black light version. Very cool!
He showed lots of pieces of artwork for various Fantasyland attractions that didn't make it – like a Monstro water flume ride, or a Crocodile walk-in aquarium.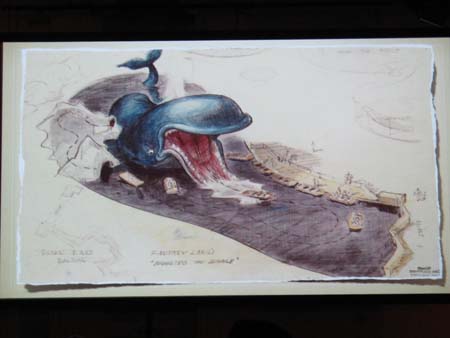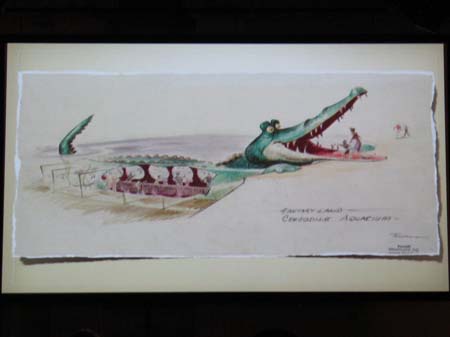 Tomorrowland wasn't really quite done, and Walt re-did it less than 10 years after Disneyland opened.
Thrill ride ideas: The Hurricane ride (became Storm Rider at Tokyo DL), Prehistoric raft ride through Adventureland. In later years there was a concept for a Herbie the Love Bug ride. Black Cauldron was supposed to be a scary water ride (became the Maelstrom). The Black Hole ride became Buzz Lightyear Astro Blasters.
Star Palace attraction was supposed to go into the Carousel of Progress, as a crashed alien spacecraft that put on a show in 4 acts, with lots of different characters.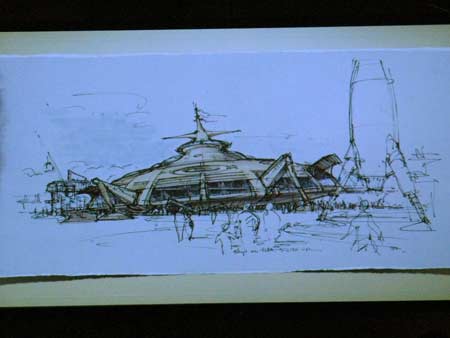 Including your host, PT Quantum.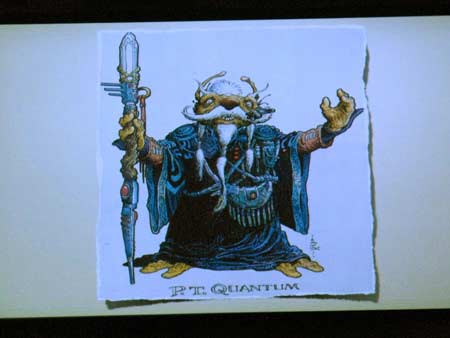 (There are some things that the world is just not ready for…)
Dave Smith – Disneyland The Way We Were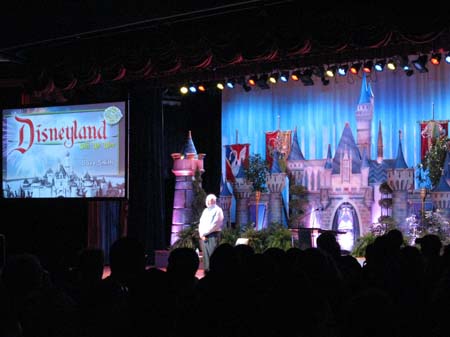 He had a lot of rarely and/or never before seen photos, and of course lots of terrific stories.
He shared some amazing color photos taken during Disneyland's construction. This one shows Sleeping Beauty Castle, with the turrets on the ground in front of it.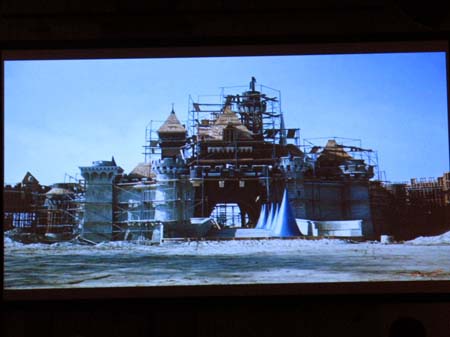 The opening day character costumes were borrowed from the Ice Capades,
which had a Disney segment.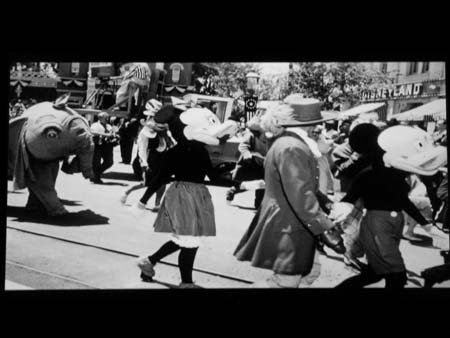 He also had photos of attractions that no longer exist. shops on Main Street, restaurants, the Indian Village, Mine Train, etc. In this photo are three different retired attractions: the Submarine Voyage, People Mover, and Skyway.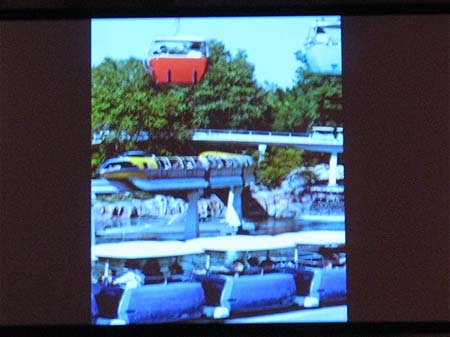 Walt wanted live animals in Frontierland to make it more authentic, but
that had some issues. The horses pulling the stageoach sometimes got spooked by the train whistle and would run away with guests on board – it overturned a couple
of times. (I guess that turned a C ticket ride into an E ticket ride!)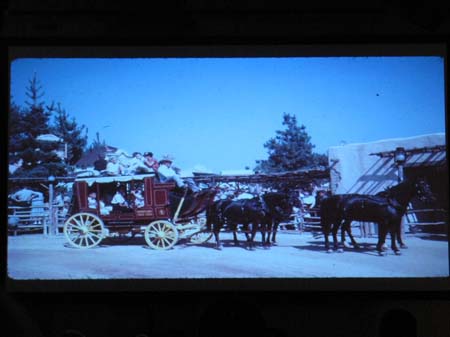 Some other retired attractions: the Mickey Mouse Club Circus in Fantasyland – the Mouseketeers did real circus acts. Also Holidayland, the Pirate ship. Midget Autopia, Motor Boat Cruise (which Dave called the most boring attraction ever, but it still lasted from 1957-1993!) There was also America Sings – started in 1974. Dave Smith loved this and so did I – "pop goes the weasel!" 🙂
Country Bear Jamboree was the first attraction which was opened in Florida and
then moved to Disneyland.
More on Day 2 to come!