On September 18, the 1313 Club and Ape Pen Publishing presented an event: Marvelous Mechanized Magic Kingdom, at the Disneyland Hotel. It was a night dedicated to the history and development of storytelling through mechanical means, and primarily through Audio-Animatronics.
The evening began with a reception area encompassing several rooms, the entry of which held a variety of familiar Disney props, pictures, and vehicles.
In the center was a table displaying items up for silent auction including many signatures from Disney Legends.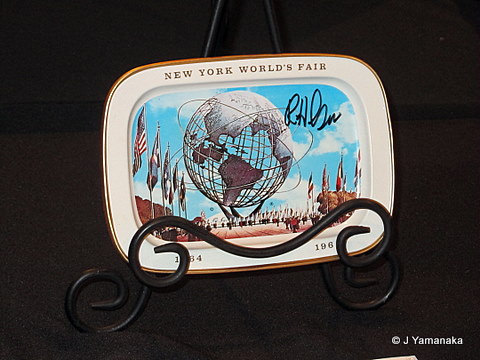 The next room was filled with mechanical creations–some "alive," and some not–most of which were supplied by Garner Holt Productions, a company who provides many Audio-Animatronic figures for the Disney parks.
In the last room, there was a great deal of music, as both the Singing Busts from the Haunted Mansion (with a slightly different cast,) and a group called "Windows to Sky" were playing in opposite corners of the room. Off to the side, Doombuggies.com shared a table with Brian Crosby, Disney Artist and Imagineer, and the Mousetalgia Podcast.
On the way into the ballroom, Disney Legends Alice Davis and Xavier Atencio were nice enough to take photos, give autographs, and generally be entirely charming to all their admirers.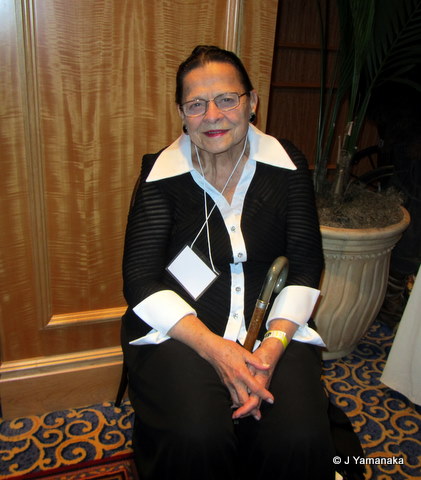 The dinner program started with a slideshow of construction footage from Disneyland, which was followed with a short performance by Can Can Dancers, and a brief appearance by C-3PO and R2-D2. The Can Can Dancers reappeared afterwards to present Garner Holt with a birthday cake, as he had just turned 50 the day before.
Moderator Brian Sommer then introduced our guest host for the evening: Neil Patrick Harris.
The first presentation, "How It All Began: Mr. Lincoln Goes to the World's Fair," by Disney Legend Bob Gurr and Imagineer Josh Shipley, started off with one of the funniest moments of the night, as Bob Gurr entered the stage driving a working monorail mock-up…possibly the slowest moving monorail in history. After he dismounted (without spilling his martini,) NPH took over the task of driving it off, which took long enough that he eventually had to ask "is it still funny?"
The rest of the talk had Bob Gurr recounting the original development of Lincoln with Walt and Royal Dano, and Josh Shipley showing footage of the refurbishment process they went through just recently, to restore him.
Next up were Michael Broggie, son of Roger E. Broggie, and Michael Campbell, President of the Carolwood Pacific Historical Society, who spoke on "The Early Days, It All Started with a Train." They spoke on Walt's love affair with trains, and the evolution of his collection, from the construction of a minature railway in his backyard, to the considerably larger one that encircles Disneyland.
"The History of Audio Animatronics" was a presentation Senior Conceptual Designer Larry Nikolai, and Senior Show Animator Ethan Reed had put together to inform the new generation of Imagineers how technology advanced from the original singing bird Walt picked up in Europe, to the oversized Mr. Potato Head in Toy Story Mania, and the newly refurbished Abraham Lincoln figure.
"MAPO Magic" was a panel discussion with Imagineers Rick Berryman, Butch Borcherding, Roger Broggie, Jr., Rudy Pena, and Corky Wilds. MAPO was the original construction arm of Imagineering before it was all incorporated together–Walt created it with the profits from Mary Poppins, from whence the name comes. They told a number of anecdotes about how they came to work there, and the general state of bewilderment they were often in, trying to accomplish the impossibly innovative demands Walt made on them. Of course, because they were all engineers, a lot of the punchlines ran along the lines of "…but they were steel brackets! Ha!"
After an intermission, the program resumed with Kathryn Beaumont (the voice of Alice and Wendy,) and Cartoonist Floyd Norman, in "From Paper to Life," in which they discussed what it was like meeting and working with Walt Disney. Kathryn Beaumont also related the process by which they brought her back to re-record some lines as Wendy for the refurbished Peter Pan ride, and Floyd Norman talked about some of his recent work on Toy Story 2 and Monsters Inc., with Pixar.
"Crossbones, Tombstones and Singing Dolls" brought Alice Davis and Xavier Atencio onstage to recount how they came to work for Disney, and the means by which they wound up in careers very different from what they had originally intended. Alice had initially wanted to be an animator, however she was placed in costume design after being told that women could not be animators–only ink and paint girls. Subsequently, she went on to do costumes for It's a Small World, and Pirates of the Caribbean: "I went from sweet children to Dirty Old Men." X. had started as an animator on Pinocchio, but was then sent off to war for 4 years afterwards. When he came back, he was transitioned to Imagineering, where he was put in the story department and later came up with the song "Yo Ho, Yo Ho." "A song was born–and a songwriter with it." Their ability to recollect the events of Walt's time was remarkable–their only concession to age was their comment when the panel was done, that they'd prefer to be placed earlier in the program next time. "Old folks get tired!"
Darrin Hughes, Senior Figure Programmer, presented "It's Alive! Programming Creatures to Life," and spoke of his work and methodology in working with the figures and his computer console to bring movement and action to the now dressed and storywritten figures…and also of the occasional hazards of trying to program electrical structures in the field, subjected to elemental whims.
Finally, Garner Holt, President of Garner Holt Productions, Inc., gave his talk on "The Next Generation, From Mice, Dragons and Beyond!" In it, he detailed his history in the industry, from deciding on a career in figure animation in fourth grade, to being paid by malls to build haunted houses in high school, to eventually creating the first Audio-Animatronic figures for a classic Disney attraction not made by Disney when his company created the Haunted Mansion Holiday overlay. Although he was never able to work for Disney, as they said they couldn't advance him without a college degree, he's been creating their outsourced figures for several years, in attractions ranging from the Mythica floats in Tokyo DisneySea, to the new characters in It's A Small World, to some of the current Tiki Birds. He's currently working on creating a Yeti, which on completion, should be the most complicated Audio-Animatronic built to date.
The program was a long one, but jam-packed with interesting discussions and featuring legendary Disney personalities–a night not to be missed for fans of Disney history and technology.