So, just to show you how dedicated your Disneyland correspondents are to providing you with balanced coverage, both Laura and I managed to book the exact same cruise, some months apart.
Since Laura's already done the hard lifting of detailing each day of the cruise in her entries, I figured I would just hit the highlights.
Scheduling-wise, it worked out better for flout all conventional wisdom and fly into Barcelona the day the cruise departed. I won't deny it was a pretty rough day, but everything went smoothly and the fact that the ship wasn't scheduled to leave until 9pm was reassuring. I recommend the ship transfers, even though they were expensive, because it would have been a hassle to navigate the airport and try to negotiate a cab while all groggy and disheveled from around 18 hours of flying. Plus, they took us on a short tour of the city before getting us to the port earlier than I've ever gotten myself to a port before a cruise.
Our cruise was lightly attended–one CM told me they only had around 1000 people signed up until a month or so before departing. On the plus side, this probably helped us to get a cabin upgrade, but on the neg side, had the effect that a lot of the different excursions got canceled due to low numbers.
The first day was fairly rocky sailing–fortunately, the Medical Health Center has a box with courtesy motion sickness pills outside the door for those who lack the forethought to bring their own. Twice Charmed was the show for tonight which I always enjoy for the sheer bizarreness of the plot.
In Malta, we took an excursion to the Blue Grotto which was very nice–the water was unbelievably blue. In general, Malta was quite picturesque and probably one of the ports I'd most like to revisit.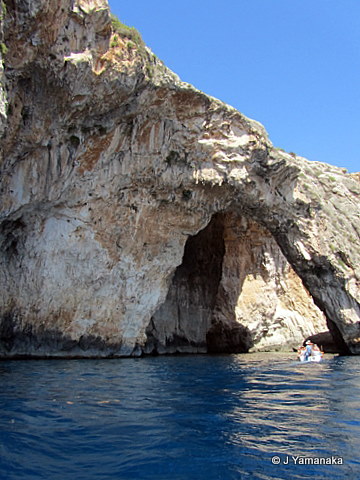 In most of the ports I tried to visit the adjacent town after we returned from our excursions. Unfortunately, it's probably important to remember that in a number of countries in Europe, most establishments shut down from around 2pm to 4-7pm, after which they stay open until later in the evening. Since we generally had to be back on the ship by around 6pm, this cut down on the amount of additional sightseeing that could be done.
Tunis was an interesting port–I have a feeling that there's an exciting city to discover here, but we didn't find it on our excursion. On Panoramic Tunis, they took us on a bus tour around the general area which was mostly just stopping for quick photo stops. When the first stop resulted in our group getting charged by yelling, whistling Tunisian Police because we turned out to be right in front of their Ministry of Defense, you sort of knew how it was going to go. Other fun stops ended up being outside various admission-only locations, where we were invited to take photos by sticking our cameras through the bars of the fence.
Unfortunately, the port is too far away from the town to walk on your own, and from the lecture onboard, they don't recommend people trying to take public transportation–even taxis were considered a little marginal–so you tended to be limited to the excursions offered. At least there were camels right outside the ship for photo-ops.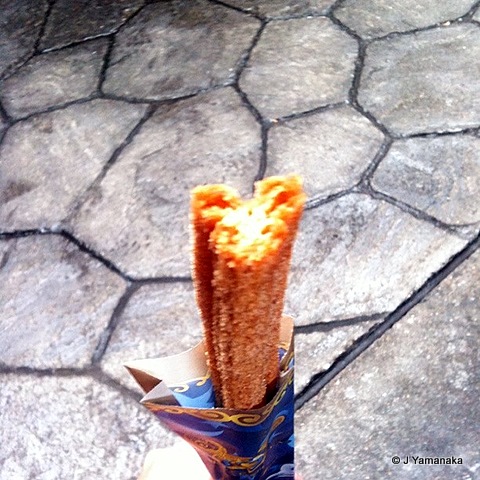 On an earlier trip to Italy, we had already seen Pompei and Capri, so we took an excursion to the lesser-known ruins of Herculaneum. This town was completely buried by Vesuvius, and consequently survived the depredations of time better than Pompei…however, lacking the big tourism money that Pompei gets, it looks apparent that they're having difficulty maintaining the parts already excavated.
As this was a half-day tour, we finally managed to sneak in a movie as well–we saw Alice in Wonderland with Johnny Depp in 3-D, and almost had a private showing of it, as we were joined by a total of one family who came in as it was starting.
Because we only had one day in Rome, and it was fairly distant to the port, we decided to take an excursion that went solely to the Vatican, to minimize the amount of transit time. The private train car from Civitavecchia to Rome that they had for us was nice, however it was all walking from that point on, which was a little wearing for the less able-bodied among us.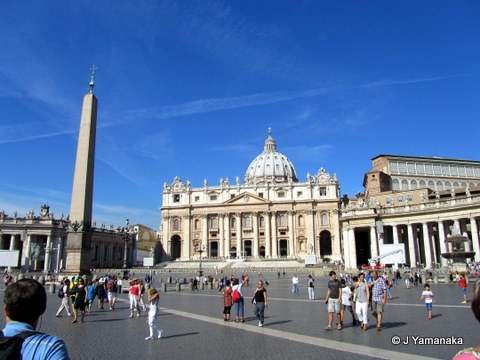 The tour itself was fine, but there was just not enough time. When you spend more time in the security line than in the Basilica itself, it was too short a trip.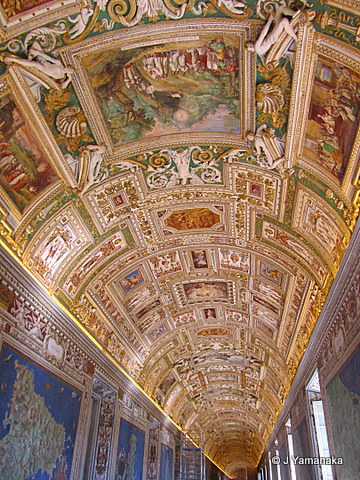 The difference between the 10 day and the 11 day cruises (I noticed for next year, they were planning 7 day Mediterranean cruises) was the addition of a sea day–I cannot imagine how exhausted you'd be at the end of the cruise if you didn't have any sea days. Frankly, I think they'd be better served adding more in, and making it a 12 or even 14 day cruise.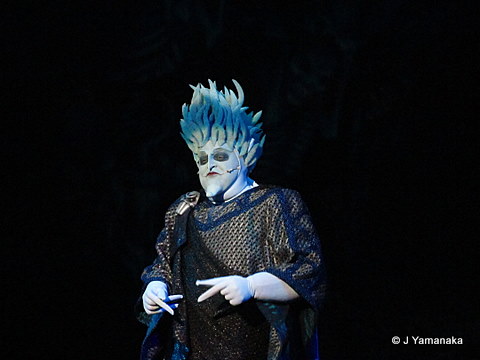 I liked the new Villains show, although it seemed as though they continue a trend of performing adapted versions of the classic songs in the shows. I tend to think most of their song catalog is pretty good "as-is," without having to have, say, a heavy metal overlay on it.
In La Spezia, most people went off to Florence–we'd already been there, so we opted for a closer excursion–a boat tour of Cinque Terre. These cliffside villages are as attractive as they are isolated–most of them are unreachable by car. There is a train that links all of them, and the hiking trails are supposed to be highly regarded, but I can't imagine a better view of them than from the sea.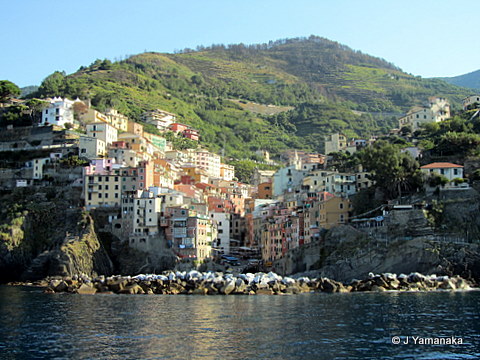 The excursion stopped at two of the five villages, but really for only enough time to give you the desire to come back and see them all more thoroughly. Pack light though–I saw a couple people sitting mournfully around with their large pieces of luggage, contemplating some of the steeply-inclined roads.
Ajaccio was a small town, very manageable by foot from the ship. As we were there on a Sunday however, a lot of the town was closed, including many of the churches, which seemed odd. We wandered around and found the house that Napoleon grew up in, which was fairly interesting and included some of his death-masks.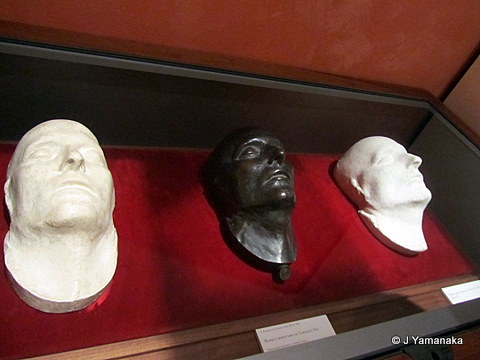 Our final port, Villefranche, was the jumping-off point for Nice and Monaco. Our excursion took us from the antique market in Nice, to the palace and cathedral in Monaco, to the James Bond casino in Monte Carlo.
In the cathedral, we got a short tour around, and were able to see the resting place of Princess Grace, née Grace Kelly.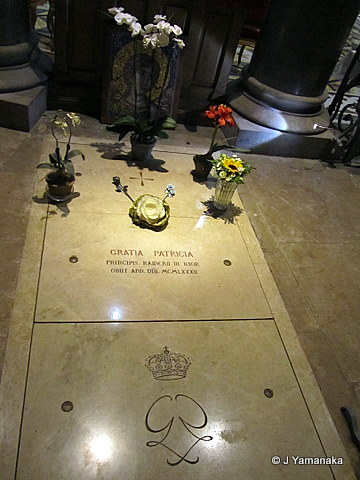 This tour did a fairly good job of showing you around, although the bus parking in Monte Carlo is a pretty strenuous hike away from the area where the casino is. I've been there on land tours, and I honestly don't remember having to make that much of an effort getting over there…unless I'm just older now (ouch.)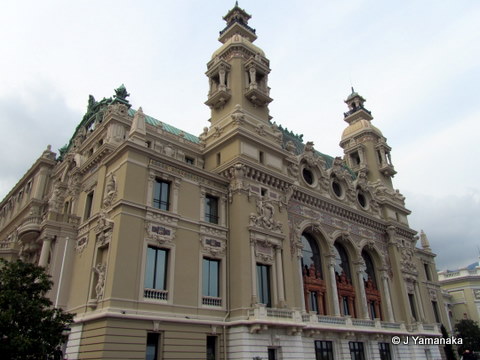 That night we had what was probably the best dish I had the whole cruise, that wasn't at Palo: Soft-shell crab. Mmm.
We also got a different deck show that night that was specific to the Med cruises: Party Paradiso. It was a little reminiscent of the usual Pirate deck party, but with different acts and some Cirque-type performers sliding down the wire instead of Mickey.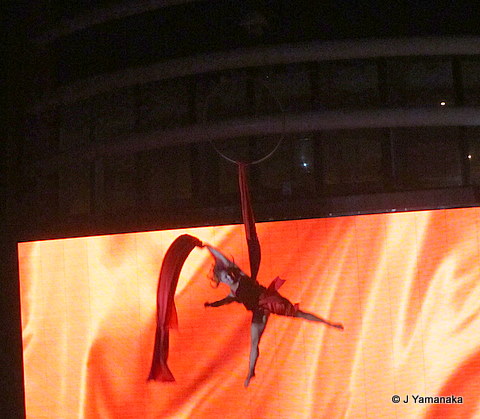 After an uneventful sea day, the cruise was sadly concluded. We had booked a hotel night and transfers from DCL for one night post-cruise at the AC Diplomat. Remember how I said the transfers from the airport were worth it? No so much the hotel transfers. You had to collect your own luggage and find the right bus that was going to the hotel on your own. After making us all wait for about half an hour in the non-ventilated bus, they finally drove us over and then didn't even stop with the door facing the sidewalk–you just had to jump out into moving traffic and pray your St. Christopher metal was paid up. Then the bus driver just opened up both sides of the luggage compartment and everyone had to scramble to excavate their own luggage out of the bottom of the bus, going back out into the moving traffic to get the ones that were on the other side. Inside the hotel, there was no one to help check us in and it took some doing even to figure out where the line was, given all the haphazard stacks of luggage and confused people. I certainly wouldn't book either the hotel or the transfers through DCL again–it would have been just as easy to take a public bus.
We spent the afternoon on a segway tour of Barcelona which was very fun but required around three hours of standing. Afterwards, we managed to make it over to Sagrada Familia to see at least one of the big Gaudi structures.
The next day we flew back through JFK again. I concur with Laura, when she says she'd rather be elsewhere. The airline lounges make it slightly more bearable, but only slightly.
In general, the cruise was a fun experience, but I couldn't recommend it to anyone who hadn't been to Europe before. The ports are just too far away from the main tourist destinations for anyone to get to spend the amount of time there that they deserve. If I hadn't seen most of these places before, I would think it would be pretty frustrating to think I flew across the ocean, and sailed on a ship for a week, and then took a train for an hour so that I could look at the Sistine Chapel for five minutes. The pace is also fairly grueling, so anyone looking for the relaxed pace of a transatlantic or even Panama Canal cruise would likely be disappointed.
The excursions are the weak point, and I think DCL's response to that is to offer the Adventures by Disney add-on, in which Disney adventure guides manage everything for you, from excursions to meals to private parties and activities. The people who took that option seemed absolutely euphoric about it, and it has apparently sold out (there are only 40 slots) almost every time. It was expensive–when I figured it out, it would have ended up being 2-3 times what I spent on the rest of the cruise, so I opted out–but if you've got the extra dough, I don't have a doubt that this would greatly improve the experience.
If you understand the time limitations, and pack your walking shoes, it's a great time. International travel is a terrific way to explore new environments and investigate different ways of living.
"…if not now, when?"
—Hillel the Elder