Actually I'm going to start with Saturday night. We thought we would have a view of World of Color from our room and we were right – it was a sideways view, so we could just see a little bit of the central projection screen. And that wasn't clear enough to make out what was there if you didn't know what it was. Nice view of the fountains, though, and a much better perspective of just how high some of them go! We could hear the music – I didn't think to check to see if it was on one of the TV channels.
Sunday, September 5, 4:30 a.m.
That's when our wakeup call was. No cute Mickey or Stitch voice from the Paradise Pier, though – just some music.
I had been awake since 3:45, so I was just as happy to get up – I never sleep well the night before a race.
We had a quick breakfast – bagels, peanut butter, banana – something to give us some energy. We left the room a little after 5:00. One thing we LOVE about the Disneyland race as opposed to those at Walt Disney World – we can WALK to the start line, and don't need to be at the mercy of the buses that want to get you there insanely early. By the time we walked to the pre-race area they were already encouraging people to go to their start corrals, so it was pretty well cleared out. Last year there was a horrible chokepoint getting out of the pre-race area and to
the start corrals – I don't know if they had rearranged things this year or if we were just a little earlier than last year, but it really wasn't a problem.
We lucked out with the weather – it was 63 at the start of the race and was overcast until about 9:00. A little humid, but not as bad as last year, and there was a breeze. It sure warmed up fast after about 10:00, though – the high that day was 82 or so.
We made our way to Corral C, and got pretty close to the front of it. Not really much of a big production for the start – no fireworks or monorail this year, though Mickey and Minnie were with the race announcer like usual.
The race started promptly, and they again did it in waves. In Corral C we were about 10 minutes off the start of the race. Starting runners in waves like that has really made a difference in the crowding/congestion in the early miles of the race – it really wasn't bad at all.
And each wave got their own "START" and "GO" on the big screen over the start line.
The first mile went very fast, even though we were taking it easy and trying not to go out too fast. We blew into DCA between the Pacific Wharf and Bountiful Farm. They had several of the puppets they use during the World of Color pre-show and we stopped to get our photo taken with Tigger.
Then I got in line to get my picture with Mike, but Lee ran on…then turned around to look for me. I waved, and thought he'd seen me, but it turned out he hadn't, so after I got my picture taken he wasn't where I had last seen him. I looked for him, but eventually ran on, figuring he'd decided he didn't want to deal with all of the photos. As it turned out he hadn't seen me stop the second time, and thought I had gone ahead, and ran to the next character and waited for me, but I'd stopped to use the restroom, so was delayed. He stopped a few more times, but I kept getting further behind because of character photos so eventually he gave up and just ran his own race.
Lilo and Stitch had a pretty good line, but as usual Disney had employees at each character stop to take photos, so it went pretty fast. It was even more efficient at areas where they had two or three people to take photos.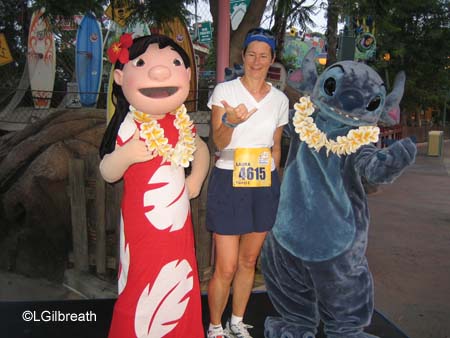 This was more characters than I've seen in DCA before – there was also the Sebastian puppet, Koda and Kenai, and Lightning McQueen and Mater.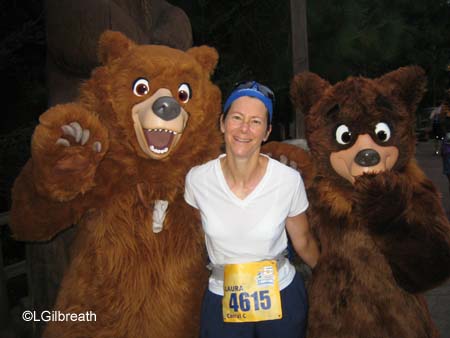 We left DCA at the gate between Soarin' and the Grand Californian – there were a fair number of people cheering us on in the short section we ran between Downtown Disney and the Disneyland entrance.
On Main Street were Mary Poppins, Bert, and a couple of chimney sweeps.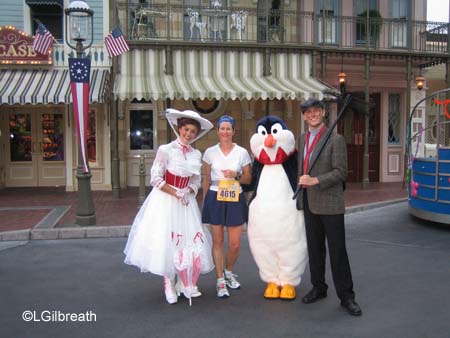 From Main Street we turned left into Frontierland – Louis, Tiana and Naveen were in front of the Mark Twain and Jessie, Woody, and Bullseye were outside Big Thunder Ranch.
Just behind the castle were the Queen from Snow White (I told her I thought that the Magic Mirror was wrong about Snow White being fairest, and she said she liked me), and Cruella DeVil. Maleficent was cheering (or maybe it was jeering) runners on from the balcony above.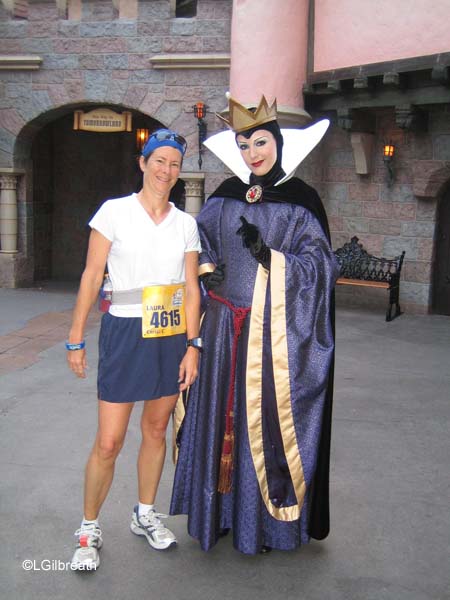 The Princesses were gathered just past the castle drawbridge – that was the longest photo line of the day. But when else do you have a chance for a photo with Snow White, Belle, Aurora and Cinderella all at one time?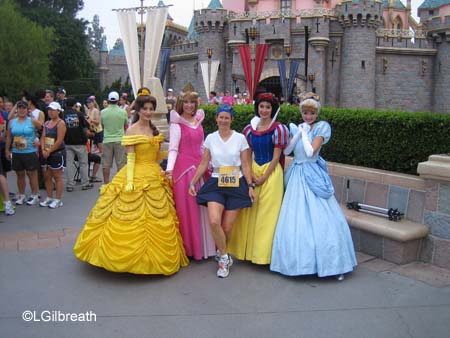 The Storm Troopers had taken over Tomorrowland – I got taken into custody for speeding. 🙂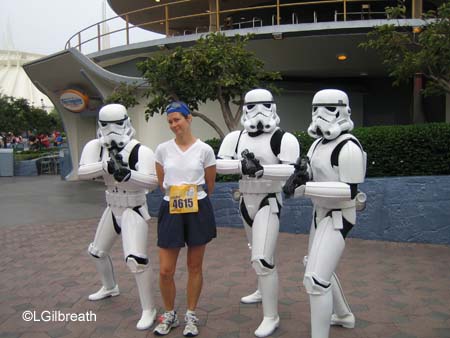 We went by the submarine lagoon and around the Matterhorn – I was surprised not to see any of the Alice in Wonderland characters by the teacups. (As usual, the rides like Dumbo, the carousel, Astro Orbitor and Tea Cups were operating as we ran by).
The race route was a little different this year – rather than exiting the park by Splash Mountain like last year, we went out next to "it's a small world". Backstage one of the trains was out, and the engineer was blowing the whistle periodically.
And two somewhat rare characters, Clarabelle Cow and Horace Horsecollar, were back there.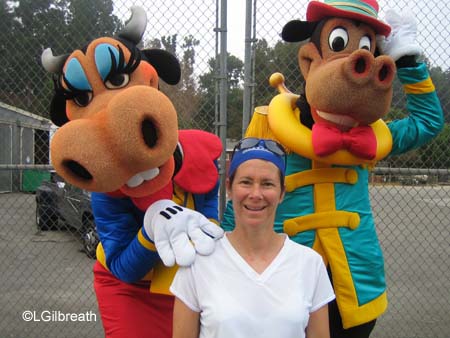 We went out onto Ball Road by the Team Disney building, which was also just about the four mile mark. All of the photos really slowed me down – it took me an hour and 6 minutes to get that far (normally that would take 40-42 minutes).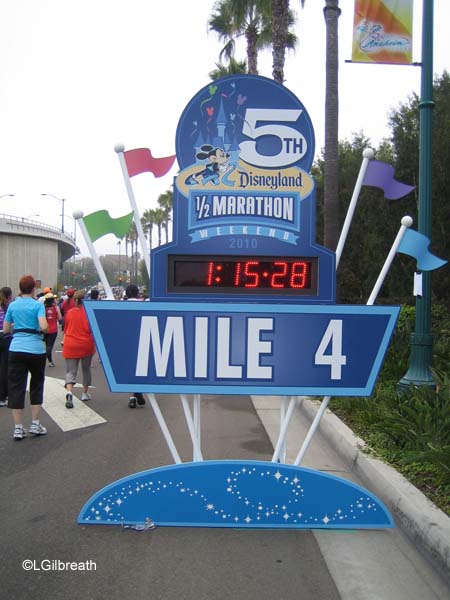 And then we got to the boring part of the race – though the race literature insists on calling it the "scenic streets of Anaheim". It's a tour of the industrial park – go down one street, then go over a block and back up to Ball, then down another block until we hit the Honda Center at about mile 8. There are quite a few music groups that come out to entertain the runners, though – in addition to high school bands, I saw a mariachi group and a group of Hawaiian dancers.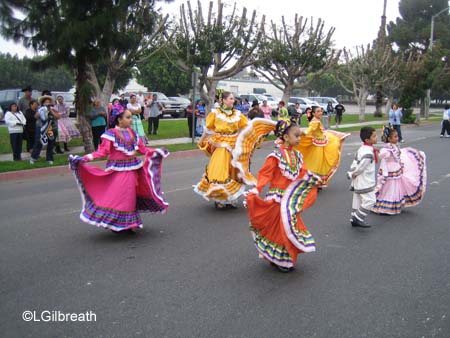 Also lots of cheerleading squads – there were quite a few of them outside the Honda Center. I decided they weren't making enough noise so I ran past with my hand to my ear like I couldn't hear them, and that got them going. 🙂 I also got a lot of personal "Go Laura!" cheers (my name was printed on my race bib). That was fun.
One of my favorite parts of the race is the portion of the course just behind the Honda Center where we drop onto the Santa Ana Trail next to the riverbed and run on dirt for a quarter mile or so. That feels pretty good after running on asphalt and concrete. It's a bit narrow, though.
Because I'd spent so much time taking pictures, I was in with the 11-12-minute/mile runners for the most part, so I was passing lots of people – which was very good for my morale. 🙂 My pace had picked up quite a bit since I wasn't stopping for too many photos.
At about mile 9.5 we came to Angel Stadium, where we got to run on the field (or on the dirt foul territory portion) from right field around home plate and out the left field tunnel. There were lots of people in the stands cheering us on, and there was a camera with a live feed to the jumbotron so we could see ourselves as we came near third base. Fun.
I usually start to fade around mile 10 but I was feeling really good thanks to the cooler temperatures, so I did the last 3.1 miles in about 30 minutes – and that included a quick photo with the Incredibles. (I think it is my favorite photo from the race.) This year the race route did not go into DCA on the return – it stayed on the perimeter road that goes around the back of the park.
My time was 2:37:34, which is not that great (I think it's actually my worst half marathon time!), but it could have been 20-25 minutes faster if I hadn't stopped for all those photos – but where's the fun in that? 🙂 Mostly I was very encouraged because I
felt so good at the end of the race and was able to maintain my pace even in the final miles. I could have continued to run, but I was really glad I didn't have to!
After getting my nifty Disneyland Half Marathon medal (with the big 5 because it's the 5th one), I got some food and met Lee at the family reunion area – fortunately we had established BEFORE the race started where we would meet if we got separated. He finished in 2:21, and would have been faster if he hadn't waited several times for me. We both had really good races in terms of energy and how we felt afterward.
The walk back to the Paradise Pier helped cool us down and keep us from stiffening up. A shower felt really good, too!
I must admit that I felt like an underachiever, seeing so many people walking around with the Disneyland medal and the coast-to-coast medal, including Deb Wills and Cathy Bock (you ladies ROCK!). There were about 2500 people who were going for that this year – I'll be doing it next year, though!
And speaking of next year…Lee and I have both joined Team AllEars – we will be participating in the Goofy Challenge in January. Why? Ummm…it seemed like a good idea at the time? 🙂 I think most of you who read this blog are very familiar with Team AllEars and its fund raising efforts in support of the Avon Breast Cancer fund. But if you're not, you can read about it here:
/blogs/teamallears
As members of Team AllEars Lee and I have committed to raising $1000, so we would really appreciate your support. If you would like to donate, you can donate via credit card directly on Deb's Avon Breast Cancer Walk site:
http://info.avonfoundation.org/site/TR/Walk/WashingtonDC?px=3843338&pg=personal&fr_id=2010
– click on the pink "Donate Now" box. In the "How would you like your name to appear" box please put your name followed by "Team AllEars Laura and Lee" so they can track our fundraising efforts. If you wish to remain anonymous, just put "Team AllEars Laura and Lee" in the box. Thank you!