This year is the 5th Disneyland Half Marathon – Lee and I are back for our third. We ran the inaugural race in 2006, and then ran last year.
We are staying at the Paradise Pier this year – we were pleased that when we arrived at 11:30 this morning, not only was our room ready, but we had been upgraded to a park view room! Guess we'll see what World of Color looks like from here tonight.
We can also see that the Little Mermaid attraction is taking shape:
And so is Cars Land:
We had a meet with several of our Team AllEars teammates who are also out here to run the half marathon.
The Health and Fitness Expo is again at the Disneyland Hotel, so that's where we went this afternoon to pick up our registration packets, goody bags, and race info.
The packet pickup is in a separate area – it's actually downstairs in what is often a parking garage (but it's an air-conditioned parking garage!) Fortunately there were helpful(?) signs…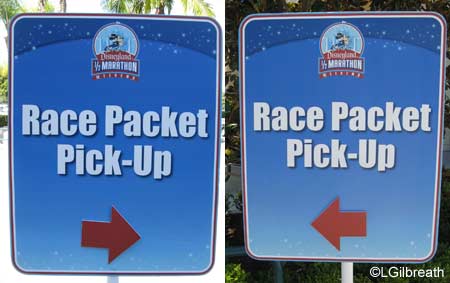 I really like the way they use carpet that looks like running track! Now, if only we could run the 13.1 miles tomorrow on that instead of concrete and asphalt…
To pick up your packet you must have a signed waiver and photo id. You are supposed to print your waiver in advance from the web site, but for those who hadn't done that, there were computers and printers available. The pick-up area was not very busy when we were there, though apparently the lines at the Coast-to-Coast desks were very long yesterday. I haven't seen any figures on how many people are entered in the coast-to-coast, but of the Team AllEars participants I think Lee and I are the only ones who aren't doing it. (I KNEW I should've done the Princess Half in March!!) Oh well – next year.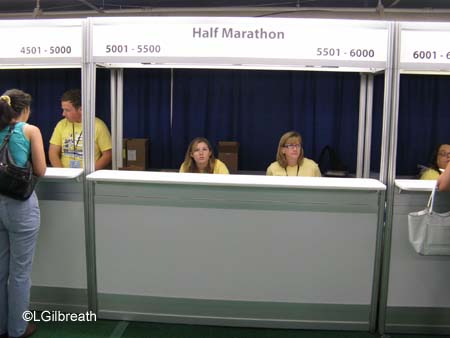 After we'd picked up our packets, which included our bibs, timing chips, and race information, we went to one of the stations where we scanned our chip to make sure that our names came up correctly – and they did.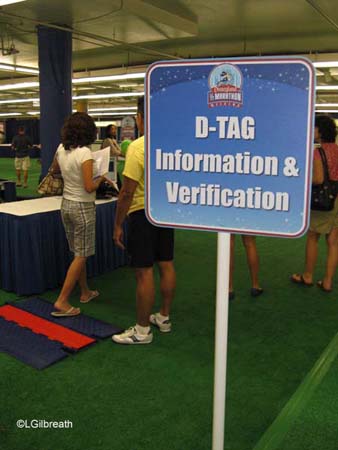 Since this is the 5th year, they are doing a few special things – around the room they had mile signs from 1-13 – but the signs were from all 5 years of the race.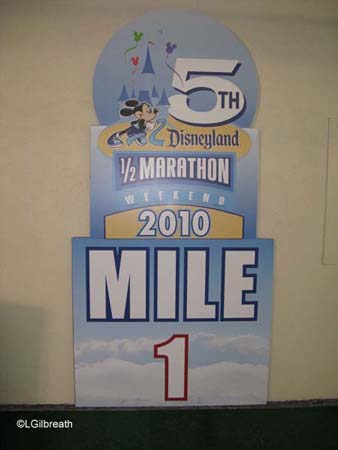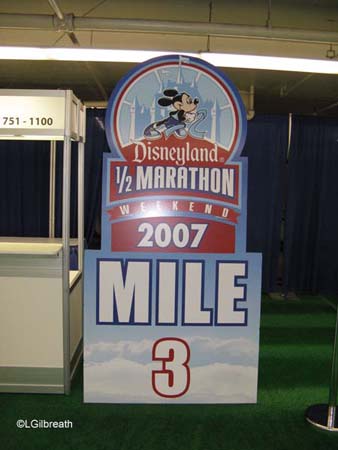 And there were some other photo ops, too:
Upstairs in the main ballroom was the Expo itself – there was quite a line for this particular photo opportunity!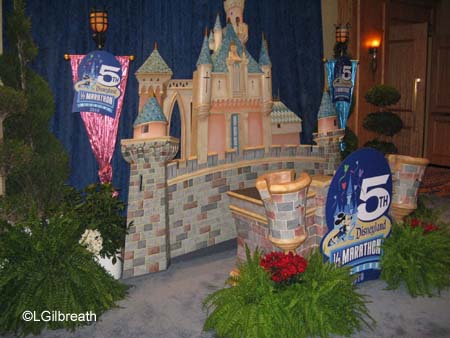 T-shirt pickup was organized by shirt size – it was very easy. Lots of t-shirts still left! The shirts are unisex sizes – I got a small last year which was way too big, so I got an extra small this year, and it seems about right.
The Expo had a fair number of exhibitors, but nothing really all that exciting to us, though we wandered around and looked.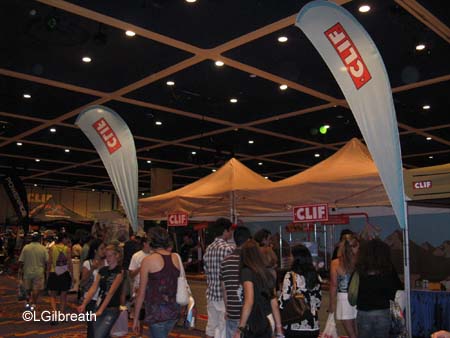 In the arena area they had tables where people could make signs to cheer on friends/family who are running the race.
I was disappointed in the merchandise selection this year – though from what other friends told us, there was a somewhat better selection yesterday. Even in what they had today there wasn't much of a variety of sizes, though.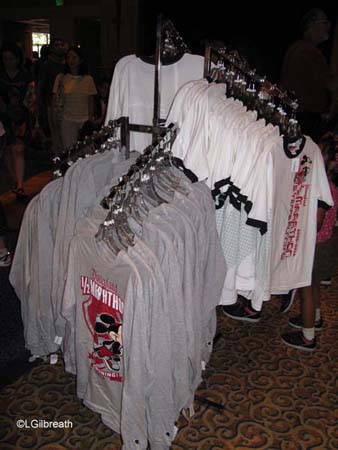 Back in the room we went through our "goody bags" to see what we had. There's a Kodak disposable camera with the Disneyland 5th Half Marathon logo on it and the notation: "13.1 miles of pure enjoyment". I guess it's a film camera…I'm not sure I still know how to use one of those! It's bigger than my Canon digital camera, though – so I won't be carrying it tomorrow. Lots of literature for various marathons and half marathons – did you know there are 14 different Rock and Roll races now?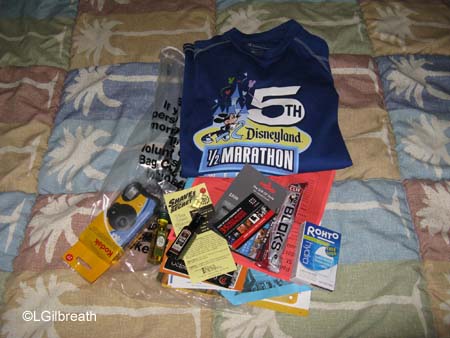 Tonight we met Deb, Cathy, and Jessica for dinner at Storyteller's Cafe – most of us did the dinner buffet, which had a nice selection of both protein and carbs. I feel fueled for tomorrow now.
Now comes the hard part…trying to sleep when we know we have to get up really early, and have pre-race jitters on top of that.
By the time many of you read this we will probably be done with the race – it starts at 6:00, and we hope to finish in about 2.5 hours, which includes lots of photo stops in the first four miles. I will plan to post an update to this blog after we get back to the room.
*** Update ***
Finished in 2:37:37 – not a great time, but there were lots of characters in miles 1-4, and several lines were quite long, so that cost me about 25 minutes. Weather was GREAT – overcast and cool. Deb Wills also finished, though I don't know her time yet.