Vickie and I visited Animal Kingdom Lodge recently to check out a new (to me) potential Hidden Mickey sighting (from Jack Koss, and Cindy).
A classic (three-circle) Mickey image is etched in the cement outside of The Mara restaurant. Go to the walkway leading to the pool directly opposite the rear exit door from the restaurant. On the left side, and near the end, of this short walkway as you stroll toward the pool is the Hidden Mickey. I think it will remain in place for a while, maybe a long while!
We showed up for dinner at the California Grill, at the Contemporary, without reservations, to check out a dining option. If Disney restaurants have a bar area, these seats are often available for walkup guests, especially near the meal opening time.
The Cast Members at the restaurant confirmed that this approach works sometimes, but not always, and there's not a good way that I know of to guarantee access to a bar meal as a walkup guest. However, this time it worked for Vickie and me, and we ordered from the usual restaurant menu (as is the case in the other restaurants with bar areas). We like the California Grill, and we enjoyed another great dinner here.
Vickie and I witnessed the Main Street Electrical Parade when it opened at the Magic Kingdom as part of Disney's "Summer Nightastic" program for this year's special summer entertainment. The floats were bright and colorful and the parade quite engaging.
Vickie's favorite float had Pete on his bright green dragon Elliott.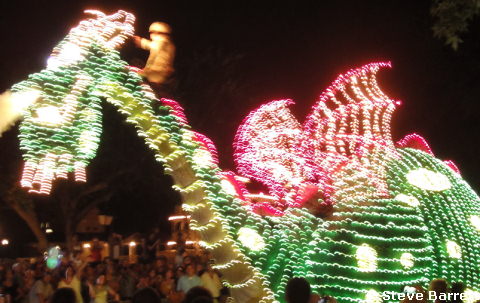 The parade ended with an American flag float protected by a huge eagle.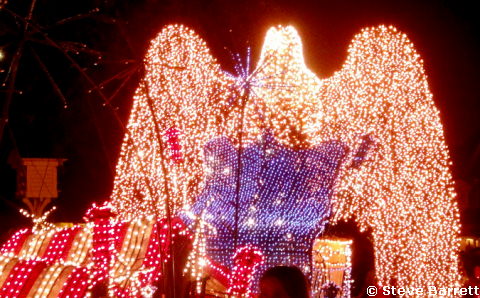 The guests around us smiled throughout the parade. Thanks, Disney, for showcasing this wonderful parade at WDW this summer!

Read more about Steve's Hidden Mickey finds on AllEars.net
Steve maintains a Catalog of Hidden Mickeys on the Hidden Mickeys Guide.