Remember this photo? This is how my photos looked when I first attempted to photograph Beauty and the Beast, Live on Stage with my Nikon D70 camera. Up until then, the camera's automatic White Balance setting was handling photographing around the Walt Disney World resort a breeze. I was able to save this photo via an online photo editing site. But you and I both know, it is best if you can get it right in the camera itself.
The next time I found myself in the Theater of the Stars for this production, I set my camera's image quality to RAW. This allowed me to alter the photo's white balance in a photo editor later. This worked well but I still was not totally pleased with the results. Reds continued to be blown out with reddish skin tones.
You might be wondering why I have such trouble with this show? Actually, I had trouble with a lot of Disney's stage productions and here is the reason: They use a lot of colored lighting during the show. Red being one they use a lot. My camera is always setup to capture vivid colors. When my camera and those red lights meet…Pow! Red heading off the charts or, in my case, the histogram.
I did some research on how I can best handle this situation and came across some articles about the Expodisc Filter by Expoimaging. This white opac filter fits over the front of your lens and, by telling your camera to take a custom White Balance setting, you point your camera and lens towards the light source. I emphasize "towards" because in your camera manuals you are told to point your camera at a white or middle gray surface to set a custom white balance. I do not understand the science behind the Expodisc but I do know that it works very well.
Before the show started, I popped on the Expodisc onto the front of my lens, set my camera to get a custom white balance and aimed it at the lights in the theater. I clicked the shutter and my LCD told me I had gotten a Good White Balance setting. I took off the Exposdisc filter and I was ready to go. I must say, with this simple solution, I got photos right out of the camera with near perfect color.
For the photo below of Belle singing during the opening number of the show, you see her bathed in white light with good skin color while some of the village's people behind her are in red light. This is as I saw it on stage.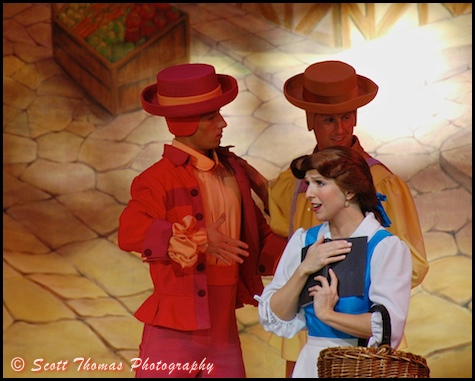 Belle singing during the opening number of Beauty and the Beast, Live on Stage.
Nikon D70/18-200VR, 1/250s, f/5.6, ISO 400, EV +0.6, 200mm focal length
Next up was Gaston's outfit. In the past I have returned with Gaston in neon red shirts and capes. After using the Exposdisc, I got the correct red for the one guy in town who's got all of it down. And his name's…Gaston.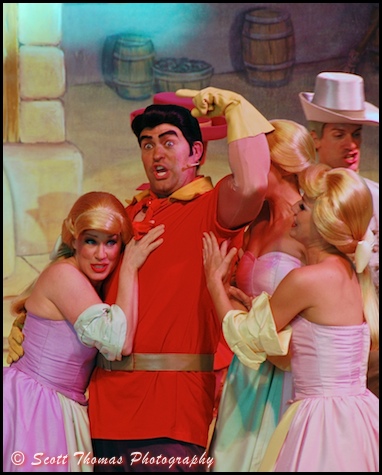 Gaston singing his praises during Beauty and the Beast, Live on Stage.
Nikon D70/18-200VR, 1/125s, f/5.6, ISO 400, EV +0.6, 200mm focal length
Here are a couple more of my favorites from the show. Taken with the custom white balance via the Expodisc filter.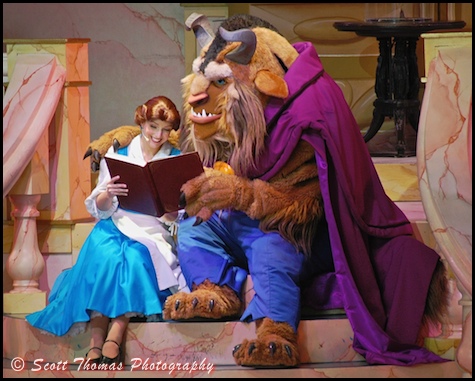 The library scene with Belle and the Beast.
Nikon D70/18-200VR, 1/125s, f/5.6, ISO 400, EV +0.6, 200mm focal length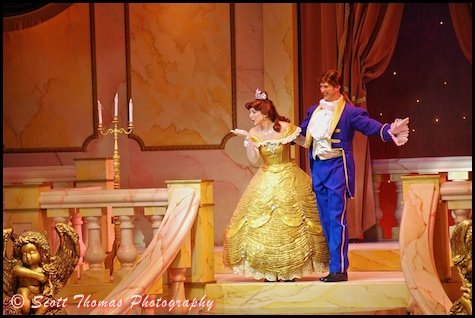 Belle blowing a kiss as the curtain falls to end the show.
Nikon D70/18-200VR, 1/125s, f/5.6, ISO 400, EV +0.6, 200mm focal length
The authentic Expodisc Filter by Expoimaging may seem expensive but I have used it in a lot of settings since I took these photos. It's fast, simple and gets closer than anything else I have tried when faced with tricky lighting conditions like a stage show at Walt Disney World.