In a previous blog about the Captain's Grille, I wrote about how I enjoyed having lunch at a nearby resort when visiting a Disney theme park. I went on to express my fondness for dining at the Captain's Grille on days that I tour Epcot. My favorite place of refuge from the hustle and bustle of the Magic Kingdom is the "Wave… of American Flavors"; one of Disney's newer casual dining restaurants located in the lobby of the Contemporary.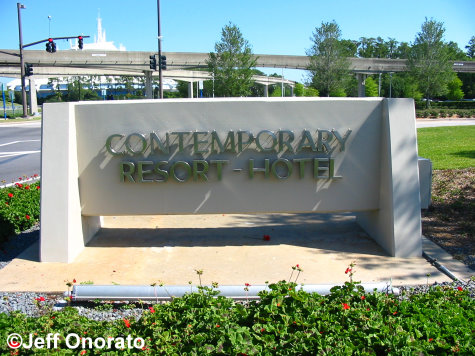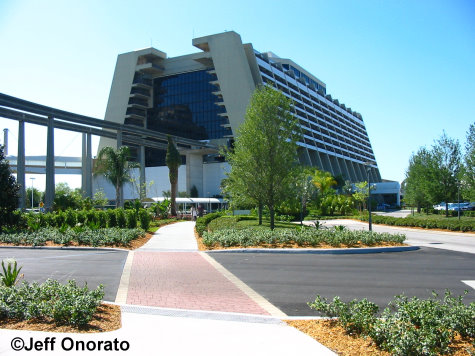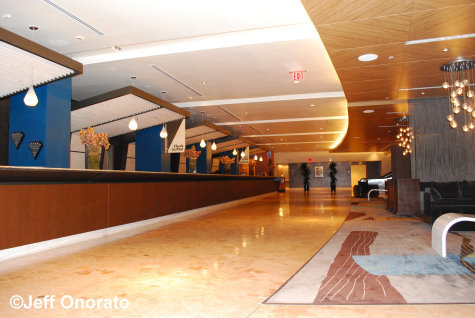 My appreciation for this restaurant goes beyond quick lunchtime getaways though. The Contemporary is one of my favorite Walt Disney World resorts to stay at. Subsequently, I find myself dining at the Wave quite often whether it is for breakfast, lunch, or dinner. In my vignette this week, I'm going to give you an overview of the restaurant in the hopes that you will get a better idea of what the place is all about.
The Wave opened in 2008 in the spot previously occupied by the Food & Fun Center, the Contemporary's former quick-service restaurant and arcade.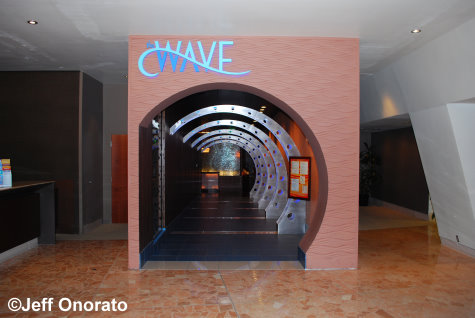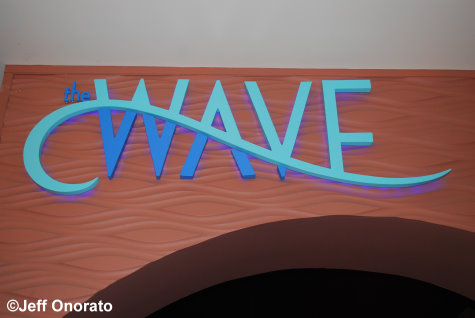 During the recent refurbishment of the resort, the quick-service eatery and arcade were revamped, renamed, and relocated to the fourth floor where the Concourse Steakhouse and Fantasia gift shop were originally located. This move would add more convenient accessibility for guests staying at the Bay Lake Tower, which was still under construction at the time.
The entrance to the Wave is elaborate. You approach through a tunnel illuminated by a ripcurl of neon blue lights.
At the end of the corridor is the hostess podium, which is backed by a large wall of swirling, etched glass. This also serves as a barrier between the reception and bar areas.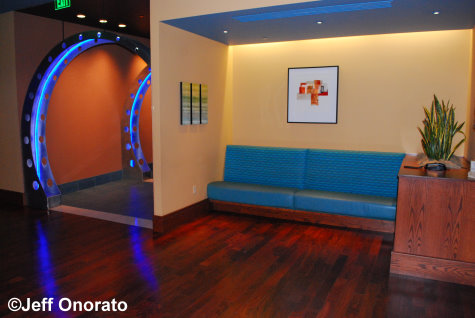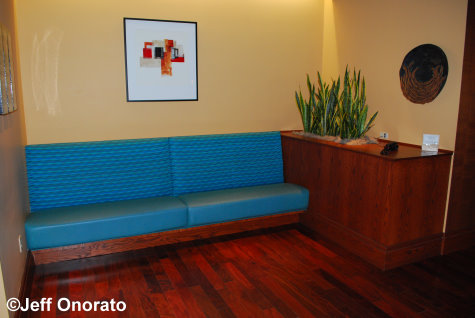 Several large alcoves are off to the right of the waiting area. These lounges provide dimly lit, comfortable seating with ambiance while you wait for your buzzer to cue that your table is available. This is a great spot to sit back, relax, and have an organic beer or antioxidant cocktail.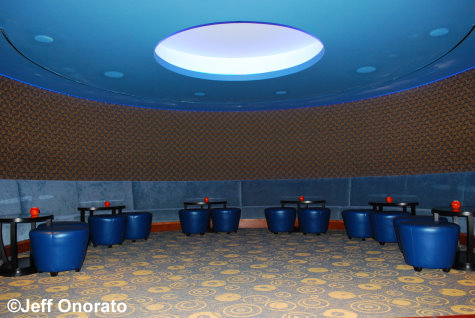 The restaurant's bar area is quite large, and affords a more than ample amount of seating for guests. Flat panel TV's are mounted into a cabinet high above the bar for optimum viewing from both sides. This is an ideal spot to have a drink and watch a game. They have beer and wine flights, too.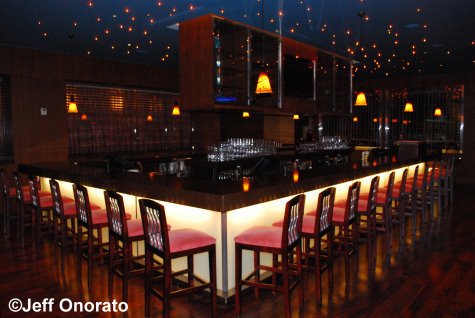 The theme and feng shui of the Contemporary are reflected within. The décor of the Wave is trendy, refined and comfortable. Wood paneling, earth tones and swaying lights are well appointed throughout. Seating is offered by tables and large booths. There are also private dining rooms available for larger groups.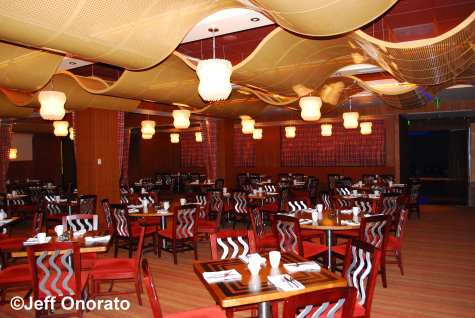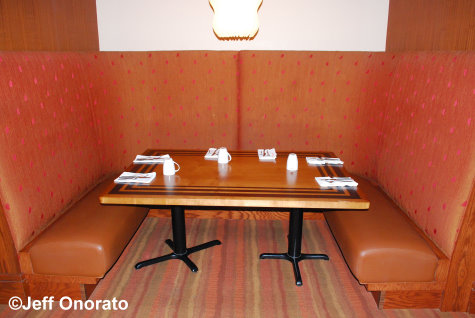 Their menu brings a modernized, health-conscious take on American cuisine with awareness to our eco-system. Milk shakes make way for Mega-Berry Smoothies, French Fries are bid farewell to in favor of roasted potato wedges, and farm-raised fish is featured by way of the sustainable variety. Organic and bird friendly coffees, multigrain pancakes, locally-grown greens, grilled tofu, and no sugar added desserts are just a few of their offerings I have dined on in an effort to keep my waistline defined while on vacation.
Let's begin with the most important meal of the day, breakfast. It's served daily from 7:30 – 11:00. A glimpse into the morning menu finds Spinach and Feta Cheese Scrambled Eggs, Eggs Benedict, Smoked Salmon, and Multigrain Waffles. I know what you're thinking – "Multigrain Waffles?" Before you protest in horror, allow me to elaborate. I recently stopped in for breakfast during a stay at the Contemporary. In the interest of healthy eating, I decided to give the Multigrain Waffles ($9.99) a try.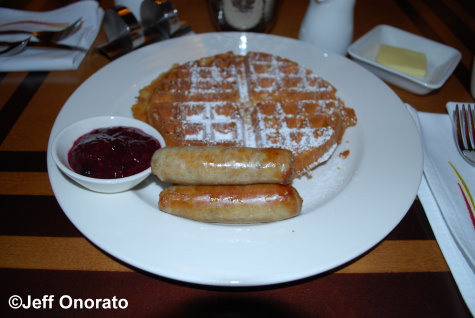 They're served with a small ramekin of fruit compote and your choice of bacon, pork or chicken sausage. I chose the pork sausage links. The waffle itself was crisp and had a nutty, wheat flavor. They're made with a splash of Acai juice. The juice of the Acai palm is said to have antioxidant properties and aid in digestion, improve energy levels, detoxify the body, and lower cholesterol levels. A pinch of powdered sugar is sprinkled over the waffle to finish it off. I was actually surprised at how tasty it was. I would definitely order this again.
Here's a photo of the Chicken Sausage, Multigrain muffin and 2 eggs over well.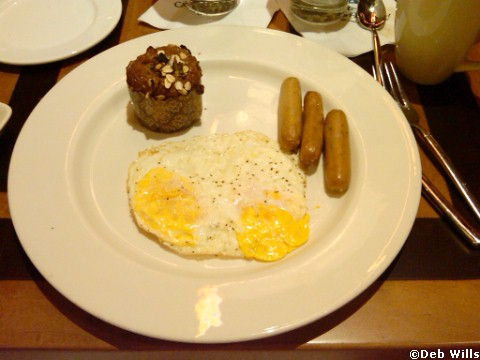 Lunch is offered from Noon – 2:00 and brings Seasonable Vegetable Stew, a Grilled Chicken Breast Sandwich, and Mediterranean Tuna Salad to list a few. On a recent chilly day in December, I took a break from the fun at Magic Kingdom and popped over to the Contemporary for an unplanned lunch at the Wave. I've found it's actually quicker to walk than to take the monorail. The distance to the resort from the turnstiles is not much greater than the distance to the monorail platform. Since the restaurant is also on the ground floor, you also save time taking the monorail or elevator down to the Lobby.
I started off with the Five Spice Chicken Lettuce Wraps ($9.49). The lettuce was crisp, leafy, and had a nice color to it. The Cajun-flavored chicken was plentiful and had a nice zing without being overly spicy. It was just right for wrapping in the lettuce. The leaves of lettuce were so large that they could envelope the chicken without it dribbling out and becoming messy. There were three wraps served, and were like a healthy alternative to tacos. They were topped off with peppers and sliced carrots. At one point the Lettuce Wraps were served with Scallops. I did enjoy those but prefer the newer version with the chicken filling.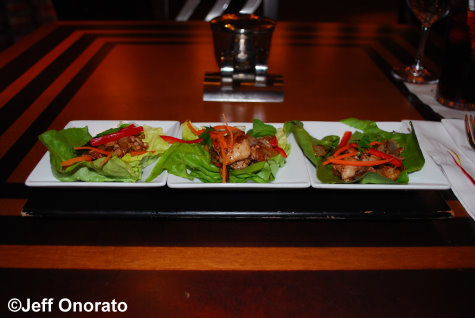 For my main course I had the Italian Chef Salad ($14.99). This was a blend of mixed greens, prosciutto, cappicoloa, provolone, salami, and hard boiled eggs. The dressing was a tangy red wine vinaigrette. It was finished off with shaved parmesan cheese. I would liken the salad to a classic – the bookmaker; served at many authentic Italian restaurants. It was great and I can't recommend this enough.
Desserts at the Wave are served a bit differently than most restaurants. Rather than offering one item in a single serving, the sweets are presented as sample-sized trios. This trend seems to be catching on at other Walt Disney World restaurants too. I recently ordered a similar dessert flight at Sanaa. Each of the servings are big enough for 2-3 bites. I like them because they offer up a nice variety. I chose the Crispy and Crunchy ($7.99).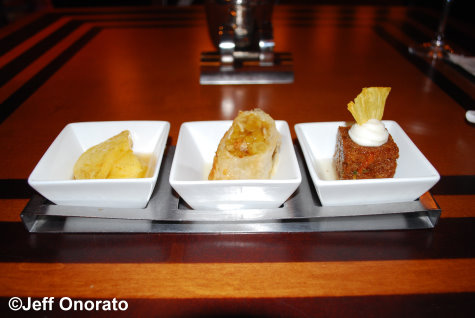 This combo includes Vanilla-braised Pineapple Spears, Almond-Pineapple-Raisin Baklava, and Zucchini-Carrot Cake with Vanilla Panna Cotta. A "no sugar added" set is available too. Chocolate-Mint Mousse, Fresh Berries with Panna Cotta, and Vanilla Bean Créme Brulée are featured in that trio.
Dinner at the Wave is served from 5:30 – 10:00. I find it to be a less-hectic alternative to the California Grille and Chef Mickey's when they are at full capacity. When conventions are in swing, all of the Contemporary's restaurants are packed and walk-up seating can be hard to come by. I always advocate making a reservation if possible, but at slower times of the year they may not be necessary here.
My most recent dinner at the Wave was back in September. To begin my meal, I had the Crab Nachos ($10.99). These are not listed on the regular menu, but are one of several snacks available at the bar. I happened to stumble upon them while looking over the bar menu while waiting for my table to become available. They can also be ordered in the main dining room. The Crabmeat was plentiful and piled high on the tortilla chips. Jalapenos, sour cream, black beans, and shredded cheese were added for good measure. This is one of the more original offerings I have dined on at any restaurant in recent memory.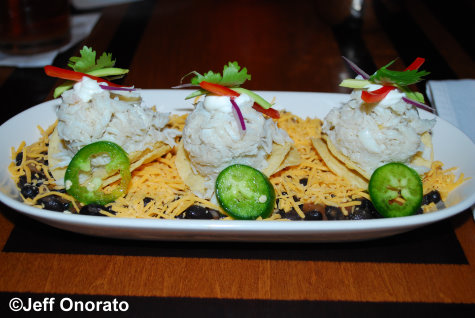 I also tried the Black Bean Chili ($6.99) before the main course. It had a nice consistency and was not too thick, despite the abundance of the black beans. They had a nice, robust taste. The chili was garnished with a dollop of Sour Cream and served with a small Jalapeno Corn Bread Muffin. I did not find the chili or muffin to be spicy at all. In fact, the jalapenos were virtually non-existent.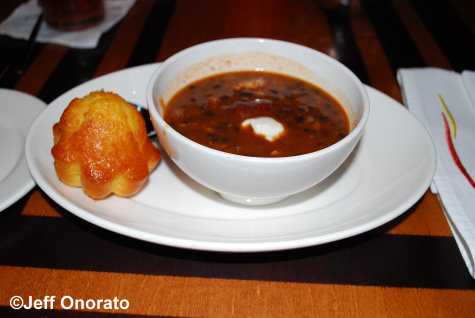 For my main course, I chose the Braised Chicken Pot Pie ($19.99). It was nicely seasoned with herbs and spices, most notably Thyme. The herb did not overpower the flavor of the other ingredients though. The Pot Pie was topped off with a light and flaky puff pastry and filled with peas, mushrooms, and carrots. The only slight disappointment for me was that the chicken was not boneless. It didn't put a damper on the meal though.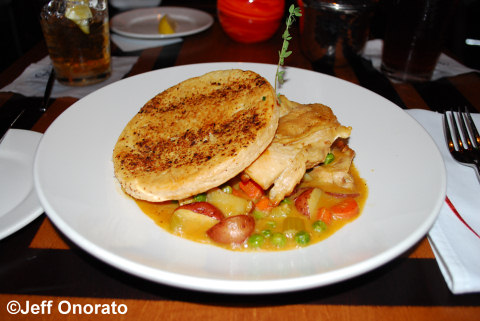 I didn't have dessert with Dinner that evening. Between the Nachos, Chili, and Pot Pie I was quite full. I did notice that the desserts served during dinner hour are the same as those offered at lunchtime.
I have noticed the Wave to be quite popular with families and I think this is a good place to bring children for a sit-down meal. The kid's menu has a healthy take on all of the familiar children's fare. A Fresh Fruit Plate ($5.09), Multigrain Pancakes ($5.09), Grilled Fish ($7.59), and several three-course combos ($7.59) offer nutritious alternatives. The combos each include an appetizer (garden salad/celery or carrot sticks/Seasonal veggies), Entrée (Grilled Chicken Strips/Chicken Nachos/Cheeseburgers), and Dessert (fruit salad/yogurt parfait/vanilla gelato sundae).
The Wave wins high praise from me. Their varied offerings are the perfect culmination of health-conscious cuisine and classic Americana with a flavorful twist. If you find your self in need of a detox from burgers and fries, this is the place to go. The Wave leads the pack of Disney's newest casual-dining eateries – don't miss it.
Readers Rate and Review Breakfast at The Wave!
Readers Rate and Review Lunch and Dinner at The Wave!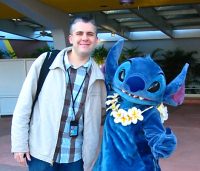 About Jeff: I'm from South Central Pennsylvania, where I work for a Media Publishing Company by day. My first visit to WDW was at the age of 2, and I have been back around 35 times since then. I often travel solo to WDW, as well as with family. I make good use of my Annual Pass, and trek to Orlando about 5 times per year to visit my favorite travel destination and pursue another hobby of mine – photography. My favorite resort is the Polynesian, but I have stayed at all of the WDW resorts at least once. In fact, my favorite aspect of visiting the Walt Disney World Resort is trying out the different Resorts and Restaurants. I enjoy sampling different foods that I normally would never try at home (such as Escargot at the France pavilion).