Yesterday, I gave you a brief history of the Tower of Terror and walked you through the attraction up through the Lobby. Today we'll finish the tour.
From the hotel lobby we proceed to one of the two libraries. It's here that we're told that our rooms are not quite ready and to please enjoy the amenities until summoned. Then, with a crash of lightning, the room goes dark and the television set comes alive. For the next minute and a half, the fateful story of the hotel's demise is presented.
Rod Serling recounts the tale of the Hollywood Tower Hotel and how on Halloween night, October 31, 1939, a stylish young couple and a child actress with her stern governess, check into the hotel. An overworked bellman escorts them to an elevator and the doors close. On their ascent, lightning strikes the hotel and the building's two wings disappear, along with the inhabitants of the elevator.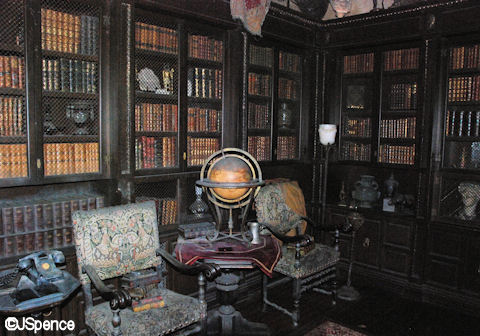 The clip of Rod Serling was also taken from the episode titled "It's a Good Life." However, the voice used is that of Mark Silverman. Mr. Serling's widow made the final selection after the Imagineers narrowed down the field following hundreds of auditions.
Watch the television show carefully and you can see a Mickey Mouse plush toy in the young girl's hand right before she gets onto the elevator.
A number of other details can be found in the libraries. The broken pair of glasses is from the episode titled "Time Enough at Last" starring Burgess Meredith as Henry Bemis. He is a bookworm and the sole survivor of a nuclear war who drops and breaks his only pair of glasses.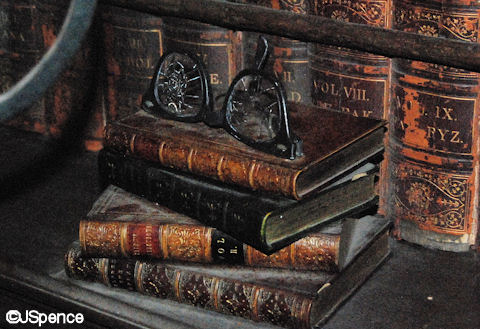 The trumpet is from "Passage for Trumpet" starring Jack Klugman as Joey Crown, a down and out musician. While contemplating suicide, he is saved by another trumpet player, Gabriel. Beneath the trumpet is sheet music titled "What! No Mickey Mouse? What Kind Of Party Is This?" The song was written in 1932.
On the shelf above the books is a small spaceman. This creature was from "The Invaders" starring Agnes Moorhead who is terrorized by what turns out to be a space mission from earth.
Also on the overhead shelf is a fortune telling machine that tormented William Shatner in an episode titled "Nick of Time." All of these items are accurate reproductions of the actual props used in the television show.
When "Tonight's Episode" concludes in the Library, a hidden panel slides open and you proceed to the Boiler Room and the Service Elevators.
Pay attention to the noises in the Boiler Room. You can hear a number of sounds appropriate to your surroundings such as motors running and pipes banging. The first two brick structures you encounter when entering this room are the hotel's furnaces. One is still in service. If you look closely, you'll find several carloads of coal waiting to be stoked. Boiler tanks and electrical equipment can also be found down here.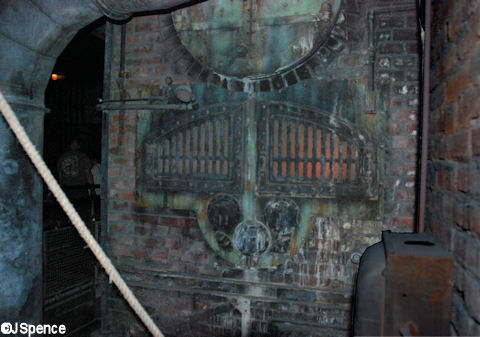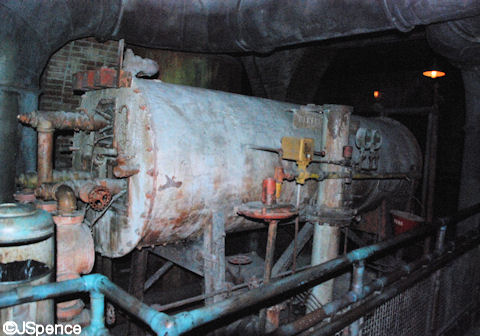 Eventually you reach the Service Elevators. Between each set of elevators is a caged area. In this area is the electrical motor that lifts and lowers the cars (not really). Pay attention and you can hear the motor start and stop as the cars rise and lower. And occasionally you can see sparks within the machine. Also, if you watch the "floor indicator," you can tell when the elevator is arriving.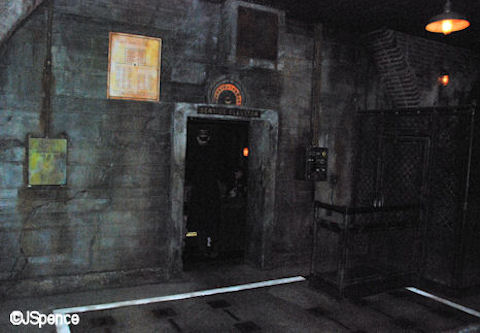 I know there are a few of you who have absolutely no desire to ever ride on TOT. And that's totally understandable. But I would strongly suggest you accompany your friends and family to this point. The queue and preshow are an attraction in their own right and worth seeing. If you've made it this far, just tell the bell hop you don't wish to be taken to your room at the moment and you'll be allowed to bypass the elevator and meet your companions later.
Now it's time to board the 1917 caged service elevator for a quick trip to your room. If you look to the side of the car, outside the cage, you can see a "Permit to Operate" certificate dated October 31, 1939. The certificate was signed by Inspector Cadwallader. This is in reference to the Twilight Zone episode "Escape Clause" where Walter Bedeker (played by David Wayne) makes a deal with the devil — a gentleman who calls himself Mr. Cadwallader (played by Thomas Gomez). In addition, the certificate also displays "STATE ID NUMBER 10259." This is a nod to the date The Twilight Zone premiered on CBS, October 25, 1959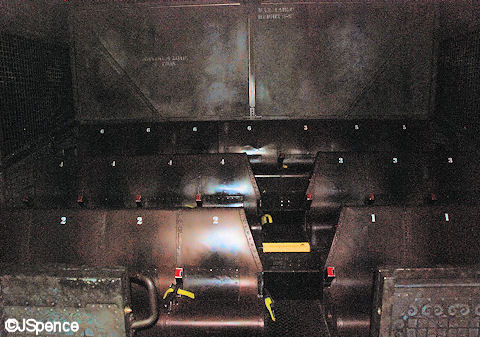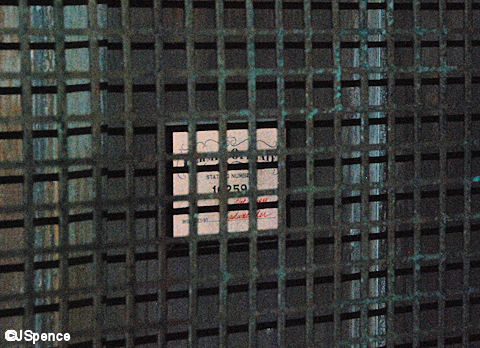 After everyone has been secured in their seat, the elevator doors close and you're whisked up several stories. When the doors reopen, you're looking into one of the hotel's hallways. Shortly thereafter, the family that disappeared on that fateful night long ago, reappears for an instant, before lightning strikes once again and they vanish forever. The effect is wonderful and eerie. I'm not going to give away the secret here, but if you're curious as to how this trick is accomplished, look up "Pepper's Ghost" on the internet. Wikipedia has a good description and discusses several Disney attractions.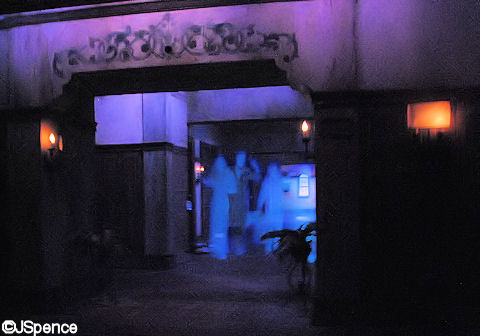 The doors close once again and your elevator car continues its ascent. When the doors open this time, the elevator moves horizontally into the Fifth Dimension. This room was inspired in part by the "Little Girl Lost" episode of The Twilight Zone. In this show, the daughter of a young couple rolls under her bed and through the wall into another dimension.
In order to accomplish the elevator's forward motion, the cars needed to be motorized and on wheels. These "Autonomous Guided Vehicles" are powered by onboard electric motors and batteries. Improving on techniques developed for Epcot's Universe of Energy, the vehicles use fast charging batteries that can be recharged while in use.
One of the props in the Fifth Dimension Room is a giant eyeball that opens to reveal a passing elevator car. At one time, a picture of the actual car you were riding in was displayed and you could see yourself. But sadly, this effect was eliminated a number of years ago due to obscene gestures some guests made while having their picture taken.
At the end of the Fifth Dimension Room a star field gathers and suddenly, doors open to reveal an inky blackness. Your elevator proceeds into this abyss, then stops. For a moment, nothing happens"¦then your elevator goes wild. The drop sequence that you experience is selected by a computer and each ride is unique and random. You never know if your journey will start with a ride to the top or a drop to the bottom. Here are a couple of pictures taken from the top.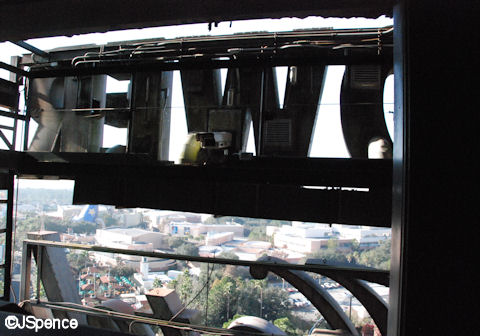 To accomplish a faster-than-gravity fall, the elevator car you are riding in actually enters a secondary elevator car located in the drop-shaft and locks into place. This secondary car has cables attached to both the top and bottom of the elevator, allowing a motor to pull you down faster than a natural freefall would generate. The motors used on these elevators are significantly more powerful than those used in modern skyscrapers.
Eventually, the elevator comes to a rest in the basement. If you look to the side of the car before it turns, other Twilight Zone props can be seen. The slot machine from the episode "The Fever" and the ventriloquist dummy from the show titled "Caesar and Me" are both in view. You will also notice a large "B" painted on the inside of the elevator doors, signifying "Basement." As the doors open, the "B" splits in half creating the number 13.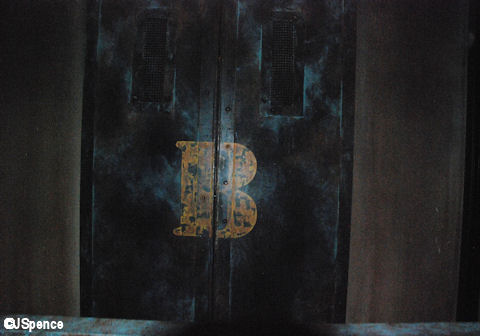 After exiting the elevator, you walk down a long hallway to find a hotel storage room. I've read that various other Twilight Zone props can be found on these shelves, but I couldn't identify any and the cast members I spoke with were unaware of them.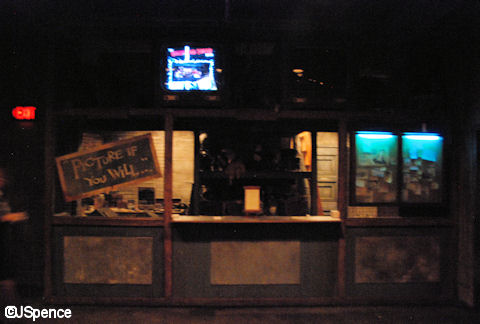 It's at this storage facility that you can order a picture of yourself taken while riding on the elevator. Also notice the chalkboard that reads, "Picture If You Will"¦" a quote often used by Rod Serling on The Twilight Zone television show.
Around the corner is a large desk where your photo can be purchased and picked up.
Just beyond this desk are three sets of doors labeled Sunset, Beverly, and Fountain Rooms. I mentioned these earlier when talking about the hotel Directory. In reality, these lead to backstage areas. But in the realm of the Hollywood Tower Hotel these are banquet rooms.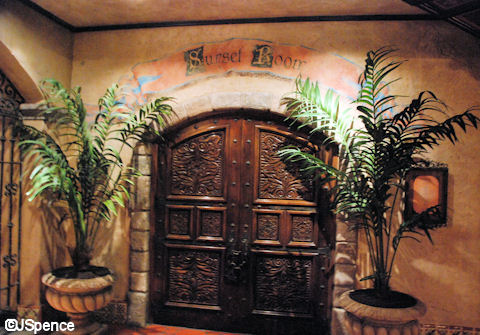 If you check the menu next to the Sunset Room, you can see that a gala dinner was taking place here on October 31, 1939. As you can see, the guests were in for a sumptuous feast. Here's what was on the menu that night: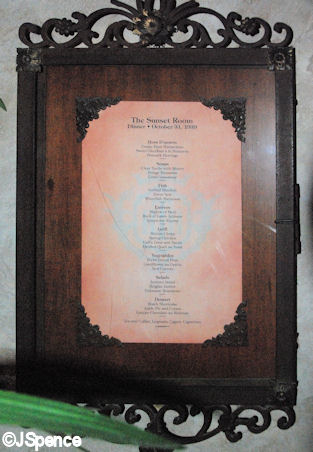 Hors D'oeurve
Grape Fruit Maraschino
Sweet Gherkins à la Moutarde
Bismark Herrings
Soups
Glear Turtle with Sherry
Potage Ecossaise
Cold Consommé
Fish
Grilled Bluefish
Dover Sole
Whitefish Matheson
Entrees
Mignon of Beef
Rack of Lamb Johnson
Tournedos Nicoise
Grill
Mutton Chops
Spring Chicken
Calf's Liver and Bacon
Deviled Quail on Toast
Vegetables
Fresh Green Peas
Cauliflower au Gratin
New Carrots
Salads
Autumn Salad
Belgian Endive
Polonaise Beaumont
Dessert
Peach Shortcake
Apple Pie and Cream
Gateau Chocolate au Rodman
Tea and coffee, Liqueurs, Cigars, Cigarettes
I want to thank my friend Kev for pointing out that some of the menu items contain the names of writers of the Twilight Zone TV show such as Richard Matheson, Charles Beaumont, and George Clayton Johnson.
All good hotels have a gift shop and the Hollywood Tower Hotel is no exception. Here you can find HTH logo merchandise that is only available in this shop. Also, a number of books and pamphlets about The Twilight Zone television show are for sale.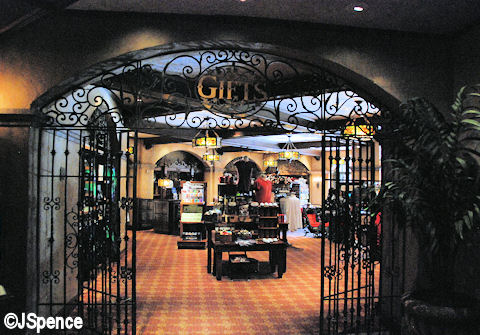 Outside the shop are three windows displaying elegant merchandise once for sale at the hotel. Pumpkins make up part of the window dressing in honor of Halloween. Also, a sign in the window mentions the upcoming Halloween Extravaganza, presumably being held in the Sunset Room.
While researching this piece, I read of other attraction details, but I have chosen not to mention them for various reasons. But rest assured, there are more hidden treasures scattered around this outstanding attraction.
Restrictions: Guests must be at least 40″ tall; cannot suffer from any neck, back, or heart problems; cannot suffer from motion sickness or claustrophobia; wheelchair guests must be able to walk in unassisted and possess full upper-body control; pregnant women may not ride.
Finally, I would like to answer a question I get time and time again: "Where are all the people?"
1. Whenever I do a photo-shoot, I arrive at opening (9am). This gives me roughly an hour to take unobstructed photos.
2. For this blog, I know that everyone rushes down Sunset Boulevard for Rock 'N' Roller Coaster and Tower of Terror first thing in the morning. All I had to do was wait ten minutes for the morning onslaught to be absorbed by these two people-eaters. Then I had the street, queue, and much of the attraction to myself.
3. I made multiple trips to Disney's Hollywood Studios in order to take my pictures.
4. I'm very patient. I will wait, and wait, and wait for people to move out of my way before I snap a shot.
5. And finally, I'm very good with the computer and can remove a lot of unwanted objects from my pictures.
Because I waited patiently for everyone else to rush ahead of me, I got to ride in an elevator all by myself. Cool.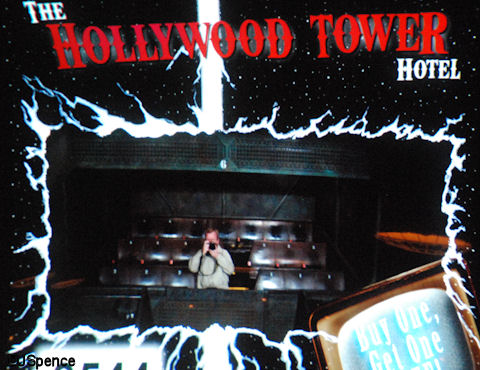 I have created a five-minute video of the Tower of Terror. I have tried to capture as much of the attraction as possible and hope that I can provide you with everything but the thrill of the drop. Enjoy!
Check back tomorrow when I present an overview of the Towers in California, Paris, and Tokyo.