When I worked at Disneyland and was conducting Orientation (Traditions) classes for new hires, I would start the training session by telling my pupils that everyone in the company goes by their first name. This rule applied to the lowly guy who picked up horse poop along the parade route all the way up to the CEO, which was Donn Tatum at the time. The only exceptions to this rule were Mr. Toad, Mr. Smee, and Mr. Lincoln.
When I worked at Club 33, I often came in contact with company executives – and I was expected to call them by their first name. Saying "Good morning Mr. Tatum" was a no no.
The reason for this policy is simple. Walt wanted his cast members to treat the "customers" (a banned word at Disney) like they were "guests" in their own home. He wanted a casual informality at Disneyland. Everybody is friends at a Disney theme park. He also wanted the cast members to know that all of their jobs were important when it comes to creating the "show." It doesn't matter if you wash dishes backstage or conduct VIP tours for heads of state; everyone's efforts are needed, important, and valued. Being on a first name basis with all was a leveling tool.
To promote this first-name policy, everyone in the company wears a name tag. It's considered part of your costume. Even backstage, where guests never go, everyone sports their name.
I always liked this policy. First, I'm horrible with names and it made it a lot simpler for me when I was getting to know a new cast member. Also, this informality made it easier for me to talk to my boss. Calling your supervisor by his or her first name helps break down barriers. And finally, from the guest's point of view, this casualness creates a relaxed atmosphere. When a guest sees your name tag, they're far more willing to strike up a conversation with you because you seem more approachable.
Here's what my name tag looked like in 1971. Pretty boring.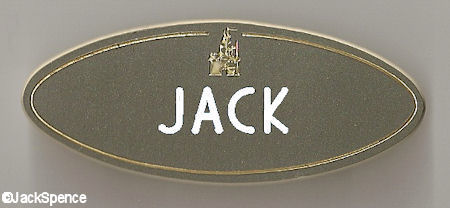 At Club 33 my name tag was a little more elaborate. They still use this same design today.
And here's what the Walt Disney World name tags looked like in 1971. Once again, pretty boring by today's standards.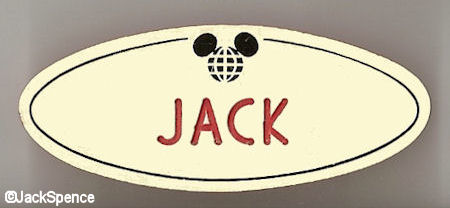 The first real change came to the name tags in 1976. In honor of the bicentennial, Disney was promoting a new pageant, America on Parade, and decided to use the name tags as a marketing tool. After that, it became common place to advertise the latest happening on these plastic wonders.
Nowadays, name tags display a city (or college for those on the College Program). Each cast member is allowed to select a "home town" when they're hired and can change this location at any time. The city selected doesn't have to be where they were born or where they last lived, but simply a place that holds significance for them.
Here is the current name tag being used at Walt Disney World. Notice it promotes the "Where Dreams Come True" ad campaign.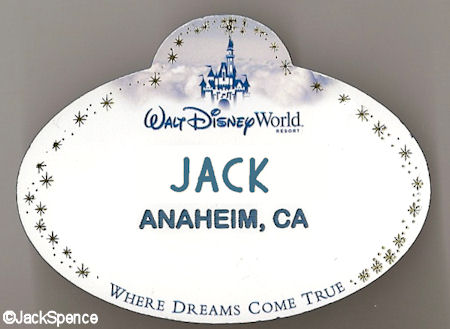 Something I wish had been around when I worked at Disneyland was the "Earning My Ears" ribbon.
This wonderful piece of trimming attached to a name tag immediately tells the world that the cast member doesn't have all the answers, that he or she is still in a learning mode. And it's not just worn by new hires. When someone transfers from one job to another, they once again don this announcement. The amount of time this ribbon is worn varies depending on the complexity of the job.
Besides giving the cast member a little breathing room while they learn their new role, it's also an excellent conversation starter. I know whenever I see this ribbon, I take extra time with the cast member and ask them questions like, "How's it going?" "Are you overwhelmed?" Stuff like that.
Another pin you might see, although not on a name tag, is the Disney Trainer pin. The cast members who wear this badge are designated instructors in a certain discipline and have completed classes in a given field.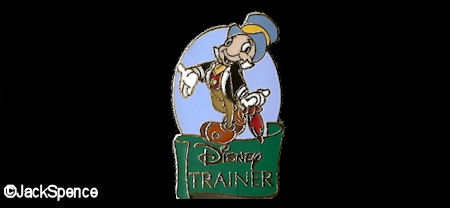 After a cast member completes a year of employment, they are given a Service Award pin that they may place on the right side of their name tag. After that, they receive a new pin after completing segments of 5 years. Below are pictures of 1 through 40 years.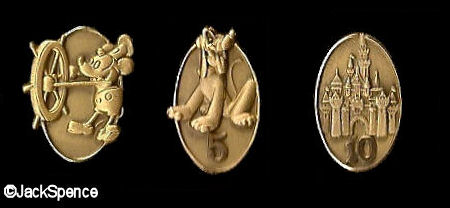 Cast members are not required to wear their Service Anniversary pins. So just because you don't see one, don't assume that you're dealing with a newbie. They might have worked at Disney World for years.
There is one other embellishment that you might spot on the left side of some cast member's name tags. This is called the "Partners" pin and it designates that this individual has won the "Partners In Excellence" award.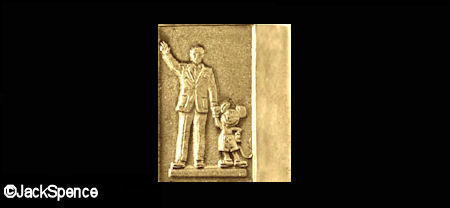 The Partners In Excellence award celebrates those cast members, both onstage and off, who exemplify the Disney spirit. The recipients of this award must achieve and sustain excellent job performance as measured by three criteria: Guest Satisfaction, Cast Excellence, and Business Results.
To be eligible for this award a cast member must have worked for the company a minimum of three years. Then they must be recommended by a fellow cast member or their supervisor. Once a year, all of these recommendations are reviewed and a portion of these are actually accepted and the cast member is informed that he or she has been nominated to receive the award. The nominations are then reviewed again and a select few receive the Lifetime Achievement Award called Partners In Excellence.
In 2007, 3,816 people were recommended. Of that, 2,934 were nominated and 515 actually won. When you consider that Disney World employs over 60,000 people, it is an honor to receive this award.
The Disney name tag has a lot of tradition behind it. It indicates much more than just a person's moniker. It means that an individual understands what the "Disney-way" is all about and they will do their best to make sure you enjoy yourself while visiting.
———————————————————-
Addendum:
After this blog was posted, one of my readers, Ben, sent me the following link.
http://www.nametagmuseum.com/
Check it out. You'll find a wonderful history of Disney name tags.
Thanks Ben!