Walt Disney World hosts millions of visitors each year. There are always people about even during a slow period. Yet, you can take photographs without people in them. One way is to get low and shoot at an angle to eliminate people around you or find a way to elevate yourself over people's heads. Another way is to find scenes where people can not get to like the photo of the ceremonial canoe I found in Disney's Animal Kingdom near the Yeti Shrine.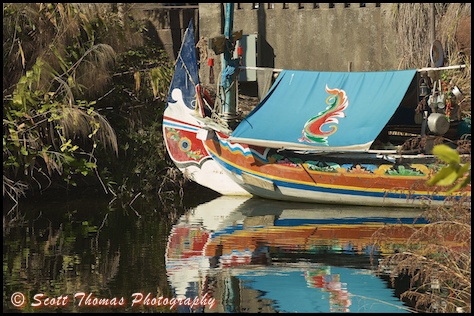 Ceremonial Canoe near the Yeti Shrine.
Nikon D70/18-200VR 1/400s, f/16, 200 ISO, +0.3 EV, 150mm Focal length
I am a lightweight when it comes to getting truly empty photos of a Walt Disney World park. Let me introduce you to a true heavyweight, Tom Bricker (aka WDWFigment) has perfected empty Disney park photography. What he does is stay late at one of the parks…say, the Magic Kingdom until all the guests have left. He has seen the second Kiss Goodnight more times than I've been to Orlando (did you know there was a second one? Have you ever seen the first one?). Long after most guests are sleeping back at their resorts, Tom is getting photos only a paid Disney photographer normally gets a chance to shoot. Here are a couple of his favorites from the Magic Kingdom.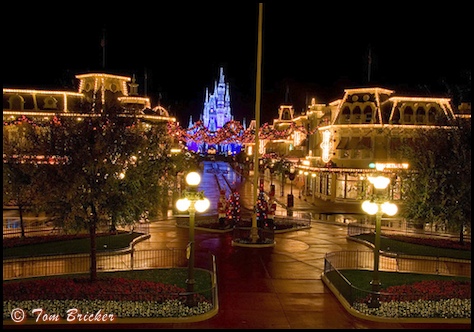 An empty Main Street USA during the Christmas holiday season by Tom Bricker.
Nikon D40, 5s, f/20, 200 ISO, +0.6 EV, 26mm Focal length
Tom talked about this photo, "Although the rain dampened the mood on portions of the (Mickey's Very Merry) Christmas Party, it sure did make for some pretty after hours shots (my first with "rain reflections"!)."
In this very unique photograph of the castle below, Tom explains why it is often overlooked. "Most people stop in awe when they first see the Castle on the other side of Main Street, USA. By the time they walk through the Castle to Fantasyland, a little of the amazement has worn off, and they are scurrying off to get in line at their favorite attractions. However, the back of the Castle shouldn't be overlooked. With its nuances and beautiful architecture, it is unique and awe-inspiring in its own right."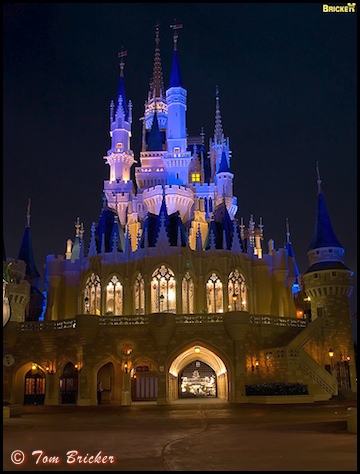 Cinderella Castle from Fantasyland by Tom Bricker.
Nikon D40, 1.3s, f/3.8, 200 ISO, +0.6 EV, 22mm Focal length
Tom uses a tripod to obtain these fantastic photos. He freely admits breakfast is something he seldom eats when visiting Walt Disney World. So, are you up to the challenge of photographing an empty Disney park?
I would like to thank, Tom, for letting me share some of his wonderful Walt Disney World photography!