For lunch yesterday we went to the Maji Pool Bar. Disney offers two options for lunch at this location. The first is a more casual menu of premade sandwiches and salads at reasonable prices. These are handled by the bartender and service is immediate.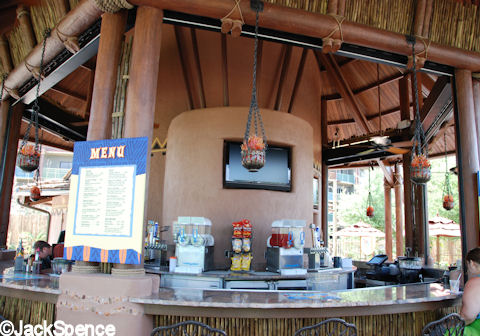 The other option is called Private Dining (in other words, room service). Located at one end of the bar is a phone with a direct line to the kitchen. Just pick up the receiver and you'll be connected to an operator. This menu is more substantial with prices to match.
After placing my "Private Dining" order I was told there would be a $3 delivery charge and an automatic 18% gratuity. I was also told there would be a 35-40 minute wait for my food. Located next to the phone were large numbers to place on the table. I was asked to select one so a cast member could find me later. To my surprise, my order arrived in just a little over 10 minutes.
The food is beautifully served in a Bento Box and the display is well worth the extra cost. I ordered the Tandoori Chicken for $14.99. It was served on Naan Bread and it came with a cucumber dressing, a small green salad, and pineapple custard. All of it was extremely good and the chicken a little spicy. In fact, my lips were tingling after each bite. My friend Donald ordered the Club Sandwich on Multi-grain bread for $11.49. It was good, but nothing out of the ordinary. However, this meal comes with two sandwiches — enough for a couple to share.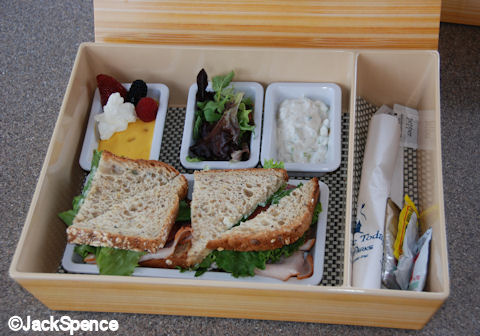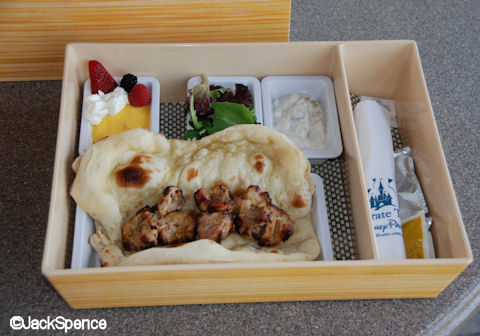 The Maji Bar is the perfect spot to enjoy a lunch. African music plays in the background and the pool is nearby. And when the Pembe Savanna is completed this fall, animals will be within sight of the bar.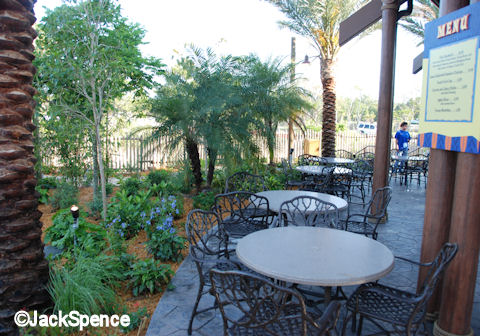 Also in the pool area is a Walt Disney proverb. But I won't tell you where. You'll have to find it on your own.
After lunch we headed to the Savanna Overlook that juts out into the Sunset Savanna. Here we spoke with Greg who is a Curator in the Animals Program department. One of the things he wanted me to share with you is the hours that the animals are available for viewing in the Sunset Savanna.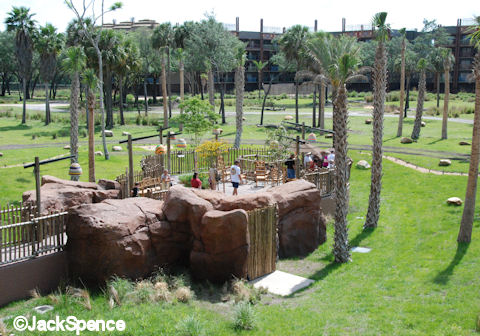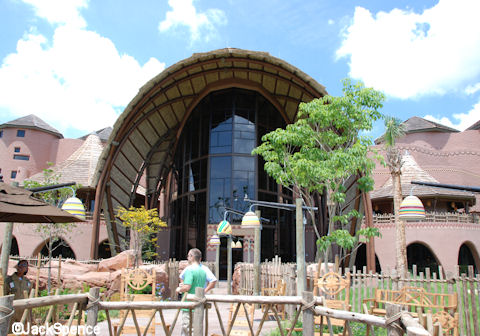 Every morning at 6am, the animals are encouraged to return to an enclosed area for general care and treatment. And while the vets and other experts are tending to the animals, the horticulturists and groundskeepers use this time to maintain the savanna. By noon, all of the animals are returned to the grounds and will remain available for viewing until 6am the next day.
The reason this time of day was chosen to care for the animals was that it was thought that the majority of guests would be busy in the morning getting ready to go to the theme parks and interest in viewing them would be at its lowest. Then, in the afternoon when you return from the parks, these magnificent creature would be waiting for you.
My next stop was the sports area. Located next to a small retention pond you'll find a half basketball court, two tennis courts, two shuffleboard courts, and a covered picnic area with tables and four BBQs.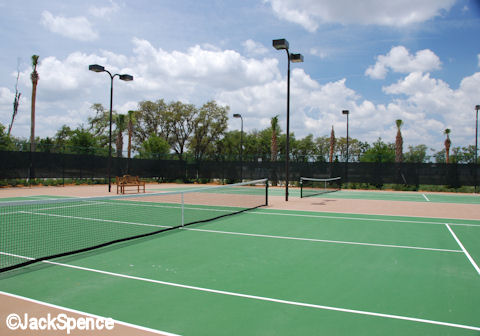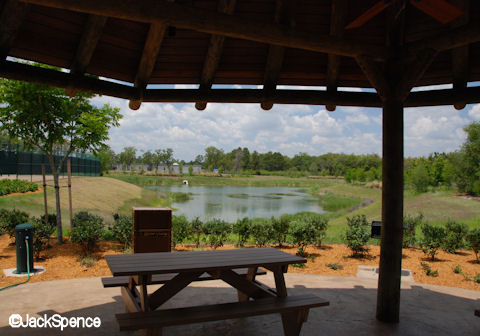 Here are two Hidden Mickeys for you. All I'll tell you is that both of them are located in the lobby.
Something I want to warn you about is the resort's size. In order to maximize the number of rooms that have views of the savannas, the buildings needed to be long – extremely long. So if you have a room at the far end of one of the wings, it can be a substantial walk to the lobby, Sanaa Restaurant, or the Samawati Springs pool area. If you have mobility problems you would most certainly want to let Disney know when making your reservation and again when checking in.
Now that I've stayed a night at the Kidani Village, there are a few odds and ends I'd like to share with you.
The exhaust fans in the bathroom are motion activated and remain on for several minutes after leaving the room. Normally I don't see this as a problem, but if you have light sleepers in your group this could wake them at night.
The bathroom vanity is well designed with plenty of space to store your toiletries.
The clock-radio has a docking port for iPods.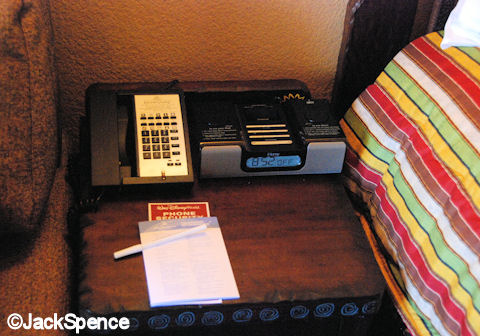 The balconies are large and reasonably private. However, noise travels and conversations from adjoining balconies are easily heard.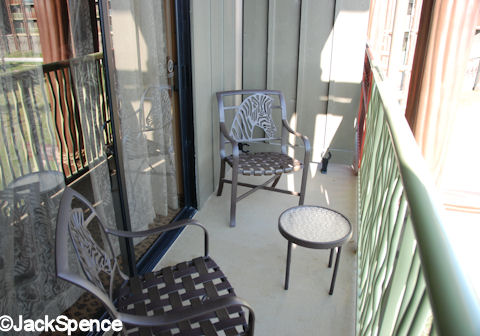 There are no recycle trash bins in the room. Shame on Disney since I know these are available at other Disney World resorts. Maybe they were just missing because it was opening day and they hadn't arrived yet.
One reader asked me what floor offers the best views of the savanna. After giving this question a bit of thought, here's what I came up with.
The public viewing porches are located on the second floor. Obviously someone thought this would be a good location to watch the animals. However, the Grand Villas, the most expensive rooms, are located on the fourth and fifth floors. So it appears that Disney doesn't have an answer for this question either.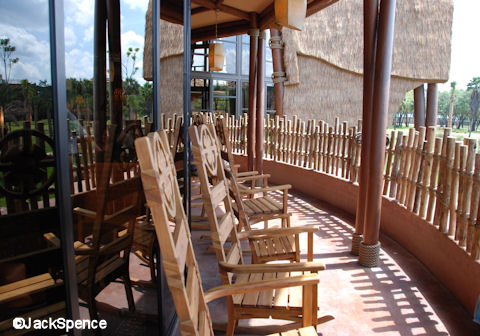 I found out that Night Vision Viewing of the animals is only available at Jambo House.
The pool's maximum depth is 4'11".
Sanaa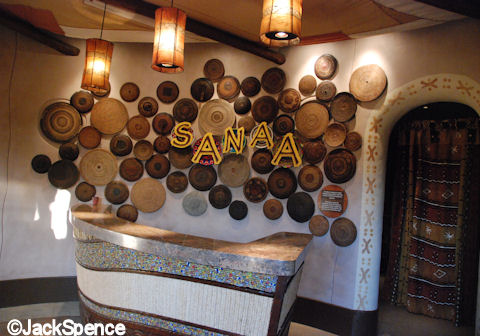 Each day when the restaurant opens for lunch and dinner (11:30 a.m. and 5 p.m.), a number of Sanaa cast members sing an African welcoming song to those guests in the lobby, waiting to be seated. This certainly isn't a "knock-your-socks-off event," but it is a pleasant way to start a dining adventure and it made me glad I had 5 o'clock reservations so I could experience it. Also, the first several guests to enter the restaurant are greeted by additional cast members who carry long, grass-like sticks and they wave them at you as you pass between them. I'm sure there was ceremonial significance to this, but I was so awestruck by my surroundings that I forgot to ask.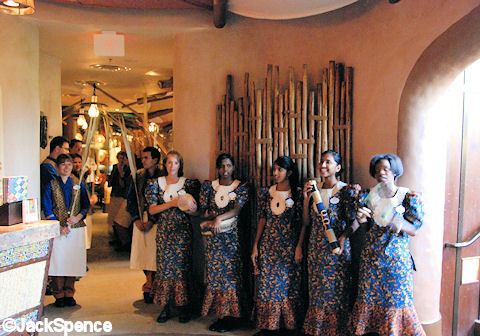 Donald and I were the first party seated on May 1st and thus became the very first guests to have dinner at Sanaa. Our server was James and he epitomized the perfect Disney cast member. He provided us with enough conversation to be friendly, but never intruded. He was also extremely knowledgeable when it came to the menu. And the meal was timed perfectly. There is nothing I hate more than to be in and out of a nice restaurant within 45 minutes. Our meal took two hours as we were allowed the time to enjoy each course before the next was anywhere in sight.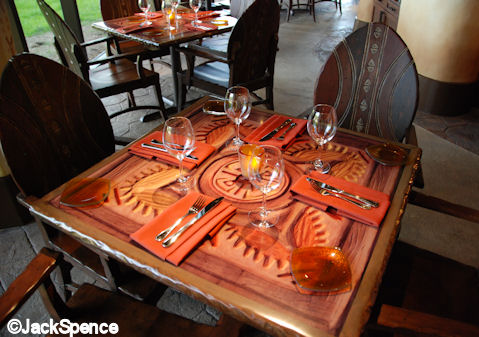 We started our meal with the Indian-style Bread Service for $8.99 (serves two). Here you can choose three flatbreads (from four) and three dipping sauces (from eight). For the breads we chose Roti, Paratha, and Paneer Paratha and for our dipping sauces we selected Coriander Chutney, Mango Chutney, and Tamarind Chutney.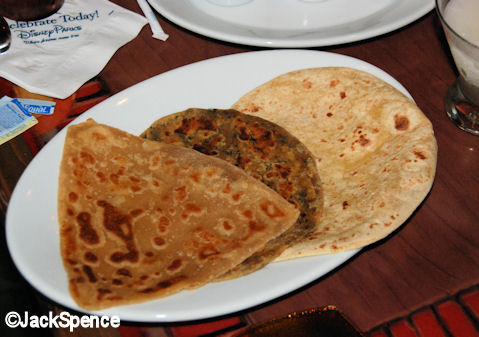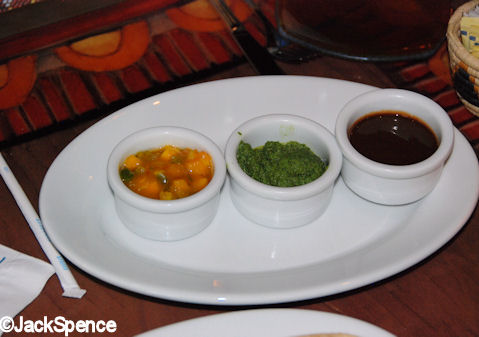 To be honest, I really couldn't distinguish a lot of difference between the breads. But the chutneys were a different story. Each had a very distinct taste with the Coriander ranking as our favorite. But please note, while the other two were flavorful, the Coriander was kick-in-the-pants spicy. I would definitely order the bread course on a future visit just for the sauces.
For appetizers we decided on the Sampler for Two ($14.99). This included Roasted Cauliflower, Pulled Duck with Red Curry Sauce, and Potato and Pea Samosas. James left the dipping sauces (from the bread course) on the table just in case we wished to use them with the appetizers. I felt the Cauliflower and Duck held their own, but we both added some sauce to the Potato and Pea. There is a fourth appetizer that is not part of the Sampler. Although we were happy with these selections, we weren't blown away by them either. Good, but not great. I think next time I'll try the stand-alone appetizer of Mustard Seed Crusted Scallops.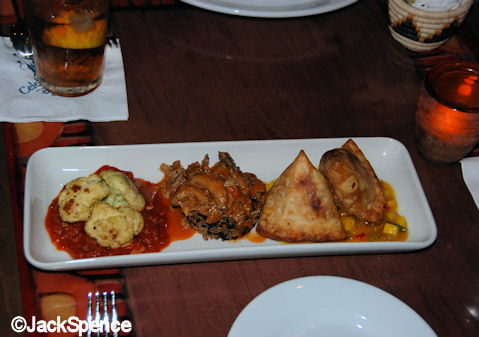 For an entrée, Donald tried one of the combination meals ($18.99). Here you can chose two from the following: Chicken With Red Curry Sauce, Paneer Cheese and Spinach, Shrimp with Green Curry Sauce, and Beef Short Ribs. Donald opted for the shrimp and ribs.
I make short ribs at home and Sanaa's version definitely had that distinctive short rib taste. But there were other subtle flavors infused in the meat that my down-home recipe is lacking. If there had been salt on the table, I would have used it, but the ribs were quite good and extremely tender.
In a way, I would have to describe the shrimp in the same manner. It certainly tasted like shrimp, but there were other flavors playing with my taste buds.
The gentleman at the next table opted for the spinach and cheese selection. He told me that it tasted like nothing he'd ever eaten before. When I asked him if this was good or bad, he said, "Good." But the flavors were so new to him that it took a moment for his palate to become accustomed to the 30 spices used in the dish.
For my entrée I selected the Spice-crusted Cornish Game Hen with Turnips and Cherries ($17.99). I thought this dish was outstanding. I also make game hens at home, but they taste nothing likes this. Sanaa's bird was heaping with flavor. So much so that the chef-selected wine is Pinot Noir (a red wine, not a white). And to be honest, I feel a more flavorful wine should be paired with this dish. Please note, the meal is spicy, not spicy-hot. However, James did tell me that the chef can add some "kick" to any dish if you request it.
For dessert I ordered the Cardamom-Butter Cake with Orange Supreme and Saffron Syrup for $5.49. This offering has a subtle taste. I did like it, but after my spicy hen the cake seemed mild. I think this dessert would be better suited to follow a less spicy dish.
Donald ordered the Chai Cream with Tea Tuile. This was probably the highlight of the meal. A creamy custard, served in a glass, with a taste that's very difficult to describe, but oh so delicious. I know what I'm getting on my next visit.
Here is the view from our table.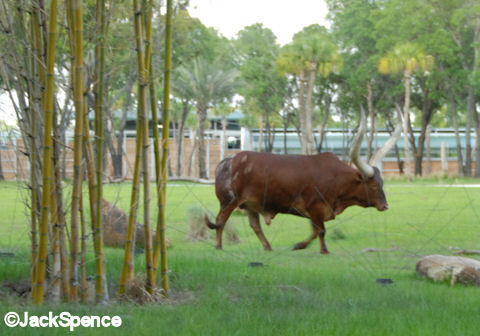 I've eaten at Jiko five times and have yet be overly impressed with the food. But I think Sanaa is on the right track. A few dishes might need some fine tuning, but this spot has the beginnings of a unique and fine Disney experience.
For pictures of Sanaa, see Blog 2 in my Kidani Village series.
That is it for this blog. I'll be writing one final entry and it should be up sometime tomorrow.