I recently returned from a wonderful vacation that included 3 nights at Old Key West in Walt Disney World. Here are some random thoughts and observations:
Old Key West:
I really do love this resort. The villas are very spacious and 4 of us had more than ample room in the 2 bedroom.
We dined at Olivia's (sit down restaurant at Old Key West) twice for breakfast and once for lunch. Food was very good and service good as well. Only one issue in 3 meals, breakfast potatoes were cold. Once we told the server we soon had pipping hot cheesy potatoes… Yumm!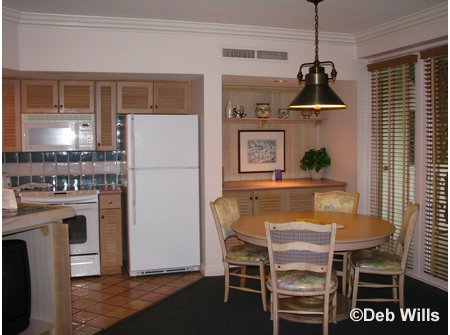 Owners Locker:
My two purple lockers were waiting for me at Old Key West when I arrived. I love having so many items in storage that I no longer have to bring back and forth each trip. Particularly useful this time were: coffee and coffee filters, Umbrellas, Ponchos, electric toothbrush, quart size storage bags, hats, bottled water from last trip, snack bars, gum .. well I could go on and on.
Epcot Extra Magic Hour Evening:
On January 30th we did the Extra Magic Hour. We tried to begin at Soarin' but at 8:30pm it already posted a 40 minute wait. So, we walked over to Spaceship Earth. The Cast Member there did NOT check resort IDs. The line was average… not sure how many of those folks were resort guests or not. Next we walked to the Living Seas where resort IDs were checked. No wait as we walked through the long queue to get on the Clammobiles. The only wait for Crush was for the next show. Back to Soarin (resort IDs checked) which had a 35 minute wait posted and that was exactly what it was. All that took about 2.5 hours.
Wandering around the Animal Kingdom is always a favorite activity of mine. On a cool raining morning, there were plenty of animals and birds out and about.
Saddlebill Stork: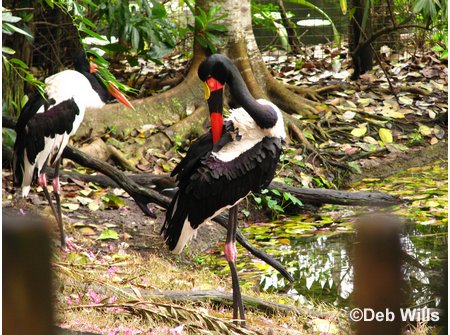 Galapagos Tortoise: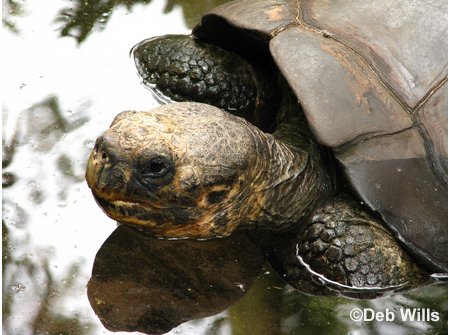 Tigger: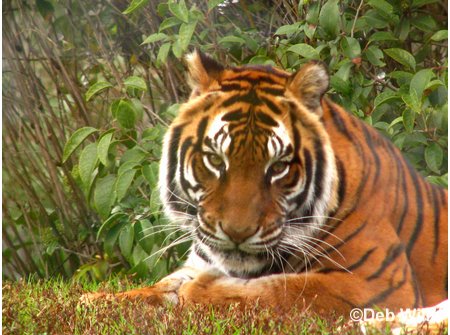 Elds Deer (male):
Tusker House Lunch with Reserved Seating for Finding Nemo The Musical
While I am usually not a lunch buffet fan (way too much food for me), I was curious as to how the reserved seating was working for Finding Nemo. When I called WDW-Dine I said I wanted this feature and they gave me a lunch reservation for 1:20pm. The Finding Nemo show would start at 3:15pm. Upon checking in at Tusker House, we (party of 10) were seated right away. The hostess asked if I wanted our priority seating ticket, uh – yes please. She instructed us to get there at 2:30. With 10 folks, one hour was a bit short for lunch so it was around 2:40 when we headed over to Finding Nemo. Fortunately for us, the seating was not yet released to the general public and was still reserved. We were directed to an area in the front right most section. For the most part, this was a good view (although we were a bit too close to the stage for me). Once the seating was open to everyone it filled quickly. It was nice to have prime seating and not have to stand over an hour in line waiting for it!
TIP: For shows such as this, use the "sports" mode on your digital camera (if it has one). Steady the camera against your body (or on a railing if you have one in front of you) and wait for that pause in the actor/ress and SNAP! You can get some good pics this way. My camera is the Canon S5 IS. The photos below were only reduced in size to fit in the blog. No other modifications were made to them.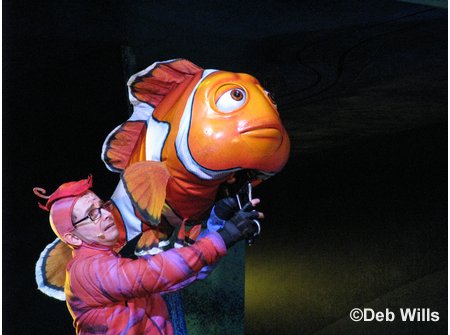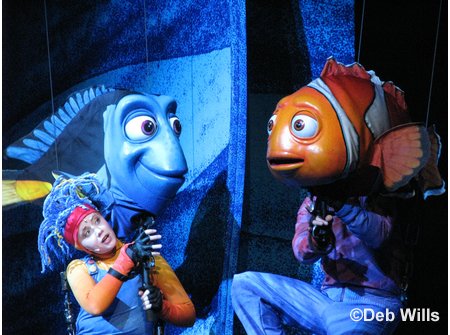 Misc Dining Bites
We also ate at the Brown Derby for lunch. Prices seem to keep creeping up but the Cobb Salad is still worth the $15 lunch price to me!!!
Dinner at Jiko was exquisite. From the moment we arrived, from the wine to appetizers to our entrees to dessert – everything was perfect. Special special thanks to Chef David, our server Nassar, Michelle for stopping by, manager Alvin (I hope I remember you name correctly) and manager Vickie for making the evening so incredibly special.
The photo below is the special appetizer sampler that Chef David prepared for us (from left to right): Duck Confit and Fig Salad with comice pears, black mission figs, and goat cheese crouton; Curried Samosas – Crispy Pockets with Potato, Sweet Corn, and Tamarind Sauce; Spiced Briouats – Pulled beef rolled in Naan with tomato-date jam; Pokanoket Farm Seared Ostrich Filet – with creamed sweet potatoes and pomegranate gastrique.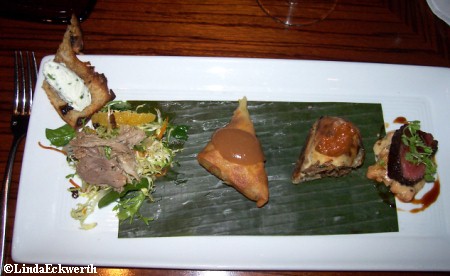 On our last evening we dined at Tutto Italia in Italy in Epcot. First time for all of us since the change from Alfredo's. Our server was so wonderful, he really made the evening bright!!! I would rate the food average theme park food. I recommend you stick to the basics. Appetizers of Caesar Salad and Tomato and Mozzarella were very good. For entrees, most of the pasta dishes were good. Although, 2 of us ordered the Pumpkin Ravioli. I was disappointed in mind, but the other person enjoyed theirs. The filet of sole was a tad on the dry side and could have used more flavor.
Oh – almost forgot! One of the few attractions we rode, Toy Story Mania, was a huge hit with everyone!!!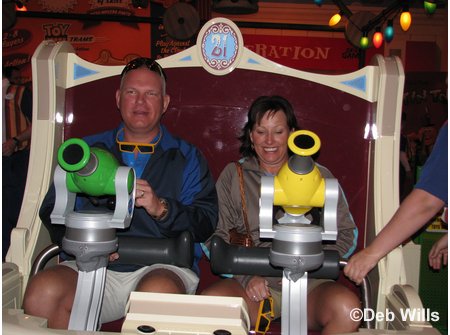 All in all a quick, but enjoyable time in Walt Disney World!