Whether you're setting sail on the MouseFest cruise in 4 days (you lucky ducks) or you're planning to cast off in the future, this blog's for you.
MouseFest Cruise
1. Take the walking tour around Nassau with Dave Marx. He really does an excellent job of showing you the highlights in the area. Make sure you take some cash with you and know that the only restroom you'll stop at is at Fort Fincastle near Queen's Staircase.

Nassau, Bahamas/Castaway Cay
2. Want to mail your postcards with special stamps? You can buy Disney Cruise stamps on Castaway Cay and Bahamian stamps at a small counter in the port terminal. When you enter the building, turn right and there's a small grated window with one employee.
3. Have your passport stamped. Exit the terminal, walk to your left and you'll see a black metal gate surrounding a building. Tell the guard you want to have your passport stamped. He'll buzz you in. Go into the building, turn right down the hallway and I think it's the 2nd to last door on your right.
General
4. Take the time to stroll the many decks and see the detail in the ship and all that it has to offer.

5. Get a waterproof disposable camera for snorkeling, swimming, and for Castaway Cay. Tossing your camera into the same bag that was at the beach can lead to a repair. Sand goes everywhere!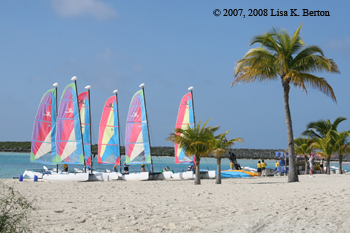 6. Carry a camera with you at all times. It's easy to come across characters when you least expect it, including Port Canaveral. You may also find that you'd like photos of a cruise employee, a new or old friend. Don't let that special moment slip away.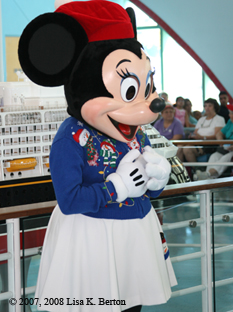 7. Learn what your camera is capable of before you leave for the airport. If your camera has Manual, Aperature Priority, and/or Shutterspeed Priority then you can photograph the musical productions (highly recommended) without the flash as flash photography is not permitted.

8. Remember to change the white balance settings as you go from inside to outside as well as the ISO.
9. Double check that you have packed batteries, the charger, the camera, multiple memory cards, the manual if you need to reference it, adapters and/or converters if you are coming from outside of the United States.
10. DO NOT place your camera in your checked luggage. Keep it in your carry-on or handbag.
Have fun. Tell Hercules and Jack Sparrow I said "Hi."