All Ears team member Glo from Miami and her husband Gary continue their report on their Adventure by Disney – Backstage Magic! Click here for all of Glo's reports! Scroll down for most recent entries.
If you're following along, you'll know this is the day we had to be up 7 AM for breakfast, bags packed and ready for our hotel change to the Grand Californian and our tour of Walt Disney World Imagineering and the Disney Studios.
Imagineering is on the "Glendale campus" and each of the buildings that belong to Disney are discretely marked with address markers that have the same shape as cast member badges.
The Imagineering building is #1401 and our guide for the tour was Dave Fisher, one of the imaginers, a story writer. Dave gave a brief background presentation, interspersed with pictures and video clips of various parts of the Disney Company history. He explained that Walt's real gift was as a storyteller and that he surrounded himself by others who could help tell the story the way HE wanted it told and even today, it is Walt's storytelling gift that has been passed along to the entire company.
The most wonderful part of this tour was an up-close-and-personal encounter with Lucky the Dinosaur, a new type of audioanimatronic figure that is capable not only of the normal motions we've come to expect, but also locomotion. All on its own, Lucky can walk forward, backwards, turn corners, etc. This "traction" was at Walt Disney World for an all-too-brief period of time before it was moved to Hong Kong Disneyland. I never had the pleasure of meeting Lucky before, but it is certainly something I will fondly remember from this trip.
He also explained that Walt's original concept for a park was a 20 acre area to be called Mickey Mouse Park, but it soon became apparent that 20 acres were not enough to contain all the ideas Walt has in his head, so plans were expanded and the original Disneyland was built.
Amazingly, construction began on July 16, 1954 and Disneyland Park opened on July 17, 1955, one year and one day later. This is so unbelievable that they could build a whole park in one year in the 1950's but in the 2000's it took 5 years just to build Expedition Everest at the Animal Kingdom!
Imagineering encompasses 140 different disciplines, including, story writers, sculptors, technicians and sound effects specialists.
Our first stop on the tour was Studio C, a sound studio designed to produce the sound effects for the various circle vision films. We also saw a developing technology not quite ready to "go public" yet called D-Snap. With this D-Snap you would purchase a piece of software that would enable you to stand in various locations throughout the parks and have your picture taken by a remote camera, a bit like PhotoPass, but without the photographer. Then, the camera would either e-mail or text message the picture directly to your cellphone.
From there we toured the sculpting studios and learned a bit about how clay models can be turned into larger models and how the larger models are used to actually design everything from the giant icons at All Star Movies to the actual attraction structures themselves.
One other thing we saw that was very interesting was the layout model for a new part of Disney's California Adventure called Cars Land, scheduled to open sometime in 2012. This expansion will be placed where the current Timon and Pumba parking lots are located for those of you familiar with the California parks.
Another very interesting Imagineering demonstration was an A100 audioanimatronic figure with no clothing or "skin." The figure is purported to be Joe Cocker and move to a Joe Cocker soundtrack. It is absolutely fascinating to see what goes into those moves that seem so life-like.
There was a bit of time for shopping at Mickey's of Glendale where some of the merchandise is exclusive to this particular shop and very highly sought after.
Although lunch was supposed to be at the Studio's commissary, it ws switched to the D-Café at Imagineering. Weather was absolutely gorgeous and most everyone chose to eat at the tables outside.
From Imagineering we headed down the road to The Disney Studios. Truthfully, this part of the trip was a bit of a let-down. Yes, it was exciting to actually be ON the Disney Studios lot and our guides had lots of information about what happened here and what happened there. However, other than the Legends Plazas (old and new), we didn't get to actually SEE very much.
One of the newer buildings at Disney Studios has a roof line "supported" by the seven dwarfs. This is a tribute to the movie "Snow White" which many consider to be the movie that "built" the Disney Studios due to its huge success.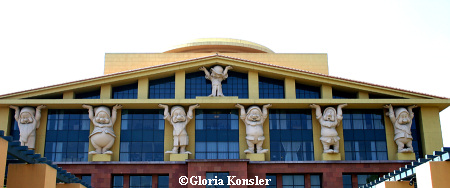 Since the 75th Anniversary of the Company in 1987, Disney annually honors a number of "legends," people in many different disciplines who have been instrumental in the success of the Disney Company. The dedication plaque says (in part) that Legends are those people "whose imagination talent and dreams have created the Disney Magic. Each honoree has a square bronze plaque with their hand prints (if alive at the time the honor is bestowed), the year and an embossed graphic that depicts their particular discipline or area of contribution.
We did spend a bit of time in the Frank G. Wells Building (where the archives are housed) and got to see an actual multiplane camera. An interesting fact is that the last time the multiplane camera, a technique invented by Walt Disney, was used in 1989 on "The Little Mermaid."
Next was about an hour's drive on the Los Angeles freeway system to Anaheim, the location of the Disney parks and our home for the next three days, the Grand Californian.
There's really not a lot to tell about the afternoon and evening of day 3. I'm not going to give you a review of the Grand Californian or the restaurants where we ate. You can find those in lots of other places. Suffice it to say, the Grand Californian is a beautiful resort, very similar to Disney's Wilderness Lodge at Walt Disney World, but more "craftsman" than "mission" for those of you who are architecture buffs and with all the amenities of the Grand Floridian. It's a rather unbeatable combination in my book.
We had a wine and cheese reception in the Vineyard Room of Hook's Point and then went upstairs for a lovely dinner.
After dinner we were on our own until the next morning. Some of our group went to the parks, some walked around Downtown Disney and others went to bed 😉
One thing I will say for this tour is that it is not for anyone who tires easily. Although our guides have built in plenty of bathroom breaks and relaxing meals, the rest of the time you are walking and standing. By this evening, a number of people were starting to mention tired feet.