All Ears team member Glo from Miami and her husband Gary continue their report on their Adventure by Disney – Backstage Magic! Click here for all of Glo's reports! Scroll down for most recent entries.
I think for the remainder of this blog, I am going to just give a short outline of what we did and not go into too many details.
This is the real "backstage" part of the tour and I want to give those of you who might be considering the trip enough information to help make a decision, but I don't want to spoil all the "magic" for anyone. Also, it is obvious that our tour (and some of the amenities received) differ from some of the earlier tours. My guess is that once in a while things have to be changed due to circumstances. I know personally I was looking forward one a tour element I read about in one of the earlier reports and, guess what, we didn't even go near that area …a bit disappointing because I had built it up in my own mind …and I don't want that to happen to you if you go on the tour.
Our morning began in the lobby at 7:45 AM when we all met for our "march" to Disneyland. Park opening was at 9 AM, but we got to enter at 8 AM and only had to share the park with the maintenance vehicles still about. After walking down Main Street and having pictures taken in front of the castle, we walked to the Plaza Inn for breakfast with the characters. Unlike WDW where the characters are all from the same theme (princesses or Pooh and friends or Mickey and friends, etc.), there is no "theme" in Disneyland.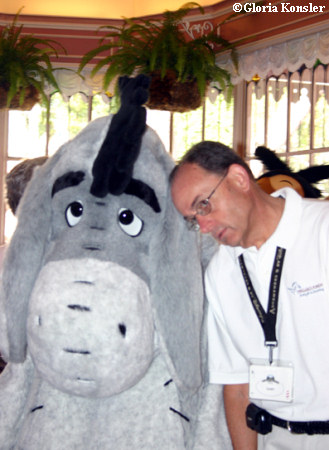 Our "dining room" was a part of the beautiful Victorian "inn" that used to be closed off and reserved for Walt and his guests, but today it is open to anyone who happens to be lucky enough to be seated there.
After breakfast, we headed to the Indiana Jones attraction and went "backstage" for the first time. We were able to see one of the vehicles up close and learned about the design, the maintenance, the computers, sounds and, yes, the ride itself. Then we went to the head of the line and rode the attraction. Again, as with resorts and restaurants, I'm not going to offer reviews of the individual attractions since reviews are so readily available.
From Indy, we went to the roundhouse where the trains are housed and learned probably more than I personally wanted to know about steam engines. One interesting thing to note is that these engines were originally designed to run on wood or coal (or in one instance, sugar cane), but they have been retrofitted so they now run on a clean burning and "green" biofuel. Disney is even experimenting with running the engines on compressed garbage, but that's not quite a go yet.
Next we went to the horse barn where currently there are some 30 horses in the herd. Although there are new stalls, the barn itself is the same structure that was used when Walt was there. We learned how the horses are cared for and trained to be used on Main Street and also for Fairytale Weddings and other functions.
Lunch (which came way to soon considering we had a big breakfast) was at the Port Orleans Cafe and was wonderful! They need to bring those Monte Cristo sandwiches back to Columbia Harbor House!
According to our schedule, we had the afternoon and evening free after lunch, but Quinn and Julie had a couple of other surprises up their sleeves for us including a train ride in the "Lilly Belle," a beautifully restored coach car on the Disneyland Railroad.
From there we went across the street to the Main Street Firehouse, up the back stairs and into the private apartment that Walt and Lillian used when they stayed at the park. Here (as well as all other backstage areas) cameras were prohibited and everyone in our group respected tat request. Out guides did take some pictures for us, but so far we haven't seen them.
Our last surprise for the day was a roped off area at the train station terrace, right up front and in the middle where we were able to watch Walt Disney's Parade of Dreams. Although much shorter than the ones at WDW, this is really a beautiful parade. Gary and I saw it the first night and again in the afternoon. It's different, but equally beautiful, at the different times of day.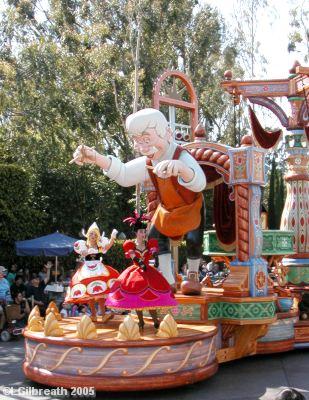 After the parade, we were on our own for the rest of the day and evening. Many in our group made reservations at Napa Rose, the Grand Californian's signature restaurant. Gary and I chose to spend the evening at California Adventure just walking around, getting the lay of the land and (for me) the first obligatory ride on California Screamin'.
We had planned to go back to the magic Kingdom for the 9:30 fireworks, but decided our pillows were calling our names very loudly. By the time the fireworks were over (We could hear but not see them.), we were ready to crash!
One thing I'm still having a hard time wrapping my mind around is that you can walk from Disneyland to California Adventure to Downtown Disney and back again all more quickly than you could walk from the front of Epcot to the International Gateway.
Tomorrow is backstage at California Adventure. Stay tuned.