All Ears team member Glo from Miami and her husband Gary continue their report on their Adventure by Disney – Backstage Magic! Click here for all of Glo's reports! Scroll down for most recent entries.
Today is the last full day we had on our tour and it was packed full of wonderful experiences.
The day began early again (7 AM) with a great buffet breakfast at Goofy's Kitchen in the Disneyland Resort. I would be remiss if I didn't stop to tell you that they fed us very well on the trip "¦maybe too well 😉 The various breakfast buffets were wonderful as were all of the other meals. Also, throughout the day, if appropriate, Quinn and Julie would make cold bottles of water and juice as well as other snacks (granola bars, cookies, fruit chews, etc.) magically appear. We did not go hungry or thirsty, for sure!
After breakfast, we headed to Disney's California Adventure for a couple of backstage activities before the park opened.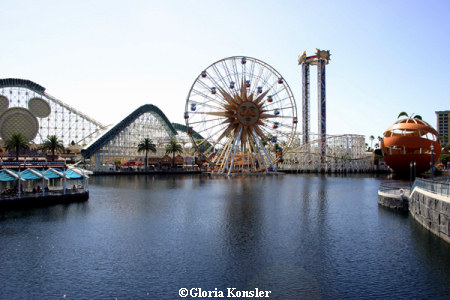 First was Soarin' over California at Condor Flats. Although the building façade looks different and some of the queue is different, this is exactly the same attraction that was installed at WDW in 2005. We split into two groups and while one group "soared," the other group did a backstage activity.
From Soarin' we went directly to the animation building and had a private talk with Crush. This was not the Turtle Talk with Crush show that many are familiar with, but rather, just a conversation with Crush for our group. I was hoping they would explain some of the technology of this attraction and was a bit disappointed when they didn't, but it was still a wonderful experience.
We also went into studio where we were taught how to draw Mickey Mouse. Some of us had wonderful Mickey's, but others agreed that their Mickeys looked more like Chip or Dale. No matter, it was a fun experience and those drawings magically appeared in tubes to be taken home on the last morning.
As an extra and special activity, our group then headed over to the Tower of Terror and rode as a group using some sort of "Magical Fast Pass" our guides possessed.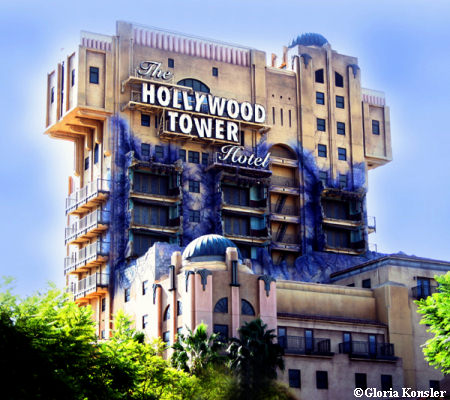 We then had lunch and the rest of the afternoon and early evening on our own, but were left with instructions to meet at the Hyperion Theater where we would walk to the location for our farewell dinner. I can't remember where we were supposed to have our farewell dinner, but wherever it was, that location was closed and a buffet was set up for us in the "props room" of the Hyperion. It was a great location and obviously constructed to be used as a private group dining facility.
As with all the other meals, the food was delicious, but there were a number of other surprises in store for us. An animator, Stacia, who has been with the Disney Company for some 30 years, drew characters per our requests. What a fun experience.
We also watched a slide show of all our various adventures and had a visit by a couple of very special characters. I'll never tell, but I'll bet you can guess.
"¦but that wasn't all the magic for our last night. Once dinner was over, we had an hour or so before we met back in Disneyland to view the fireworks from our special viewing area "¦and special it was! Perfect view of the castle with no one in front of us.
You know those dirty looks you get when you use a Fast Pass on Rock n Rollercoaster when the stand-by line says 90 minutes and you just waltz by a zillion people? Yep, we got lots of those kinds of looks as we sat on the strategically placed benches behind a rope with two cast members "guarding" our view saying, "This is a walkway, move right along. You can't stand here."
For a few minutes we thought we might not get to see the fireworks show. According to Guide Julie, they are canceled more often than you'd think because the park is located so close to the freeway. So, if the wind is blowing in the wrong direction, the debris from the shells falls on the moving cars and this is not a good thing. They will delay the fireworks up to 15 minutes, hoping the winds die down enough, but if that hasn't happened by 9:40, they cancel the show because local ordinances restrict the noise after 10 PM. Those of you who know me personally, know I LOVE fireworks and I was so hoping they wouldn't be canceled "¦and they weren't.
The show begins much the same way as "Wishes" in the Magic Kingdom at WDW, but then takes all sorts of spectacular twists and turns. Tinker Bell flies from the top of the Matterhorn, down to the castle, past the castle, around the castle, back toward the Matterhorn. It is much more impressive than the "flight" at WDW "¦and so were the fire jets from the castle parapets! All in all, it was a wonderful show and a wonderful way to end our adventure.