All Ears team member Glo from Miami and her husband Gary report on their Adventure by Disney – Backstage Magic!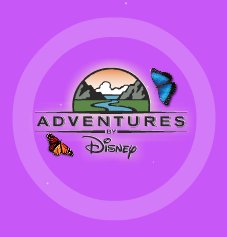 Shortly after Gary and I got back from our 40th anniversary Disney Mediterranean cruise, we started discussing going to California sometime in the future to visit the Disney parks there. We both thoroughly enjoy the Florida parks and visit them often since we live near-by, but we haven't been to Disneyland since an extended business trip in 1988.
We had thought we'd get to California when California Adventure park opened, but somehow that just never happened. I think it might have something do do with grandbabies coming one per year since 2002 😉
About this time last year Disney announced their new "Backstage Magic" tour of the two California parks and a lot of other interesting places. We signed our name on the "dotted line" for the September 16-21 "adults only" tour and then pretty much forgot about it until the final payment came due sometime in the Summer.
Just over a month ago we received our "Welcome" kit, complete with a great messenger bag and "luggage spotters." (Luggage spotters are bright blue "pouches" that Velcro around your luggage handles so your bags are easy to spot on the baggage carousel. ) Wow! Our trip was now just a month away!! It was getting exciting.
…but as I sit here today, our trip is less than 48 hours away and the "month-ago excited" is nothing compared to the "less than 48 hours" excited. We've gone over the daily itinerary with a fine-tooth comb and have decided what kind of clothes we need to bring. Tomorrow is Packing Day and there are little yellow "stickies" all over the place. I should have bought stock in the "Post-It Notes" company!!
I plan to blog as much of the trip as I can squeeze into an extremely crowded schedule. So, if you're interested in The Muppets, Disney Imagineering, Disneyland and Disney's California Adventure or if you're interested in seeing how an Adventures by Disney tour operates, read along with me for the next week and I'll try to share with you some of the fun and a few pictures …but I won't share all the surprises in case you might be considering this trip for yourself.