Monday morning came around much too quickly. One big advantage to the latest dinner seating is that you then have the latest breakfast seating on disembark-day. Breakfast was decent. It was tough to say goodbye to our new friends and servers, Tonie and Marija.
When we left Animator's we got in our first line of the morning…just to get off the ship! We waited and waited. I believe there were some issues clearing customs. Eventually, we started moving and headed into the terminal. Since we chose to do the onboard airline check-in, we didn't have to search for our bags; we could head straight to the line for customs. This one was really long and slow moving. It kind of felt like we were at the parks without a Fast Pass!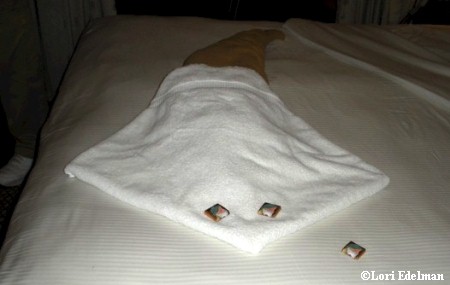 Finally, we made it to an agent and for the first time we had exceeded our allowance and were required to pay some "duty". We felt that the agents were very professional and courteous. We only owed $27 – cash only, no credit cards accepted.
Next we moved to the line to board a bus to the airport; also very long. I could not find my Key-to-the-World card (ticket for boarding the bus) but they let us on with Michael and Aaron's cards. After we were on the bus, I realized the driver had taken my DCL carry-on (you know one of the special $20 bags) and I didn't have my name on it. He was stowing dozens of them! Michael grabbed a luggage tag off of his backpack and ran out to get it on the no-name bag. Whew. (It was a good thing because when we got off the bus there were a lot of these untagged bags.)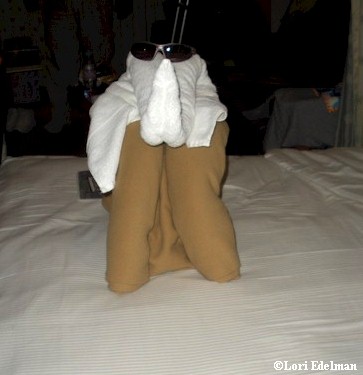 I am happy to report that we had smooth sailing on all of our flights. United was on-time in Orlando, Chicago, and Portland. Yeah!
Of course, we had a "gotcha". Remember my doubts about the onboard airline check-in? Well, only one of our three bags landed in Portland with us. The gal at the United counter said a second bag was in Chicago and would be there later that evening. The third bag, however, was deleted from their system! Yikes.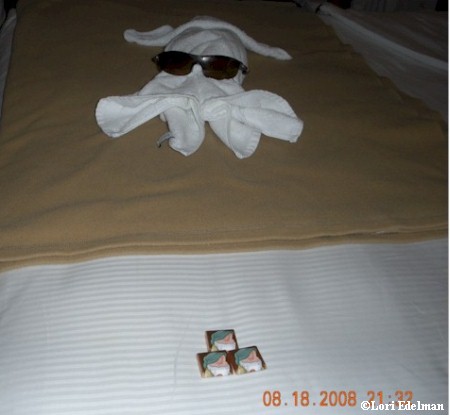 So, we headed home. Bag number 2 was delivered at 3am. About 7am, we called United. Yes, it looks like your last bag never left Orlando. Perhaps it is in the damaged bags area; please call back later in the day. By this time, we figured out the missing 3rd bag contained our most expensive tequila and all of the collectible Panama Canal pins. Ouch. Well, a few minutes later our phone rings. Caller ID says Delta Airlines. Huh? Michael answers and the lady asks, "Is this Aaron Edelman? We have your bag here in Orlando!" We have no idea how our bag got to Delta, but eventually it made it home to us – at 3am the next morning. Everything was intact.
(I've decided that the airlines employ "lost luggage gnomes" that go about their deliveries in plain, unmarked vans in the wee hours of the morning.)
Despite the problems with our luggage, Michael says he would use the onboard check-in service again. It was really easy to skip the bag search at Port Canaveral and when we got to the airport we headed right to security. I haven't made up my mind what I would do next time.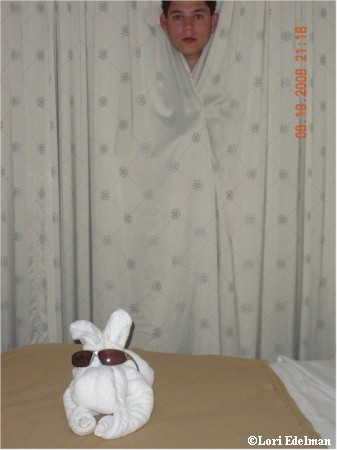 Speaking of next time, we are booked on the Feb 7 sailing of the Magic with our friends who have never cruised before!!! I can hardly wait.
And, finally, as I kept promising, here is the menagerie of fantastic towel animals that greeted us each evening when we returned to our stateroom. Enjoy!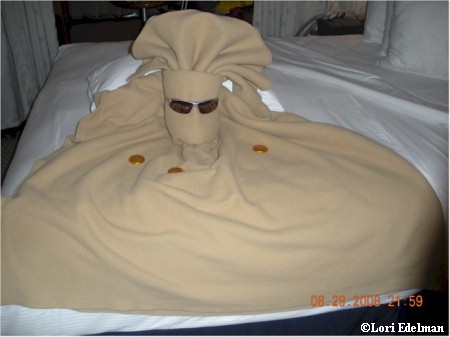 (Michael's PS: this was a trip of a lifetime! I cannot convey in words how much I enjoyed this time with my family and how well Disney took care of us! On top of that the Panama Canal was truly awe-inspiring – you hear that something is one of the "Wonders of the World" but you cannot appreciate it until you see it! This cruise was for our 25th Wedding Anniversary, and our last cruise was for our 20th. We have both decided that it's ridiculous to wait so long between cruises. I am SO glad that we are DVC members and are therefore able to take advantage of more cruising. Thank you all for your kind notes, it made the trip even more special for us. And a very special thanks to a special person: Deb Wills – we could not have done this blog without you!)
Read Lori's entire Panama Canal EB Blog!
Lori.