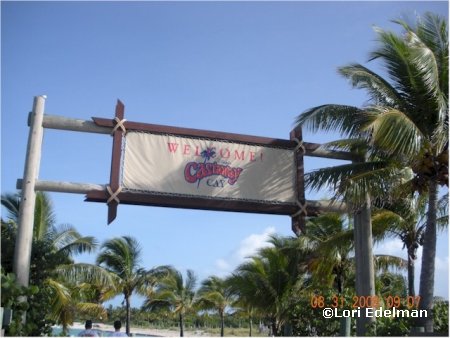 We've arrived in paradise! There is no other place like Castaway Cay. A tiny island heaven on earth. The weather was perfect. Everything was perfect.
After a quick breakfast, we walked off the ship and headed to the family beach. Along the way we snapped pictures of The Flying Dutchman from Pirates of the Caribbean 2 – Dead Man's Chest and a few other amazing sights (like the Disney Magic!). I even got a picture with Minnie.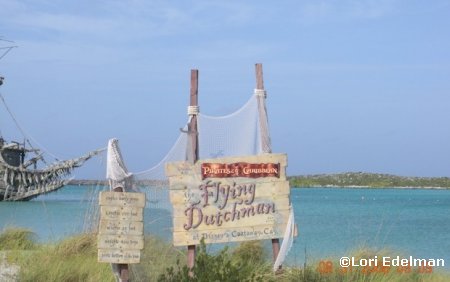 We stopped at She Sells Seashells to pick up a few souvenirs. Now they will deliver your purchases back to the ship! How convenient!
We found a comfortable spot under an umbrella, and headed over to Gil's Fins and Boats to pick up our snorkel gear. After about 15 minutes in the water, everyone was called back and out of the snorkel lagoon due to weather. It was raining and they were concerned about lightning. We waited about 20 minutes for things to clear and headed back out. It's fun to see how things have changed "under the sea" over the years.
After snorkeling we relaxed in our lounge chairs for awhile. Before we knew it, it was time for lunch – Cookie's BBQ. Yum. Burgers, chicken, ribs, salads, corn on the cob, fruit, and giant chocolate chip cookies! On our way back to our lounge chairs we connected with our new favorite bartender, Yelena. We had afternoon cocktails… Michael read his book and had a cigar. I took a long walk despite the heat. Aaron and I took a dip in the ocean. So refreshing.
Eventually, we made it back to the ship. I must admit the shower never felt so good! Michael was sleeping while Aaron and I went back down to the pier to watch a demonstration by Kevin Robinson, the X-Games superhero. It was very cool and I managed to get an excellent mid-air photo of him!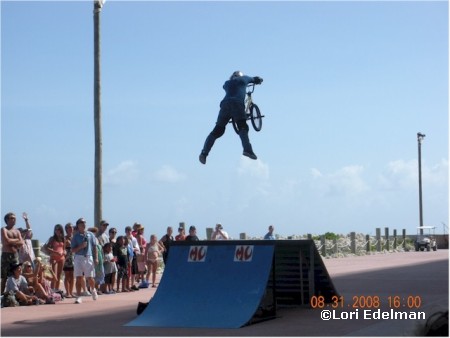 In between all of these comings-and-goings we managed to pack our luggage. (Funny how it never fits the same as it did on the way out of town.) We needed to have our bags outside our stateroom door between 9-11pm. We made it! Remember the blog installment from a couple of weeks ago when I packed and re-packed and wanted to minimize laundry, yada, yada, yada? Well, for one of the few times in all of our family travels, I think we did pretty well. I think all three of us wore everything we brought at least once and we allowed enough extra space for goodies.
Aaron and I went to the "until we meet again" show. It was wonderful. Several years ago Disney had a theme of "Remember the Magic" which is what they used this evening. Again, I cried pretty much through the entire presentation. It was fabulous!
Michael filled out the customs forms and figured out all of the duty allowances. We'll probably owe somebody something tomorrow morning. Oh well. It was worth every penny.
Oh, I almost forgot. Dinner tonight was at Animator's. The last night they finally figured out that no one was going to share our table. This time they set the table for 4 even though we were only 3 at a table for 8. Hehehehe.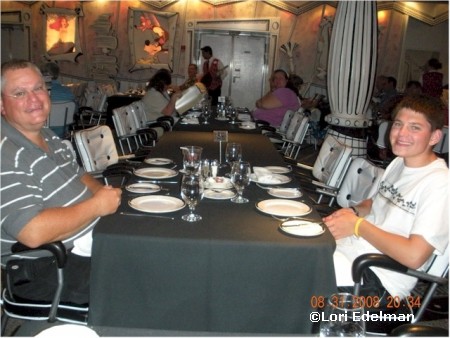 I have had a LOT to drink today. First there was the Captain-and-coke that Yelena prepared for me on Castaway Cay. Then, before dinner she made me some sort of special margarita. It was pink and tasted yummy! At dinner we polished off the last ½ bottle of wine from the night before. After dinner we went to say goodbye to Yelena and have our last after-dinner tequilas. She's been great fun and we've learned a lot from her. My only regret is not finding her earlier in our trip!
Aaron is back from his final Stack activity. They gave each of the kids a t-shirt ("Disney Sea University Alumni") and he collected names and email addresses from all of his new friends.
This has truly been the trip of a lifetime. I can't believe it is coming to a close. (I'm typing this thru tear-filled eyes.) The only thing making this ending more bearable is knowing that we will be back in six months.
We came on this trip to experience the Panama Canal. We are leaving this with memories to last a lifetime.
P.S. Our Stateroom Host, Nick, has done some incredible towel animals for us; a different one every night! I'll send along photos soon.
Thank you so much to Deb for allowing me to share our vacation with AllEars. One of these days our physical paths will cross and I will have the pleasure of meeting her (and sharing a great bottle of red wine).
And, thank you to everyone who has emailed me letting me know that you've actually been following all of my ramblings. Your kind words mean so much.
Faith, trust, and just a little bit of pixie dust… Believe in your dreams!
Lori.