AllEars® reader JeanineY is part of the NFFC trip to Tokyo Disneyland. She will be filing reports along the way. Here is Day 2:
We had been told that people would start lining up early in order to get into the park and get a good spot for the Anniversary re-dedication ceremony. After breakfast, we arrived on the monorail to find almost the whole area in front of the entry gates filled with people.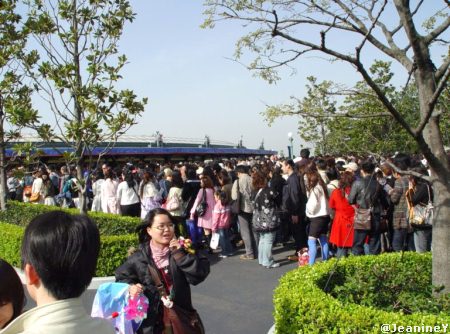 When the park finally opened, people moved in a mostly-orderly fashion through the gates and received their commemorative Tinkerbell pin. There was then a mass sprint to the castle forecourt down the World Bazaar area which was lined the entire length with CMs waving and calling out welcomes. A band was out playing, and film crews and press were around in droves.
Having failed to secure a particularly good spot, I mostly saw the ceremony through the viewfinder of some tall person's camera. I did manage to see Toshio Kagami, Chairman of Oriental Land Co. and Bob Iger make their announcements, after which virtually every character and CM known to Tokyo Disneyland came out with much fanfare.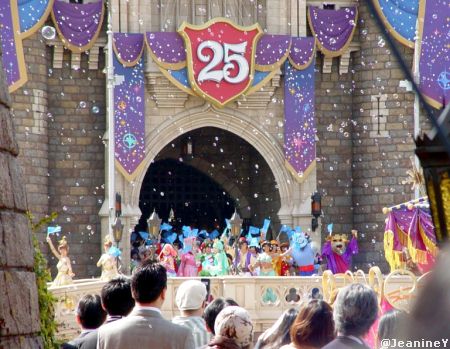 After much singing and dancing, the characters and CMs all paraded off and there was another mass exodus as the large swell of humanity sprinted off again to various attractions or merchandise locations.
We joined in the race to get fastpasses for Pooh (past the CMs vainly calling out "yukkuri!" which is Japanese for "slowly!") and then jumped in whatever Fantasyland lines were shortest. We had surprisingly little wait for most rides, with the exception for Peter Pan which is apparently at least a 35 minute wait in any country.
One attraction I had been waiting to experience for a long time was the Mickey Mouse Revue, which was gone from WDW by the time I ever got there. Although it was presented almost entirely in Japanese, the gist of it seemed clear: It began with a short film intro that traced Mickey Mouse's appearances through time, and then moved into another room which was inhabited by a number of animatronics from various animated classics. These were alternately lit as they performed songs from their respective movies (again, mostly in Japanese) and eventually all joined in for the finale, conducted by Mickey Mouse and his animatronic orchestra.
I thought this was a very appealing show, although the somewhat dated appearance of the filmstrip preceeding the main attraction gives some evidence as to why it might have been replaced.
After that, it was time to congregate for the Club 33 luncheon. The Club 33 in Tokyo Disneyland is in the World Bazaar area, with a similarly inconspicuous entryway.
The inside is probably as nice as you'd imagine.
While the setting was gorgeous, I would have to say that the only underwhelming part of the meal was the food, which was good but didn't really strike the people at our table as being equal to the surroundings. The exception was the dessert which was fabulous.
After lunch we had a talk with Imagineer Patrick Brennan who was filling in for Marty Sklar, absent secondary to a death in his family. He spoke of different projects they had coming up for Tokyo Disneyland, took questions, and generally showed a lot of enthusiasm for the park and their work there.
Subsequently, they had a limited amount of Club 33 merchandise for sale. The items were attractive, but a little pricey, running around $157 for a pair of cups.
After a quick run back to the hotel to change into more park-friendly clothes, we watched the new Anniversary parade "Jubilation!" from a spot which could only be described as "obstructed viewing." As this was apparently the first official day for the parade, it seemed that everyone in Tokyo had come out to see it and despite the fact that it appears to be mandated that the front 4-8 rows must be sitting, it was still hard to get a good view.
The floats were impressive both in size and in detailing–particularly the Peter Pan float that had a ship in something like a Russian Swing formation hanging from a crescent moon, and associated acrobatics.
After the parade, it was finally time for our Pooh fastpass. Pooh is deservedly one of the most popular rides in Tokyo Disneyland because of its unique trackless ride system which has you skittering around in honeypots seemingly at random–first spinning around in circles, next appearing to crash into other pots, then zooming up to a woozle (or a hefflelump?) to get smoke blown at you. It's a great ride and puts the Anaheim Disneyland version to shame.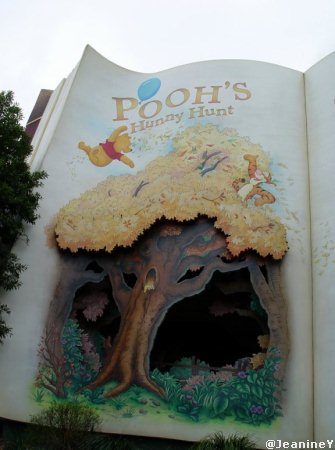 After that, we visited a number of other attractions, notably the Country Bears which was amusing as some of the characters apparently spoke Japanese, and some didn't. It was sponsored by House Food Curry, and by an odd coincidence the Hungry Bear Restaurant next door served pretty much nothing but House Food Curry–fortunately we enjoy that, so we sampled their fried prawn curry while waiting for the fireworks which were called off on account of wind.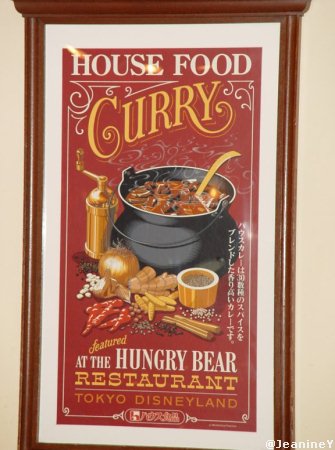 Since we had gotten up fairly early in the morning, we had begun to droop from fatigue, so we called it a night. Tomorrow: DisneySea II.