Alex Koma, son of AllEars Senior Editor Deb Koma, and an occasional contributor to the newsletter himself, recently attended ESPN The Weekend at Disney's Hollywood Studios. He shares his unique experience:
As a huge sports fan, Disney World's annual event ESPN The Weekend has always seemed like the ultimate dream. Disney World is my favorite place on Earth, and sports are my favorite thing to do, so naturally the event sounded great to me. However, it has always seemed far off, like the dream that I thought it was. It appeared to be too tough to organize, with the pressures of school and work making things difficult. I could only watch the commercials wistfully and hope.
Well, this year, my dream was realized. My mom, Deb Koma, came to me in late December 2007, saying that maybe she would have to go to the World that weekend, and that I might be able to come along for the ride. I was ecstatic. After looking at schedules and making reservations, things finally came together and on Friday, February 29, I was able to go to ESPN The Weekend. And what a weekend it was.
ESPN The Weekend included just about every imaginable feature a sports fan's fantasy could have. It had live broadcasts of popular ESPN shows like "NFL Live" and "1st and 10," appearances by many famous athletes and ESPN personalities, live ESPN Radio broadcasts, and interactive game shows for fans to take part in. Over the course of the three days I was there, I got to experience all of these things. I was able to see legendary players like John Stockton, Scottie Pippen, Darryl Dawkins, Bill Laimbeer, Mercury Morris, Jim Palmer, and Herschel Walker. Stockton has always been an idol of mine, with his ability to compete at a Hall of Fame level despite his lack of size compared to other basketball players, and it was great to see him in person. There were also current players making appearances, like Shaun Alexander, Travis Hafner, Brandon Jacobs, Maurice Jones-Drew, Donovan McNabb, Charles Tillman, Adam Vinatieri and Roy Williams. Seeing people in real life that I had normally only seen on TV underneath helmets was really cool, and now every time I see them on TV I will think of my memories from there.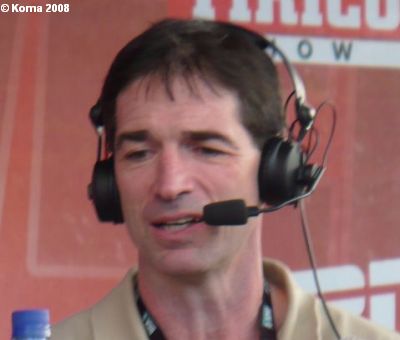 John Stockton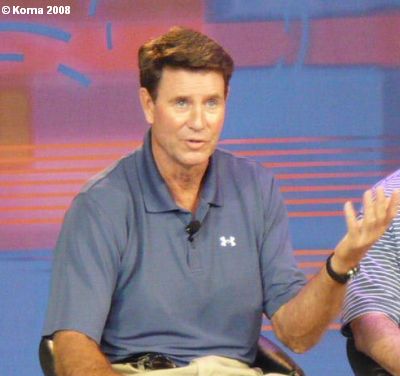 Jim Palmer
Meeting the ESPN staff I had gotten to know through the network's various shows was really special as well. I got to meet Neil Everett, the SportsCenter anchor, and get his autograph, as well as Baseball Tonight personalities Karl Ravech, John Kruk, Peter Gammons, Eric Young and Steve Phillips, and NFL Live hosts Trey Wingo, Mark Schlereth and Sal Paolantonio.

Alex with Jay Crawford
My most personal experience came when meeting the host of the show "1st and 10," Jay Crawford. My mom had the opportunity to interview Mr. Crawford, and because she is not exactly the most diligent follower of sports, she took me along to help. Getting to talk to a person who I watch regularly on TV was a really unique experience and Mr. Crawford was a very enjoyable person to speak with. As an aspiring sportswriter or broadcaster, I asked him how he got into this line of work and his response, telling me to work to get involved in any and all journalistic activities, even if they are volunteer work, will certainly help me down the road. I greatly appreciated him taking the time to talk with me. The whole thing was a great experience and was certainly one of the highlights of the weekend.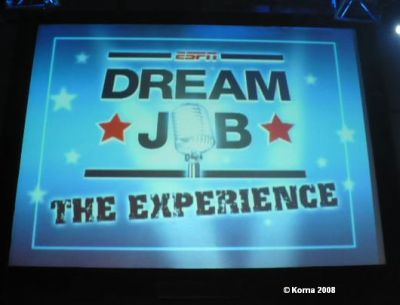 As is the case with many things, ESPN The Weekend saved the best for me for last. On Sunday, my last day there, I chose to go to see the "Dream Job" experience at the Sounds Dangerous theater. The premise of "Dream Job" was that three audience members would be chosen to narrate some of the past year's best sports highlights, much like they were on an ESPN show like SportsCenter, and then be judged by Al Jaffe, ESPN talent coordinator, and two celebrity judges. I thought that this sounded like something I would at least like to watch, so my family and I headed over.
While standing in line, about 10 minutes before the show was to begin, a cast member started talking to all of the people assembled there. He said that if any one of us wanted to try to be one of the contestants, then we should think of our best 20-second sports highlight to deliver to him, and the best would be chosen. He went through the line and heard several people speak before coming to me. He asked my name and then I delivered my best impression of Myron Cope (a well-known Pittsburgh sportscaster who just recently passed away) calling the 1972 Steelers playoff game featuring the legendary Immaculate Reception: "Bradshaw drops backs, passes to Fuqua, and the pass falls incomplete – but wait! Franco's got it! Go Franco! He's at the 20, 15, 10, 5 — TOUCHDOWN! Steelers win their first playoff game in franchise history and there's pandemonium in Pittsburgh!" He seemed like he liked it and moved down the line. About five minutes later, he came over the P.A. system and announced that I was one of the lucky three chosen! Connor, an 11-year-old Red Sox fan, and Marla, a Chicago Bears fan, were also chosen and we were quickly hurried backstage.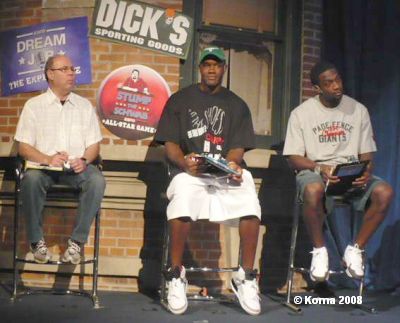 We got to meet our judges, NFL wide receiver Roy Williams and cornerback Charles Tillman, and got miked up. A production assistant then explained to us that we had our choice of a basketball, football, or baseball highlight to call. Connor chose baseball, and was to call Game 4 of the 2007 World Series, and Marla chose football, and was to call Super Bowl XLII. I chose basketball, and was to call Game 5 of the 2007 Eastern Conference Finals, where Cleveland Cavaliers superstar LeBron James scored an incredible 48 points and 29 of his team's final 30 points, carrying his team within one game of the NBA Finals. I knew I would be able to call it well.
After getting everything set up, we were then taken to the post show area at the theater, where the various sound booths and activities were set up. Each one of us were assigned a booth with a DVD player and given a disc featuring the highlight we had chosen. We were also given a "shot sheet" telling us the sequence of events in the highlight and any helpful notes regarding it. We each then had about 10 minutes to prepare before show time.
I was up first. I was escorted onto the stage and, after making some small talk with our host, Jake, I was ready.
I was seated at a desk with a plasma TV so I could see the highlight being played, and then it was show time. I read the scripted dialog: "Welcome to SportCenter, I'm Alex Koma, and this is today's top highlight!" And then was on my own.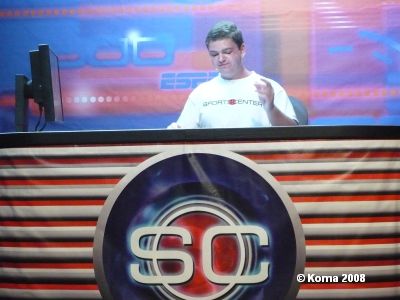 The best way to express what I did next is to say that I went completely insane. I screamed my lungs out over every big dunk, every big three-pointer hit and jumped out of my chair by the finish. I'm told the crowd loved it, but I didn't hear anything but myself. I guess I had other things on my mind at the time.
The judges then told me what they thought. Mr. Jaffe commented, "You must have forgotten to take your meds today." Mr. Williams said he thought I was very good and Mr. Tillman called my performance a perfect 10. I was then taken to a seat at the back of the theater and got to watch the others perform. Connor did a very good job calling his highlight, especially considering his age, and Marla delivered a nice call of the Super Bowl, although she was a little nervous.
After they were finished they brought us up to the stage. Jake then asked the audience to applaud for the performance they liked best. Marla and Connor both received a fair amount of applause, but when Jake asked the audience to applaud for me, the noise was deafening. Apparently, I was the winner!
I took home an ESPN The Weekend shirt, a gift card to Dick's Sporting Goods, grilling tools and… a full-size gas grill! I also got to get autographs from Mr. Williams and Mr. Tillman, which was really special. It was an amazing experience, and the best part of my weekend. I even had people coming up and congratulating me afterward, after we had left the theater.
It was the perfect way to end a great weekend and I will remember it for a long, long time. ESPN the Weekend was everything I thought it could be and I would do it again in a heartbeat (if you're listening, Mom). It was a great time. Next year, I can watch commercials for the weekend, and instead of feeling regret about not being able to go, I can remember the great times I had in 2008 and look forward to going again.
(Editor's Note: If you want to see a portion of Alex's prize-winning
performance, click on the youtube video below!)