What's holiday time without some special treats? The bakers and
confectioners at Disneyland have certainly done their best to satisfy
the sweet tooth in all of us! There's special cookies at the bakeries,
candies at the confectioneries, specialty hot beverages, and most of the
restaurants have a special holiday dessert. There's even special hot
foods like tamales.
There's no way we could try everything on our recent visit, but we
scoped out most of the offerings, and in the interests of research we
tried several different things.
At the two bakeries we found star-shaped rice crispy treats, ($3.29)
gingerbread men ($2.99), frosted snowman shortbread cookies ($2.99), and holiday
brownies ($3.29). The rice crispie treats were also available at a number of
counter service restaurants. Lee likes rice crispy treats, so we had
to try one of those. It was pretty much what you would expect from a
rice crispy treat that's decorated with red and green sugar crystals.
🙂
I like gingerbread (the gingerbread men with chocolate mouse ears that
you can find in various places around Walt Disney World at this time of
year are one of my favorite treats), so I bought one of the gingerbread
men to taste. The gingerbread had a pretty good spicy kick to it…at
first I didn't really care for it, but it grew on me. It has just a bit
of sugar glaze around the edge, so it's not real sweet.
The holiday brownie was quite a large piece (about 2″ x 4″) of brownie,
with stripes of white icing, chocolate chunks, and decorated with red and green
sprinkles. It was nice and moist, but not as chocolatey as we
expected. Still really good, though.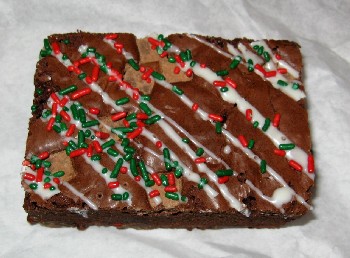 The confectionary places, like the candy shop on Main Street, and the
candy counters inside Greetings From California and Pooh corner, had
sugar cookies shaped like trees or snowmen which were covered in white
chocolate and other edible decorations ($2.99), and caramel apples covered with
red and green stripes, or apples covered in white chocolate with a
marshmallow on top, and dressed as snowmen ($9.00). At Pooh Corner they also
had white chocolate-covered snowmen marshmallows on a stick ($4.25). Those were
really cute, and we tried one of those. A little too sweet for those of
us who are not white chocolate fans, but it sure looks good.
At Santa's Reindeer Roundup you can buy a cookie kit ($6.00) which includes a
big sugar cookie that you can decorated with the included icing and sprinkles.
Rancho del Zocalo has a Holiday Tres Leches cake – though it looked like
regular Tres Leches cake with red and green frosting stripes. 🙂 And
there were holiday brownie funnel cakes ($5.49) at Hungry Bear, Farmer's Market,
and the
Stagedoor Cafe. I'm sure the other restaurants had special desserts,
too (French Market usually has some very clever things), but we didn't
visit any of those.
Both Blue Ribbon Bakery and Baker's Field Bakery had some special
holiday drinks – Pumpkin Spice Latte, Peppermint Mocha, Hot Spiced Caramel
Apple Cider, Eggnog Latte and Eggnog. We tried the
spiced cider – I think it would have been better if it was just spiced
cider without the caramel flavor, which I thought gave it a weird taste.
There's a cart on small world way at Matterhorn Way that has beef
tamales for the holidays, and of course all of the popcorn carts have
special holiday buckets.
So are you hungry now? 🙂
I'm not sure when this blog entry will be published, but I wanted to take this opportunity to say:
May your holidays be merry and bright – and –
May your 2008 be full of love and laughter.
Laura