Back in November (yeah, I know, not a very up-to-date blog entry, is
it?) Disney opened a Snow White 70th Anniversary exhibit in the
Animation Building at DCA. The exhibit is in the main room of the
building – sort of a maze-like set-up of walls with some photos and
artwork and copies of cels from the movie. Interesting to see some of
the sketches and concept art, and read snippets on how they come up with
various ideas, etc.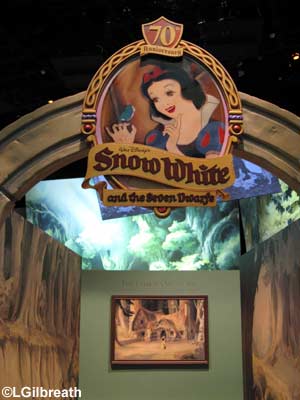 For those of you familiar with that part of the Animation Building, you
know that there are a bunch of projection screens overhead, which
usually are showing scenes, artwork, etc. from lots of Disney animated
features – but for now it's only Snow White.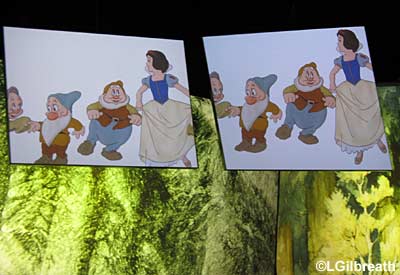 Which brings me (finally) to the point of this blog entry…how to have
some fun at the exhibit. On the outside of the exhibit's "walls" are
life-size sketches of various characters from the movie. Life-size
enough that with a little imagination and placement you can insert
yourselves. 🙂 So Lee and I had a little fun with that when we were
there a couple of weeks ago.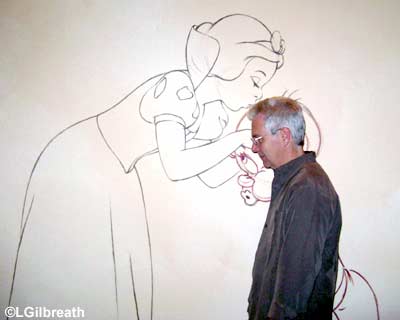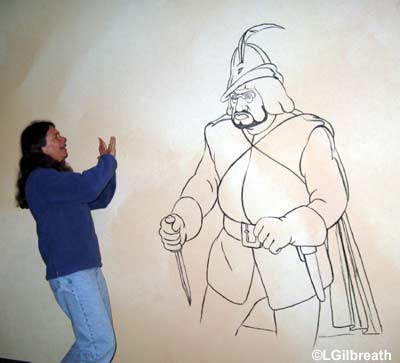 Hmmm…I'm not quite sure I like the way Snow is looking at him!!!
Though I can't blame her for wanting to upgrade to someone much more
manly than the "girly prince" that Disney stuck her with…
Happy New Year, everyone!