Last week's episode left off as my fellow trouble makers and I had just walked into Fantasyland by means of Frontierland. We were 7 of 15,167 participants. Once you were out walking you would never have guessed there were that many people there because of how well Disneyland controlled the crowd.
At the walk, it was announced that we, the fundraisers, had raised over 1.6 million dollars. That's truly amazing. Personally, I raised $580.00 and am quite proud. My friends have decided that next year they are going to step up their game and try to beat me. A little friendly competition is good as the kids will benefit.
Let us walk and talk some more. The path took us around the King Arthur Carrousel where we found Snow White, Cinderella, Belle, and Aurora all waving to the brigade of paparazzi. By paparazzi I mean Jen, Yoli, and I and other Disney fanatics. Yoli and I kept making jokes like we were photographing a famous music group who we both love. The princesses waved to everyone and then went for a spin. Good photo op, really.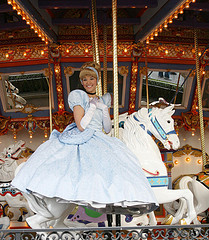 Obviously Cinderella is a stunt princess.
As we continued through Fantasyland we saw the Mad Hatter and Alice with some cards on their parade float. Moving along past the Matterhorn, Finding Nemo Submarines, Innoventions, and through Tomorrowland.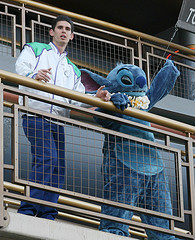 Stitch and his buddy cheered on the masses. I saw Stitch in the same location back in 2003. He must really like the view.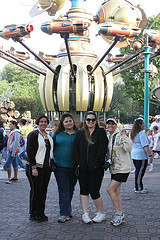 The boys decided to ditch us long before we got to Tomorrowland. From left to right: Kathy, Drina, Jen, and Yoli. Ummm, I don't know these people, especially that Yoli person.
We started back up Main St. but were directed backstage as we approached the camera shop. It was very exciting to see The InnBetween which is an eatery for Cast Members. Why was I so excited? I had actually heard of it before, that's all. I'm easily amused.
All of us came back out on stage in Town Square and walked out of the park and into the esplanade where we hit a bottle neck. Traffic! My group thought it was funny. Turned out that was where bottled water was being handed out. It wasn't hot out but since I'm not a big fan of Disani and they were handing out Arrowhead, I took it and put it away for later.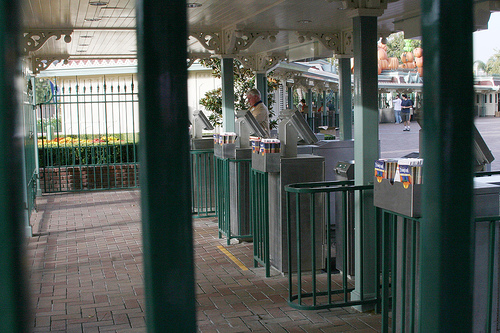 I had to stop and get a quick shot of this view. It's so quiet before the gates open.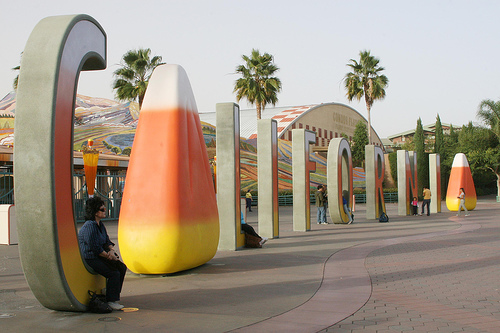 Welcome to California! Please don't eat the candy corn "A"s.