Yesterday, the Magic enjoyed it's first port of call since leaving Castaway Cay in the Bahamas a week ago. Tenerife, the Canary Islands off the coast of north Africa (under Spanish rule)!
Here's a video put together by Verandah Man of the Magic coming into port Santa Cruz, Tererife. The video is from the cameras at the port! Thank you Verandah Man!!!
The Davidson girls are continuing to blog their way to Barcelona!
Here's the upclose of the Magic's location….

Here's the journey of the Magic across the "pond".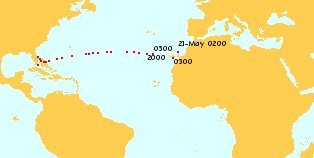 Today, Monday, May 21st, the Magic has a Sea Day!!!
Deb
Life – IT too short!