When you walk along Main Street USA and you hear that familiar tune start to play,
♫♪
Clang Clang Clang Went the Trolley
♪♫
you know exactly what's coming!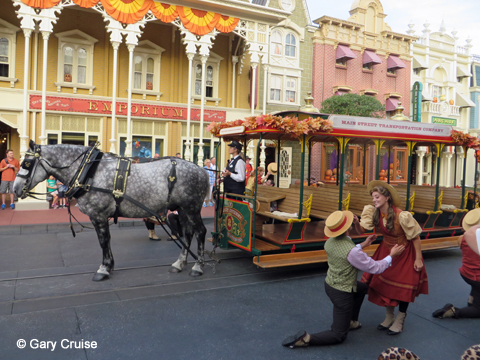 If you're like Carol and I you always stop beside that horse-drawn trolley for a few minutes to watch those talented dancers perform . . . and you probably always get a picture of that magnificent horse!
Have you seen those six little ponies that pull Cinderella's Carriage during parades and wedding ceremonies?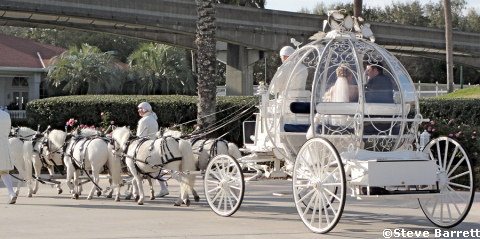 Have you ever wondered, "Where do the Disney horses live?"
"Where do they kick back with a flake of hay and a few gallons of cold water after a long hard day at work?"
The answer to both of those questions is Disney's Tri-Circle-D Ranch.
Have you ever wanted to get up-close and personal with some Disney horses?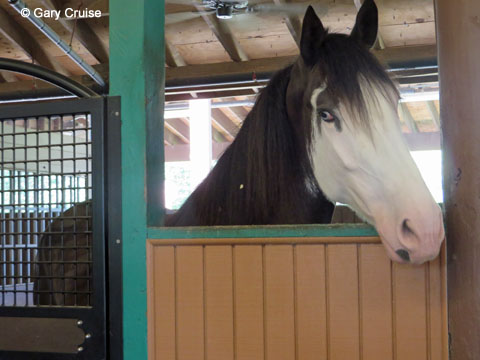 Then come on over to the Tri-Circle-D for a visit. It's located in Disney's Fort Wilderness Resort & Campground, just a few steps from Pioneer Hall.
Take a boat from the Magic Kingdom or ride a Disney bus to the campground and make your way to the Pioneer Hall area; you can't miss the horse barns.
The barns are open during normal working hours and you are welcome to explore the public areas and read about the magnificent animals who live at the ranch and work in the Disney parks and resorts.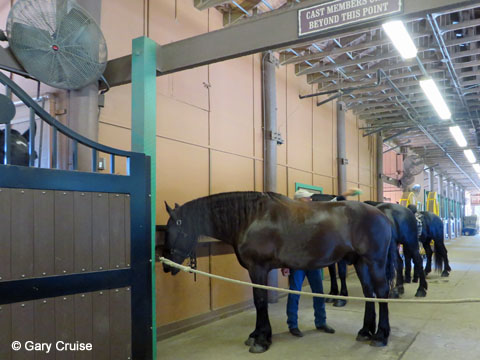 The cast members who work at Tri-Circle-D are all experts in equestrian care and are always happy to meet visitors and share their knowledge.
Please do not touch the horses or try to feed them . . . but feel free to take pictures and tell them how beautiful they are!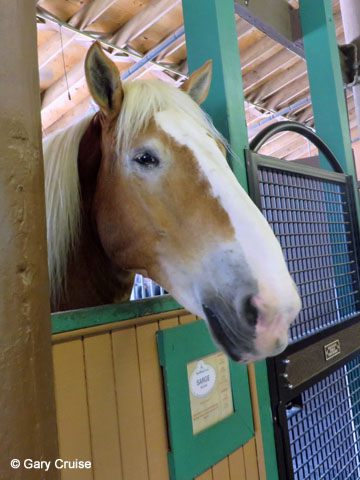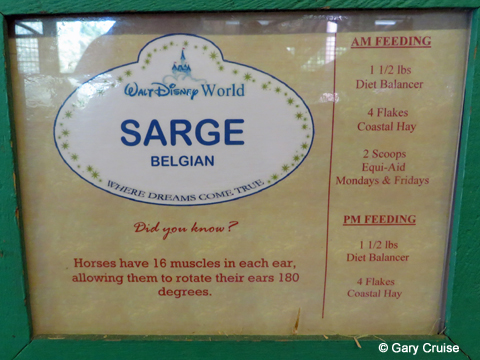 You can read a bit about each horse, the jobs they do and the food they eat.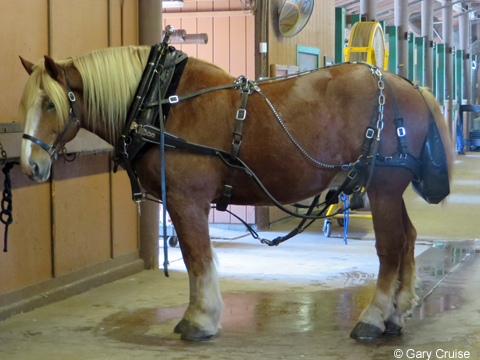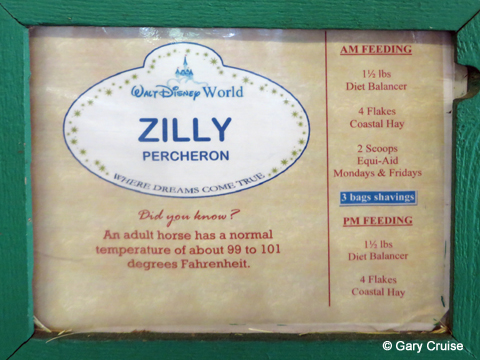 You can see the elaborate livery the horses wear for special performances.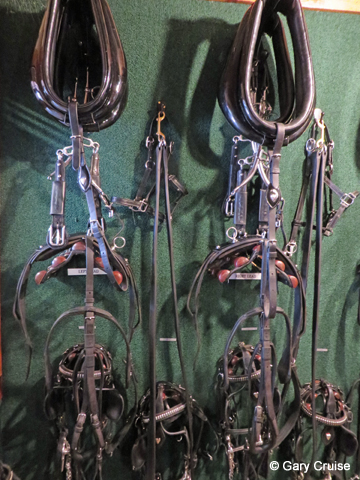 You might see one of Cinderella's ponies being groomed!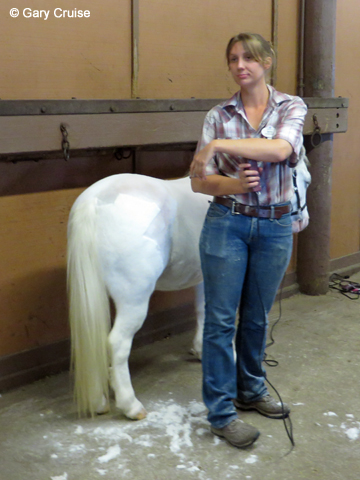 You can even watch the horses have a shower as they prepare to go to work.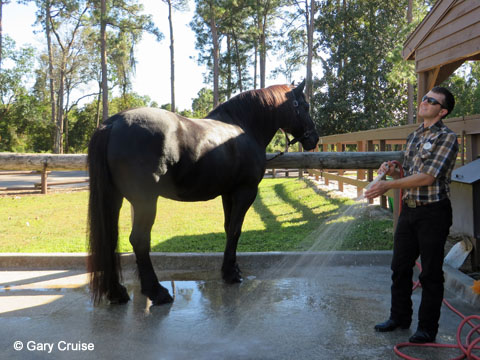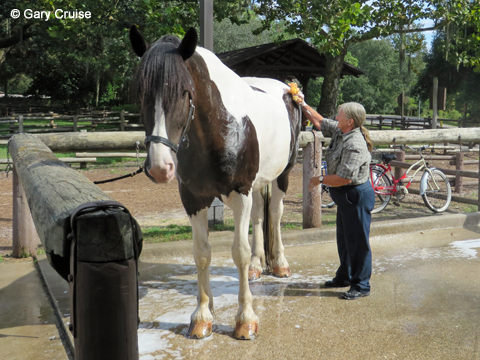 Have you seen the Headless Horseman lead the parade at Mickey's Not So Scary Halloween Party? That huge black horse he rides is a Percheron named Khan.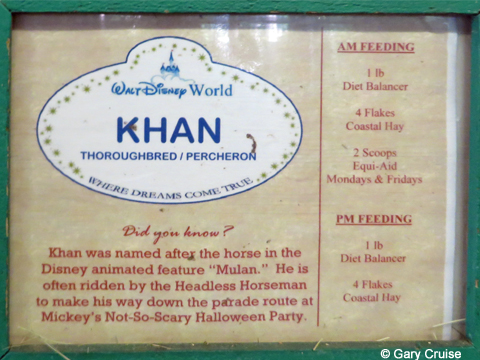 Most days, if the work schedule permits, there is a special 30 minute guided tour of the stables. One of the cast members will meet guests at the barn entrance and share their intimate knowledge of the horses with you. Look for this sign in front of the barn.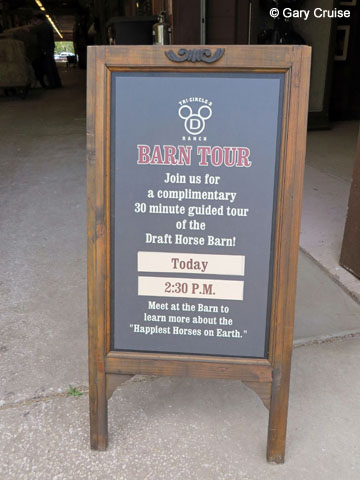 Just across from the stables is the blacksmith shop. Usually every Thursday a farrier drops in to give some of the horses a mani-pedi. These highly skilled tradesmen trim the horse's hooves, check for irritation or disease, and often put on new shoes. It's a real treat to watch the farriers work.
If you're looking for something unique to do at Disney; if you want to add a new wrinkle to your vacation experience; take a trip over to the Tri-Circle-D Ranch and get to know some Disney horses!
This brochure from 2010 adds a bit of extra information including travel instructions.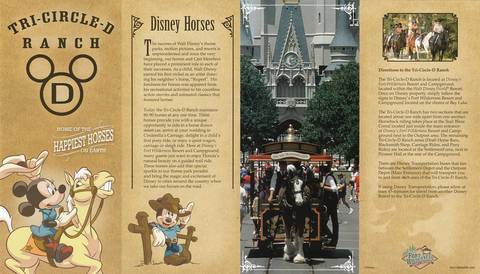 Click on the image to see a readable copy of the brochure
It also describes some of the adventures that are available at Tri-Cricle-D Ranch. Be sure to telephone and confirm that the activities in this 7-year-old brochure are still being offered!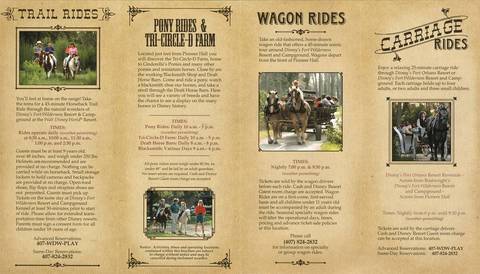 Click on the image to see a readable copy of the brochure
So what are you waiting for?
Go and meet some Disney horses.
They're the Happiest Horses on Earth!