To all who come to this photo trivia game, Welcome! Along the way, the photos can make us relive memories and see details Walt's Imagineers put into everything we love in Walt Disney World!
Jeff Blank, have a wonderful trip!!
Now for Challenge #422

And here's the answer: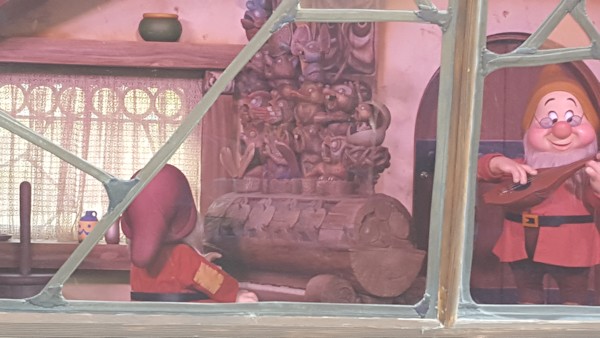 Copyright © Erin Blackwell
Inside the Seven Dwarfs' cottage at the end of the new Seven Dwarfs Mine Train attraction.
Jim & Lorie Sonnen were the first to send in the correct answer! Congratulations to Jim & Lorie Sonnen and to all our winners this week! Ed Elder, Kristi Strembicki, Mary Beth Tarbet, Jennifer Pichert, Kris Nixon, The Modecki's, Ed Suscreba, Donna Frank, The Gunnels Gang, Tim Johansen, Joseph M. Zafia, Les Whitten, Claire Gregory, Eric Berger, Mike Haeberle , Janet Spiess, Sarah And Chris, Stephen Reilly, Crystal King , The Otts Family, Leach Family, Ronnie Alvarado, Kate Nejman, Ken Savage, The Strukel Family, Kerri Coggins, Luis Rodriguez, Patty Carty, James Steele , Eric Johnson, Chris Kelly, Vera And Izzy Williams, The Kertes Family, Dan And Elizabeth Johnston, Karen Ramirez, Paul Dickson, Linda Lundsten, Ed Krol, Hobbes And Snorky, Gina Falzone , Scott Mcbride, Pam Lorenz, Mary Coleman, Robert Wescovich, Alex Gamill, Hillary Waldroop, Andrew Carrieri, Kenny, Tricia Petty, Diane Curfman, Maureen Handy, Mike Malampy (Malampy Benco Family), Mickey Eckert, Tricia Noble, Jillian Lassiter, Matt Holley, Carri Marotto, Matthew Frey, Evanna Huda, Rob Blundin, Erin Hammer, Chris Bauman, Ken Maikowski, Smitty, Kathryn Hughes, Mark Donahue, Frances Donahue, Nancy Doty, Kyra, Cameron Lange, Chris Bourassa, Mike Rotkiske, Theresa Rucando, Don Purney, Jared Orth, Jane Johnson, Jackie Klafeta, George Mundy Jr, Barclay Bakkum, Emily Hudson, Dave Carriere, Michelle Palazzo, Jeff Blank, and Vicki Britt!
Time for the monthly drawing and the winner is: Vicki Britt! Congratulations! You will be receiving a prize from Deb Wills!
__________________________________ _____________________
Challenge #423 Where in the world is this?
Let me give a better description this week: these are everywhere in the parks, maybe even in Disney Springs and the resorts. So this is just one of them. You may have never used one, like me, but you've seen them.
So just tell me what it is; you don't need to give a location .
Do you know? Do you have a guess? Please send in your answer, before the end of the day on Thursday, March 10th, by clicking on the blue box below.
Please do not post answers using the Feedback Form link at the bottom of this post.
See you soon, Players!


_______________________________________________________________________
Everyone who sends in a correct answer to a Where in the World Challenge this month will be entered in a drawing at the end of the month for some special AllEars® goodies!