Let's study some possible Hidden Mickey images. On the Fantasy Fare Food Truck at Disney Springs West Side, does the group of swirls above the word "Culinary" or the repeated red design on the yellow stripe resemble a classic (three-circle) Hidden Mickey? (Thanks to Nick Skiles).

This new image recently appeared in the walkway between Lefty's "The Left Hand Store" and Disney's Pin Traders store in Disney Springs Marketplace. Is it Hidden or Decorative? (Thanks to John Bruederle, and Orlando Attractions Magazine).

This image inside Tren-D store seems legitimate to me. It's a yellow side profile of Mickey Mouse at the top (maybe the clasp?) of Minnie's handbag. Minnie is painted on a "Cast Members Only" door at the rear of the store. Let's hope it sticks around a while! (Thanks to Martha Tischler).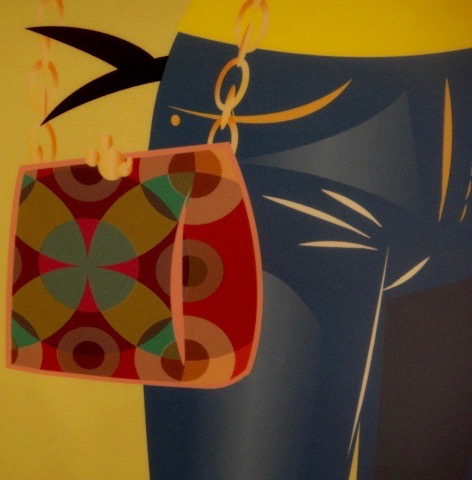 Glass window paintings are behind a check-out counter in the Princess Room of the World of Disney store. In the leftmost set of windows, look for two groups of flowers, one orange and one red. Does either group form a classic Hidden Mickey? (Thanks to Martha Tischler).

In Epcot's Innoventions East, stop by Spinning Spectrums, which is on a wall inside Colortopia. Several of the wall designs that spin seem to have yellow and orange classic Mickeys. What do you think? (Thanks to Larry Brooks).

Enjoy the search!