This was Challenge #72: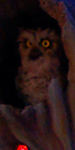 And here's the answer: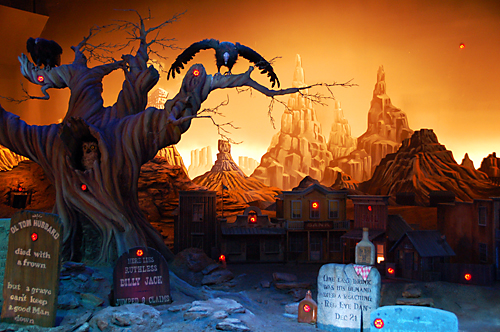 Copyright © 2007 Barrie Brewer, Nikon D50, 18-200VR, 1s shutter, f/4.5
This is the Frontierland Shootin' Arcade in the Magic Kingdom. I knew this one would be a little tough, that's why I included just a tiny bit of the target as a clue. You'll have a better chance of getting a shot with this nice orange sky if you stop in to the arcade after dark. Don't use your flash. Instead, use a longer shutter speed (this was 1 second) and make sure your camera is very steady. You can tell I didn't use my tripod. If you look closely at the gravestones you'll notice they are a little blurry. Just one more reason to make another trip!
Rick Shea was the first to send in the correct answer for the challenge! Congratulations to Rick and all the readers who got the answer right: Jodi Cook, Lou Baker, Dylan Weidner, Mike Haeberle, Caroline Dupre, Brittany Irish, John Dupre, Andrew J Weed, Rochelle, Cori Lehman, Amy Schweizer, Paul Cooper, Bill Androckitis Jr., Louis Podbelski, Jeffrey Dunne, Dan Hawkins, Chris Connors, Dave Cole, Bonnie Smith, Jen Cox, Brian Gallant, Marc Lorenzo, Joseph Tempel, Glenn Meyer, Jamie Kelly, Brandon Boffin, Gary E Genteman, Katarina Whitmarsh, Jamie Poynton, Emily Nussbaum, Matthew Waga, Kathy Berry and James Berry. Each of you will be entered in the February winners' drawing.
_______________________________________________________________________
Challenge #73: Where in the world is this?

Do you know? Do you have a guess? Send in your answer, before the end of the day on Thursday, February 19, by clicking HERE!
_______________________________________________________________________
Everyone who sends in a correct answer to a Where in the World Challenge this month will be entered in a drawing at the end of the month for some special AllEars® goodies and a cool Disney book!