This was Challenge #40:


And here's the answer: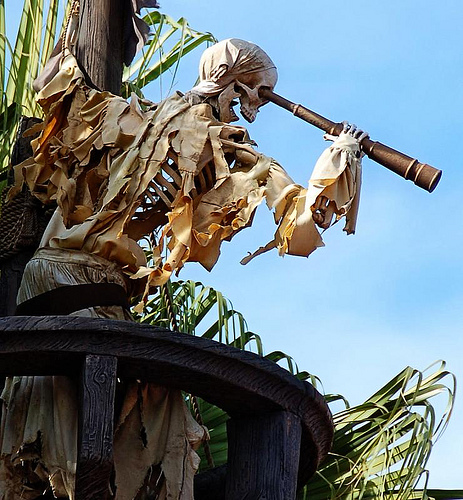 Copyright © 2008 Barrie Brewer, Nikon D50, 18-200VR, 1/500s shutter, f5.6
I'm back! Thanks for putting up with me taking a vacation. I had a wonderful time on my Adventures by Disney tours of Italy and France. I'll be sharing some photos from my trip with you soon.
Several people thought that challenge #40 might have been part of the shipwreck of the Albatross at Stormalong Bay. I thought that was a pretty good guess but it wasn't quite right. Austin O'Blenis was the first to tell me that this scrawny pirate can be found in the Magic Kingdom, keeping watch from the crow's nest above the Pirates of the Caribbean sign.
Congratulations to Austin and all the readers who got the answer right: Nancy Bennett, Marissa D'Ambrosio, Walter N. Clark, Candace Dadswell, Bruce Lawson, Willie Tople, Lisa Pompa, Joey Roggenbeck, Robert Mcclean, Gary Burke, Mary Williams, Nan Newton, Don Williams, Chip Vermette, Jill Strand, April Haddock, Nora Beirne, Susan Mcdonald, Evelyn Cowdell, Debra Kuklinski, Dawn Bach, Jessie Romano, Marissa D'Ambrosio, Jennifer Tremley, Tabatha Lawson, Stacey Van Dyke, Juliet, Karen Dresser-Smith, Nancy Bennett, Dawn Suarez, Liz Moreau, Tom Linder, Theresa Peake, Nora Zajac, Christine Rotella, Laurie Parr, Heather Coursen, Heather Stevens, Becky Myers, Beth Dickerson, Nancy Crossman, Kate Fanning, Kelli Vancil, Beth Dye, Kim Phillips, Margaret West, Marisa Sanderson, Brian Haas, Jeremy Hardy, Carrie Gardner, JJ, Jamie Hammond, Janet Theriault, Lisa Battaglia, Jane Treppa, Tina Panzarella, Heidi Leshko, Sheila Saey, Heidi Summers, Debbie Hudson, Tim Sayler, Paul Ignudo, Jr., Alan Lichtman, Mark Carty, Brian Gallant, Noreen Rachuba, Christi Ison, Jennifer Schwing, Carinne Kight, Jen Campbell, Kimberly Kusser, Ashley Salters, Amy Cole, Mary Williams, Stacey Barboza, Marie H., Sherry Klinefelter, Kellie Carter, Ann Carr, Betsey Pickard, Chris Connors, Debra Moscara, Heather Timko, Sharon Powers, Dina Grassi, Dana Schirnhofer, Chad Ryan, Melesia Love, Robin Fitts, Emily Rennie, Wendy Snelgrove, Jesse Kline, Mike Venere, Paula Potts, Tim Rachuba, Sharon Pierces, Robin Mcconnell, Karen Schlumpf, Maryann Eckenrode, Michael Mclucas, Marie Bertini, Jaime Thomson, Ed Nawrocki, Josh Rohrbach, Christina Cella, Sharon Dale, Theresa Rucando, Amy Schweizer, Patty Carty, Hillary W, Kim Davis, Kevin Toomey, Louis And Susanpassauer, Deb Ragno, Brad Weaver, Erica Adkins, Sarah Bajek, Lynn Barber, Joseph Tortorici, Sara Lewis, Katarina Whitmarsh, Ann Fowler, Chris Bertelmann, Kelley H, Anne Hainsworth, Diane Ramos, Lisa Allison, Chloe' C., John Dupre, Garland Cox, Ed Aleszczyk, Jacquelyn Law, Kelli Olthoff, Stephanie Visco, Chris Thomas, Trygve Cumpston, Anthony Dearman, Belicia Dawson, Patty Sindone and Brandy White. Each of you were entered in the May winners' drawing.
Jennifer Tremley's name was randomly chosen as the winner of this month's drawing. Congratulations Jennifer! You are now the proud owner of some special AllEars® goodies and a copy of PassPorter's Walt Disney World by Jennifer Marx, Dave Marx, Allison Cerel Marx.
_______________________________________________________________________
Challenge #41: Where in the world is this?
Do you know? Do you have a guess? Send in your answer, before the end of the day on Thursday, June 12, by clicking HERE!
_______________________________________________________________________
Everyone who sends in a correct answer to a Where in the World Challenge this month will be entered in a drawing at the end of the month for some special AllEars® goodies and a copy of PassPorter's Walt Disney World by Jennifer Marx, Dave Marx, Allison Cerel Marx!