In 1937, Walt Disney produced "The Old Mill," one of the Silly Symphonies. This was the first film to use the multiplane camera, a device that added depth of field to animation.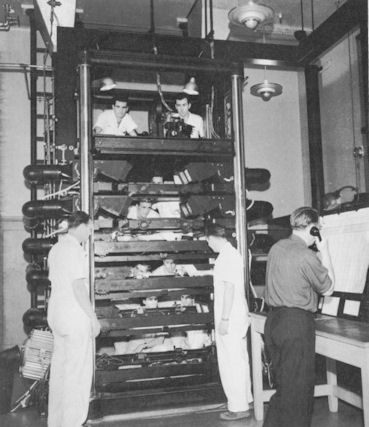 This film also depicted realistic animal behavior, wind and rain effects, and new lighting techniques. So innovative was this film that it won the 1937 Academy Award for Best Short Subject, Cartoon.
In one scene of the film, we see a bird that has made her nest inside a gear socket located within the old mill. As a storm outside starts to rage, the gears start to move, threatening to crush the mother and her eggs as the gears join together. But fate is with the bird and the opposing gear is missing one of its teeth, thus, the bird is never crushed.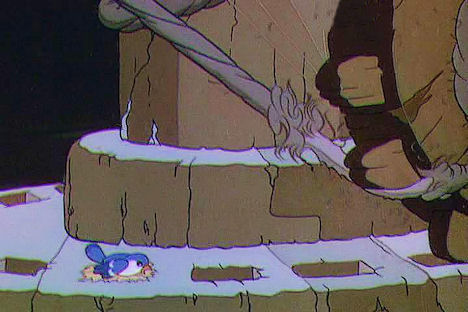 Disney has paid homage to this film at Walt Disney World. Inside Harper's Mill on Tom Sawyer Island in the Magic Kingdom is a complex set of gears used to grind grain. Within one of these gears you can see a small bird sitting on her nest. She too spins around as the waterwheel outside turns. But this bird is also spared a disastrous ending as the gears never quite crush her.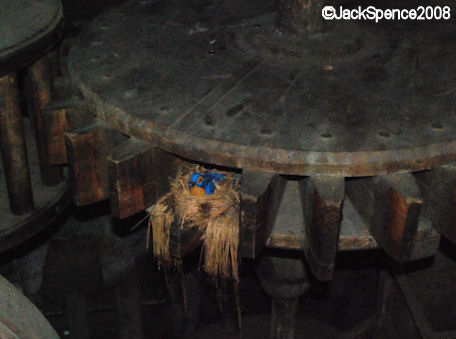 Now it's obvious that the old mill in the animated film looks nothing like Harper's Mill. And the gear configuration is not the same. But there can be no mistake that this is a tribute to one of Walt Disney's early masterpieces.