The day after Halloween, Disney went to work decorating for Christmas. The transformation takes weeks as Santa's Helpers move from park to park and resort to resort, stringing garland and decorating trees. I visited the Magic Kingdom and Main Street is all decked out. Once again, the big Christmas tree is temporarily located in the Hub. If tradition holds, after the annual Christmas Day television show is filmed (several weeks before Christmas), the tree will be moved to Town Square.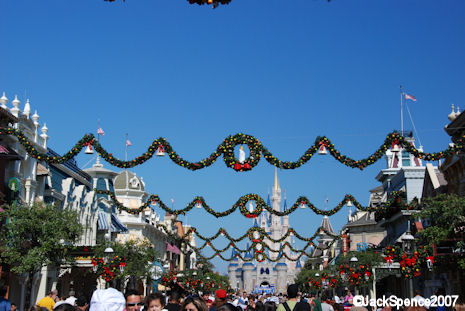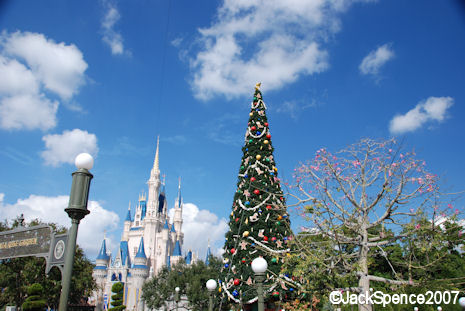 Haunted Mansion Tip:
I had read this on another Disney webpage, but wanted to check it out for myself before I wrote about it. As you may have read, the Haunted Mansion underwent a wonderful refurbishment. Enhancements were made throughout the attraction. One small, almost completely unnoticeable enhancement is in the stretch room. If you linger behind the crowd as they are exiting this room, pay attention to the gargoyles. They speak and chatter and laugh. It's difficult to hear, you need to pay attention, but they are definitely making noise. This is a VERY minor effect. Only a true Disneyphile would even care. But if you're like me and want to experience everything, then don't rush out of the Stretch Room. Linger.
For the past several years, Disney has offered for sale miniature Magic Kingdom buildings so that guests can create their own Christmas Village back home. Past years included several Main Street buildings and Cinderella Castle. This year the Haunted Mansion was introduced. The piece measures 10″ x 8″ x 6″ and sells for $60. Currently, I have only seen this item for sale at the Christmas Shops in the Magic Kingdom and Downtown Disney.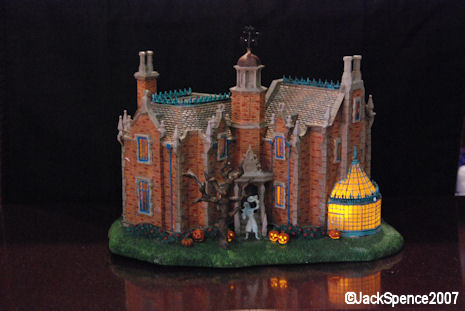 When the Bibbidi Bobbidi Boutique opened in Cinderella Castle, the Art of Disney shop was displaced. Currently, the Main Street Cinema is being refurbished. When it reopens on November 21st, it will be the new home of the
As construction continues on the rumored DVC north of the Contemporary Resort, a second floor is clearly visible. In addition, the foundation for the bridge/walkway between the fourth floor (Grand Canyon Concourse) of the Contemporary and the new DVC is noticeable.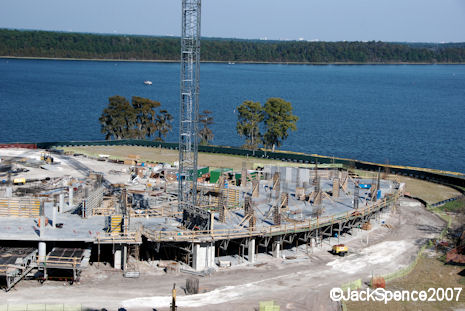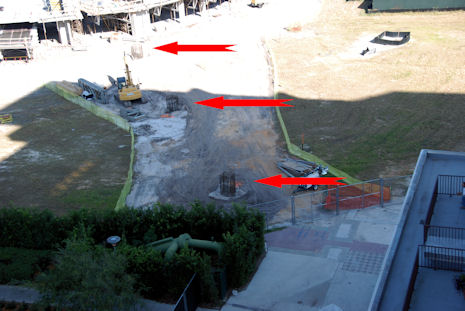 New drinking fountains have started appearing in and around the TTC.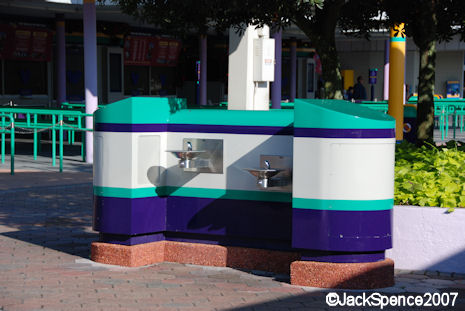 Those of you who choose not to use Disney to ship your packages home need to know that the Lake Buena Vista Post Office has moved. It is now located in the Shoppes at Vista Center. The address is: 8536 Palm Parkway, Orlando, FL. Phone: 407-248-1153. Hours: M-F 9:00am – 4:00pm, Sat 9:00am – 12:00pm, Closed Sundays and Holidays.