Walt Disney World Chronicles: Alternate Magic Kingdom
by
Jim Korkis
Feature Article
This article appeared in the June 1, 2021 (#1139) edition of ALL EARS®
Editor's Note: This story/information was accurate when it was published. Please be sure to confirm all current rates, information and other details before planning your trip.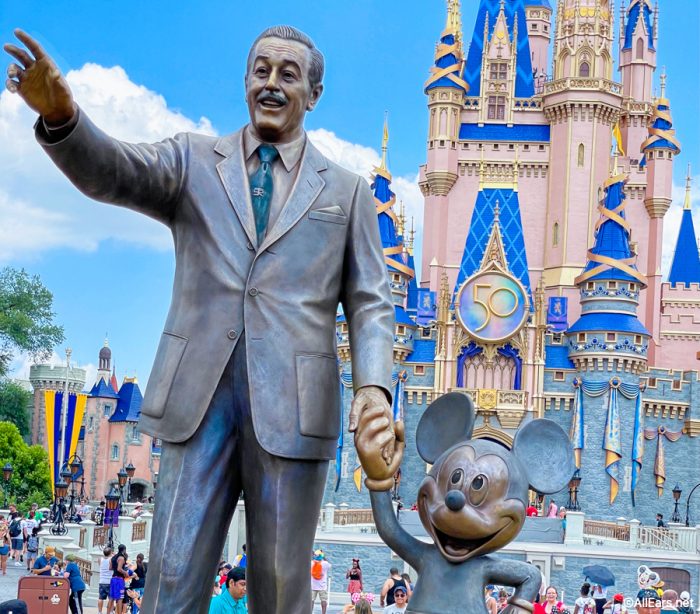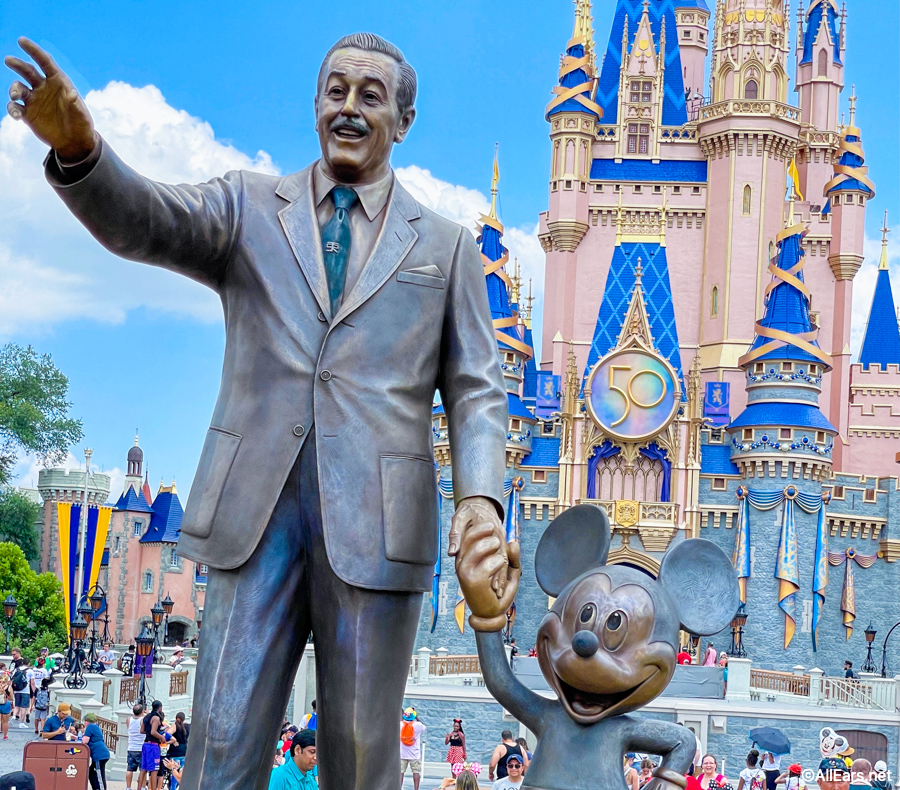 For me, it seems like I have been living in an alternate reality for the last year where some things are strangely similar, but most things are oddly different. Frequent readers of my columns and books know that I have a fascination about Disney things that were never made.
As we celebrate the 50th anniversary of Walt Disney World, I wanted to take a moment to share what WDW was originally planned to look like, and I am not talking about the Epcot community that Walt Disney proposed.
In his Epcot proposal there was always going to be some type of entertainment venue because he knew east coast guests would want something like Disneyland, but he had no intention of just doing a duplicate of that popular park.
Imagineer Marvin Davis told writer Howard Green. "He always steadfastly refused to do another Disneyland because he said he had done the best park he knew how to do and why would he want to repeat himself?"
Walt himself in early discussions suggested putting an ice skating rink and perhaps a roller-skating facility directly in front of the Magic Kingdom to offer more recreational opportunities.
The 1968 Annual Report to Disney stockholders stated: "Although many attractions will be familiar to the 76 million people who have already visited California's Disneyland, many more will be unique to the new theme park in Walt Disney World."
Some things like the Mickey Mouse Revue and Country Bear Jamboree were completely new Disney Park attractions. Some traditional Disneyland attractions were re-imagined like the Jungle Cruise with a longer ride and different scenic elements.
However, the initial plans for the Magic Kingdom were to come up with many more original attractions that would encourage Disney fans that they had to visit both parks.
In particular, Fantasyland would have looked similar, but with different attractions based on classic Disney animated stories but duplicating the same emotional experiences.
Instead of a Snow White dark ride, Imagineers decided to showcase a different Disney princess. The park castle would be dedicated to Cinderella but the story of Cinderella did not offer any dramatic confrontations that would enhance a ride experience.
Imagineers had seen how guests had enjoyed the Sleeping Beauty Castle walk-through tableaus in California and felt the 1959 classic animated film had definite possibilities.
The proposal was for a typical Disney dark ride showing scenes from the story of Sleeping Beauty where the guests would be being chased through different story segments from the film by Maleficent's goons, who were hiding in the scenery and peering ominously at the ride vehicles.
The big climax would be a confrontation with Maleficent herself who had transformed into a fire-breathing dragon and would be leaning in toward the riders who escaped her fiery breath at the last minute.
Instead of the popular Peter Pan's Flight attraction at Disneyland, the Imagineers proposed using the overhead monorail track to fly guests into an entirely different adventure inspired by the popular film Mary Poppins (1964), since guest surveys had shown Disney visitors would enjoy a ride based on that film.
The first proposal was to use overturned umbrellas as ride vehicles to soar over the rooftops of London to mimic Mary's own journeys with her umbrella. A version that was more seriously considered was to use the colorful carousel horses from the film as ride vehicles.
Guests would find themselves leaping through the chalk paintings done by the street artist Bert, the friend of Mary Poppins, as the horses bounced along. Several possible tableaus would have included scenes inspired by the film, like the fox hunt and a horserace. Of course, there were challenges in developing a safe and efficient ride vehicle.
Instead of a Mr. Toad's Wild Ride attraction, the Imagineers originally pitched the idea of an attraction based on the animated feature The Sword in the Stone (1963) since the character of Merlin fit in so appropriately with the theme of Fantasyland.
The part of the film that offered the most options for dramatization was the famous wizard's duel between Merlin and the witch Mad Madam Mim, with them each getting zapped and transforming into different creatures. The finale would have had the ride vehicle circling around Mim after she had turned into a huge dragon just before she is defeated by Merlin.
With Fantasyland so close to Liberty Square, there was also discussion about having a dark ride based on The Legend of Sleepy Hollow (1949) near the intersection of the two lands to act as a transition between the two locations. Guests would have ridden in hollowed-out spinning jack-o-lanterns through a variety of scenes until the final confrontation with the headless horsemen.
Perhaps the most impressive new attraction would be in Frontierland roughly where Splash Mountain and Big Thunder Mountain Railroad are today.
Western River Expedition was an attraction that would have been built in the area that Splash Mountain and Big Thunder Mountain occupies now. It was jokingly referred to by Imagineers as "Cowboys of the Caribbean" because of its superficial similarities to the Pirates of the Caribbean attraction at Disneyland.
"For some reason, it was thought that because of Florida's close proximity to the Caribbean, a ride dealing with pirates wouldn't be as popular in Walt Disney World as it was in Disneyland," Imagineer Tony Baxter said.
Imagineers argued that there were already sufficient actual pirate locations in easy driving distance from Orlando in addition to museums with authentic artifacts but that an east coast audience would be unfamiliar with the Wild West but would have a fascination with cowboys.
Thunder Mesa Mountain would have featured a variety of attractions in addition to Western River Expedition including a runaway mine train ride, hiking trails, a canoe flume ride, a Pueblo Native American village and more.
To accommodate all of this, a four-story show building would have been decorated to look like the orange mesas of the American desert and Monument Valley. The WDW railroad would have gone through the building to offer guests a glimpse.
Imagineer Marc Davis spent five years creating a humorous ten-to-twelve-minute boat trip through a variety of Wild West scenes. Guests would have entered through a cave that was actually a tunnel into the mountain and boarded boats that took them up a waterfall and then into the winding river.
Scenes would have featured comic Native American figures (including a rain dance with disastrous results), stagecoach robbers (where even their horses wore bandana masks), prairie dogs, antelopes, buffaloes, singing cowboys, and can-can dancing saloon girls.
It would have contained more than 100 Audio-Animatronics figures. A buffalo and prairie dogs were actually built for the attraction and later incorporated into the opening ranch house scene in the Living with the Land attraction at EPCOT.
Imagineer Mitsou Natsume even built a detailed model of Thunder Mesa and the exterior of the Western River Shipping & Navigation Company that was displayed for many years in the pre-show area of The Walt Disney Story on Main Street USA.
At one point, color stylist Mary Blair, a good friend of Davis and his wife, was brought in to consult with the color choices including a Painted Desert backdrop. Composer Buddy Baker had the beginnings of a theme song that would repeat throughout the ride.
The attraction was publicized with concept art in the Magic Kingdom guidebooks for 1971 and 1972, and even a postcard—since the project was supposed to open with the park, but because of time and budget factors was relegated to Phase 2 that would be completed by 1975.
The project was eventually cancelled because of prohibitive costs (estimated at more than $120 million), the decrease in popularity in Western movies and TV shows, and other factors—including guests demanding the Pirates of the Caribbean attraction.
The repeated Disneyland attractions like Peter Pan's Flight were made longer and with additional details that ended up costing just as much as building something new.
Walt's brother who was in charge of building WDW, Roy O. Disney realized that many East Coast guests would never go to Disneyland but wanted to see the attractions they had seen pictures and videos of or read about so he insisted there be a balance between the classic attractions and new unique ones. It seems like that was the right decision and guest satisfaction surveys showed that guests were extremely happy.
While many readers may be aware that WDW was also going to open three other resort hotels: The Venetian, The Asian and the Persian to theme in with the idea of being around the Seven Seas of the world. Even those never-built resorts were preceded by other ideas.
In 1967, the Disney Company created a full-color map to indicate the various resort hotels that would surround the Magic Kingdom theme park.
The Disney Company wanted them to capture the same Disney magic and storytelling that was evident in the attractions.
That map showed a Cape Cod Village, a South Seas glass skyscraper in the shape of a pyramid (that later became the Polynesian), Yesterday Hotel (to theme in with Main Street U.S.A. and at one point was going to be located inside the park itself in the building that now houses the Town Square Theater), Frontier Village (that later developed into Ft. Wilderness Resort and Campground), Spanish Colonial Hotel, Oriental Motel, the Dutch hotel, and the African Hotel (to theme in with Adventureland).
If any of these things had progressed, it would have been most definitely an interesting alternative version of the Magic Kingdom that opened in 1971 than we celebrate today.